Gauripur Upazila (mymensingh district) area 274.07 sq km, located in between 24°38' and 24°50' north latitudes and in between 90°27' and 90°44' east longitudes. It is bounded by purbadhala and netrokona sadar upazilas on the north, ishwarganj upazila on the south, kendua and Netrokona Sadar upazilas on the east, mymensingh sadar and phulpur upazilas on the west.
Population Total 282940; male 144643, female 138297; Muslim 270370, Hindu 11889, Buddhist 58, Christian 11 and others 612.
Water bodies Main rivers: old brahmaputra, Soai, Suriya, Sapra; Sidhla Beel, Bara Beel, Kachuri Beel and Dalia Beel are notable.
Administration Gauripur Thana was formed in 1981 and it was turned into an upazila on 8 February 1981. Municipality was formed in 1927.
Upazila
Municipality
Union
Mouza
Village
Population
Density (per sq km)
Literacy rate (%)
Urban
Rural
Urban
Rural

1

10

245

290

20875

262065

1032

57.8

35.1
Municipality

Area (sq km)

Ward

Mahalla

Population

Density (per sq km)

Literacy rate (%)

8.77

9

34

20875

2383

57.8
Union
Name of union and GO code
Area (acre)
Population
Literacy rate (%)
Male
Female

Achintapur 15

7195

12966

12512

34.89

Gauripur 31

5563

12027

11796

38.66

Dowhakhala 27

5617

14816

14220

35.27

Bokainagar 22

6471

15374

13993

33.68

Bhangnamari 18

6825

11970

11245

33.42

Mailakanda 49

6055

12899

12356

39.59

Maoha 58

6704

12114

11693

35039

Ramgopalpur 72

7456

16205

15370

35.36

Sahanati 81

6671

13372

13107

34.46

Sidhla 85

6957

12181

11849

29.92
Source Bangladesh Population Census 2001, Bangladesh Bureau of Statistics.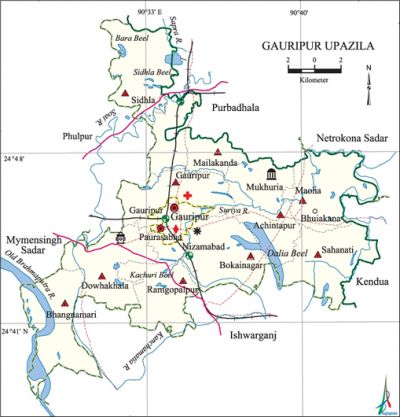 Archaeological heritage and relics Mud-built defense wall of the capital of Umar Khan (seventeenth century), tomb of heroin Sakina at Maoha (seventeenth century), Kellah Bokainagar Shahi Mosque (built by Khwaja Usman Gani during the reign of Emperor Alamgir); single domed Isulia Jami Mosque and Muhuria Jami Mosque (Mughal period), Mosque at village Kumrigram (built by Dewan Umar Khan).
Historical events The capital of the Afghan hero Khwaja Usman 'was at Bokainagar (Qellah Bokainagar). In 1601/1602 Mughal commander Mansingh attacked Bokainagar. Usman Khan was defeated and fled to Sylhet. Qellah Tajpur of Maoha was the capital of Umar Khan during the reign of the Mughal Emperor Jahangir. The love story of Sakhina, the daughter of Umar Khan, with Feroj Khan, the grandson of Isa Khan and its satiric end in armed war is still a legend. During the mass upsurge in 1969 police opened fire on the agitated civilian who took part in violating the Section 144; in this incident Harun of Gauripur Government College was killed. 'Martyr Harun Park' was later established in his memory. On 20 August 1971 the Pak army brutally killed 14 persons at village Shalihar. On 30 November, the Pakistan army killed Mati, Monju, Siraj and Jasim of Mujib Bahini at Palashkanda of the Gauripur-Ishwarganj border.
Marks of the War of Liberation Mass grave 1.
Religious institutions Mosque 352, temple 97, tomb 5. Noted religious institutions: Bokainagar and Gujikhan Keramatia Mosque, Govinda Jeo temple at Gauripur and tomb of Nizam Uddin Aoulia at Bokainagar.
Literacy rate and educational institutions Average literacy 36.9%; male 40.8%, female 32.8%. Educational institutions: college 3, secondary school 32, primary school 9, vocational training institute 1, weaving school 1, madrasa 12. Noted educational institutions: Gauripur Mahila College, Ramgopalpur Power Joyendra Kishore High School (1906), Gauripur Rajendra Kishore Government High School (1911), Dowhakhala High School (1913), Government Girls' High School, Shahganj High School, Shyamganj High School (1940), Nurul Amin Khan High School, Lankakhola High School, Sarajubala Government Primary School (1932).
Newspapers and periodicals Subarna Bangla; Mashik Pata (extinct), Nagarik Barta (quarterly), Drishti.
Cultural organisations Library 2, club 16, cinema hall 2, community centre 11, stadium 1, theatre group 2.
Tourist spots Gauripur Rajbari, Puja Mandap, Revolving Theatre Stage, Gol Pukur (round pond) and Artificial Lake.
Main sources of income Agriculture 71.21%, non-agricultural labourer 2.93%, industry 0.76%, commerce 9.91%, transport and communication 3.21%, service 4.32%, construction 1%, religious service 0.16%, rent and remittance 0.19% and others 6.31%.
Ownership of agricultural land Landowner 62.71%, landless 37.29%; agricultural landowner: urban 64.07% and rural 44.64%.
Main crops Paddy, wheat, potato, mustard, mulberry tree, vegetables.
Extinct or nearly extinct crops Sesame, jute, tobacco, arahar.
Main fruits Mango, jackfruit, litchi, banana, water-melon, papaya.
Extinct or nearly extinct traditional transport Palanquin, horse carriage, bullock cart.
Noted manufactories Textile mill, rice mill, saw mill, flour mill, spinning mill, ice factory, bidi factory, welding factory, lathe machine.
Cottage industries Goldsmith, blacksmith, potteries, bamboo work.
Hats, bazars and fairs Hats, bazars and fairs are 50, most noted of which are Gauripur Bazar, Shyamganj Bazar, Bhutiarkona Bazar, Gobindapur Bazar, Shahaganj Bazar, Pachhar Bazar, Dowhakhala Bazar, Bhuiya Bazar, Kaltapara Bazar, Anantaganj Bazar, Naobhanga Bazar, Ramgopalpur Bazar, Sidhla Bazar and Baishakhi Mela at Bokainagar.
Main exports Paddy, rice, yarn.
Access to electricity All the wards and unions of the upazila are under rural electrification net-work. However, 7.06% of the dwelling households have access to electricity.
Sources of drinking water Tube-well 94.18%, tap 0.40%, pond 0.33% and others 5.08%.
Sanitation 23.58% (rural 19.89% and urban 72.50%) of dwelling households of the upazila use sanitary latrines and 40.65% (rural 42.32% and urban 18.58%) of dwelling households use non-sanitary latrines; 35.77% of households do not have latrine facilities.
Health centres Upazila health complex 1, hospital 1, satellite clinic 5, family planning centre 4, community clinic 4.'
NGO activities Operationally important NGOs are' CARE, brac, asa, Jatiya Mahila Unnayan Sanghstha, Bangladesh Mahila Unnayan Samiti. [Sahidur Rahman]
References Bangladesh Population Census 2001, Bangladesh Bureau of Statistics; Cultural survey report of Gauripur Upazila 2007.