Goalanda Upazila (rajbari district) area 149.03 sq km, located in between 23°41' and 23°50' north latitudes and in between 89°41' and 89°51' east longitudes. It is bounded by bera and shiValaya upazilas on the north, faridpur sadar and rajbari sadar upazilas on the south, Shibalaya and harirampur upazilas on the east, Rajbari Sadar upazila on the west.
Population Total 117313; male 60447, female 56866; Muslim 112060, Hindu 5249 and others 4.
Water bodies Main rivers: padma, Old Kumar.
Administration Goalanda Thana was formed in 1920 and it was turned into an upazila in 1984.
Upazila
Municipality
Union
Mouza
Village
Population
Density (per sq km)
Literacy rate (%)
Urban
Rural
Urban
Rural

1

4

113

169

32120

85193

787

47.3

29.8
Municipality

Area (sq km)

Ward

Mahalla

Population

Density (per sq km)

Literacy rate (%)

4.86

9

41

21147

4351

51.34
Upazila Town

Area (sq km)

Mouza

Population

Density (per sq km)

Literacy rate (%)

16.26

5

10973

675

39.07
Union
Name of union and GO code
Area (acre)
Population
Literacy rate (%)
Male
Female

Ujanchar 76

10855

13652

12807

36.44

Chhota Bhakla 19

3411

8384

8016

45.41

Debagram 57

5525

9174

8666

24.91

Daulatdia 38

13422

18192

17275

22.67
Source Bangladesh Population Census 2001, Bangladesh Bureau of Statistics.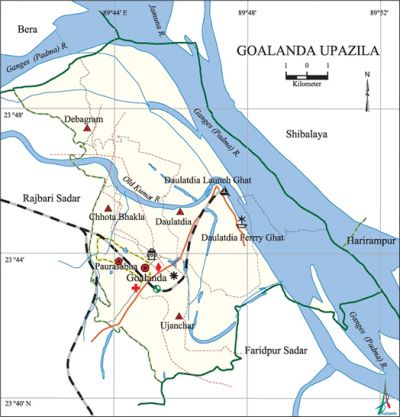 History of the War of Liberation During the war of liberation in 1971 a number of villagers were killed by an air raid of the Pak army. On 21 April an encounter was held between the freedom fighters and the Pak army in which two freedom fighters were killed. In another encounter with the Pak army on 22 April four freedom fighters were killed in this upazila.
Literacy rate and educational institutions Average literacy 34.8%; male 40.1%, female 29.1%. Educational institutions: college 2, secondary school 5, primary school 37, madrasa 17.
Cultural organisations Library 2, club 18, shilpakala academy 1, cinema hall 2, press club 1, theatre group 2, women organisation 2.
Important installations Goalanda Ferry Ghat and Goalanda Launch Ghat.
Main sources of income Agriculture 48%, non-agricultural labourer 4.45%, industry 0.77%, commerce 18.98%, transport and communication 6.28%, service 7.48%, construction 3.72%, religious service 0.17%, rent and remittance 0.51% and others 9.64%.
Main crops Paddy, jute, sugarcane, pulse, peanut.
Extinct or nearly extinct crops Rai, variety of mustard oil seed.
Main fruits Mango, jackfruit, guava, papaya.
Fisheries, dairies and poultries Fishery 98, dairy 35, poultry 67, hatchery 1.
Communication facilities Pucca road 24 km, semi-pucca road 12 km, mud road 160 km; railway 14 km;' waterway 25 nautical miles.
Extinct or nearly extinct traditional transport Palanquin, bullock cart and horse carriage.
Noted manufactories Sunipun Organics, Goalanda Textile Mills.
Cottage industries Blacksmith, Potteries, bamboo and wood work, nakshi kantha, nakshi pakha.
Hats, bazars and fairs Hats and bazars are 6, fairs 2, most noted of which are Goalanda Hat and Goalanda Mela.
Main exports Jute, sugarcane molasses.
Access to electricity All the wards and unions of the upazila are under rural electrification net-work. However 12.62% of the dwelling households have access to electricity.
Sources of drinking water Tube-well 95.22%, tap 0.43%, pond 0.18% and others 4.17%.
Sanitation 21.44% (rural 12.62% and urban 44.46%) of dwelling households of the upazila use sanitary latrines and 70.87% (rural 79.91% and urban 47.26%) of dwelling households use non-sanitary latrines; 7.69% of households do not have latrine facilities.
Health centres Upazila health complex 1, union health centre 3, health and family welfare centre 3, clinic 3.
Natural disasters The tornado of 1961 caused heavy damages to settlements and properties of the upazila.'
NGO activities Operationally important NGOs are brac, asa, Samaj Kalyan Sangstha, Grameen Samaj Unnayan Sangstha. [Md Abu Hasan Farooque]
References Bangladesh Population Census 2001, Bangladesh Bureau of Statistics; Cultural survey report of Goalanda Upazila 2007.