Gulshan Thana (Dhaka metropolitan) area 8.85 sq km, located in between 23°46' and 23°48' north latitudes and in between 90°24' and 90°25' east longitudes. It is bounded by cantonment and badda thanas on the north, rampura and tejgaon industrial area thanas on the south, Badda thana on the east, Cantonment thana on the west.
Population Total 145969; male 83069, female 62900; Muslim 137610, Hindu 4229, Buddhist 3429, Christian 641 and others 60. Kuril slum is the densely populated area of the thana.
Water bodies Gulshan lake.
Administration Gulsan Thana was formed in 1972. Part of Ward no. 20 of this Thana was included in the Tejgaon Industrial Area Thana when it was formed in 2006. Most of the foreign embassies are located in this thana. Besides it has been developed as a major residential area.
Thana
Ward
Mahalla
Population
Density (per sq km)
Literacy rate (%)
Urban
Rural
Urban
Rural
2+1 (part)
25
145969
-
16494
68.12
-
Ward
Ward No.
Area (sq km)
Population
Literacy rate (%)
Male
Female
Ward No. 18
2.14
21584
14988
73.26
Ward No. 19
5.68
42415
31921
62.72
Ward No. 20 (part)
1.03
19070
15991
68.37
Source  Bangladesh Population Census 2001, Bangladesh Bureau of Statistics.
Noted religious institutions Gulshan Central (Azad) Mosque, Banani Jami Mosque,' Masjidul Gausul Azam, Baitul Aman Jami Mosque, Hamedia Mosque, Mohakhali T&T Colony Mosque and Bangladesh Baptist Church.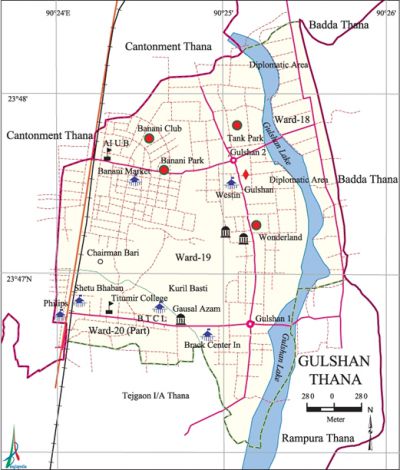 Literacy rate and educational institutions Average literacy 68.12%; male 73.92%, female 60.38%. Noted educational institutions: Bangladesh College Of Physicians and Surgeons (1962), American International University of Bangladesh (1994), East West University (1996), BRAC University (2001), Manarat International University (2001), Southeast University (2002), Govt. Titumir College (1965), National Institute of Preventive and Social Medicine (1978), Public Health Engineering Institute, T&T Girls Degree College' (1987),' T&T Boys' High School, Bangladesh International School (1995), International Turkish Hope School' (1996),' Australian International School (2003), Canadian International School,' Banani Bidda Niketan High School, Mahakhali Model High School, Rokeya Biddyapit, Banani Model School, Gulshan Model School, Rowshanara Girls' School, Amtali Staff Welfare Govt. Primary School.
Cultural organisations USIS Library, Gulshan Shooting Complex, International Club, American Club, Australian Club, Indian Cultural Centre and Russian Club are notable.
Noted installations American Embassy, China Embassy, Japan Embassy, French Embassy, British High Commission, Indian High Commission, Bangladesh Veterinary Research Institute, Transparency International Bangladesh, Wonderland, Paramedical Institute, Disaster Management and Relief Division, Ban Bhaban, Setu Bhaban, BRAC Research Centre.
Main sources of income Agriculture 1.42%, non-agricultural labourer 1.84%, industry 4.28%, commerce 20.27%, transport and communication 8.12%, service 44.10%, construction 4.12%, religious service 0.14%, rent and remittance 2.52% and others 13.19%.
Ownership of agricultural land Landowner 53.54%, landless 46.46%.
Main crops Vegetables.
Extinct or nearly extinct crops Paddy, jute, pales.
Main fruits Jackfruit, mango, papaya, banana, litchi, guava.
Communication facilities Total roads: 87.83 sq km.'
Extinct or nearly extinct traditional transport Palanquin, bullock cart, horse carriage.
Manufactories Garments Industries, welding.
Cottage industries Goldsmith, weaving, handicraft.
Noted bazars, shopping centres and fairs Banani Bazar, Gulshan Bazar, DCC Market 1 and 2, Alam Market, Shajadpur Bazar, Arong, ABC Shopping Centre, Wonderland Park Book Fair.
Main exports Garments products, handicraft.
Access to electricity All the wards of the thana are under rural electrification net-work. However 81.94% of the dwellings have access to electricity.
Sources of drinking water Tube-well 23.15%, tap 70.50%, pond 0.23% and others 6.12%.
Sanitation 80.08% of dwelling households of the thana use sanitary latrines and 18.68% of dwelling households use non-sanitary latrines; 1.24% of households do not have latrine facilities.
Health centres icddr,b, Leprosy Hospital, National Chest Disease institute and Tuberculosis Hospital,' National Cancer Research Institute and Hospital, Asthma Hospital.
NGO activities brac, ICDDR,B, ICRC. [Syed Shabbir Ahmed]
References Bangladesh Population Census 2001, Bangladesh Bureau of Statistics.