Hakimpur Upazila (dinajpur district) area 99.92 sq km, located in between 25°14' and 25°24' north latitudes and in between 88°56' and 89°09' east longitudes. It is bounded by nawabganj (dinajpur) and birampur upazilas on the north, panchbibi upazila on the south, ghoraghat upazila on the east, west bengal state of India and Birampur upazila on the west.
Population Total 83028; male 42922, female 40106; Muslim 75901, Hindu 4701, Buddhist 1059, Christian 133 and others 1234.
Water bodies Main rivers: little jamuna, Tulsi Ganga.
Administration Hakimpur Thana was formed in 1950 and it was turned into an upazila in 1984.
Upazila
Municipality
Union
Mouza
Village
Population
Density (per sq km)
Literacy rate (%)
Urban
Rural
Urban
Rural

1

3

69

80

25038

57990

831

54.3

44.1
Municipality

Area
(sq km)

Ward

Mahalla

Population

Density
(per sq km)

Literacy rate
(%)

16.39

9

16

25038

1528

54.2
Union
Name of union and GO code
Area (acre)
Population
Literacy rate (%)
Male
Female

Alihat 13

9734

10151

9653

44.85

Khatta Madhabpara 81

4184

8921

8450

42.78

Boaldar 40

6723

10577

10238

44.60
Source Bangladesh Population Census 2001,Bangladesh Bureau of Statistics.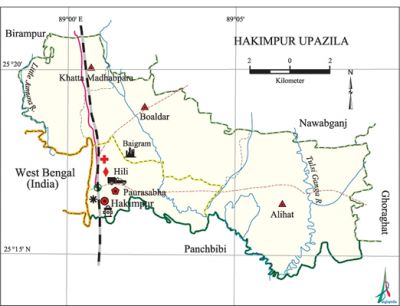 Archaeological heritage and relics Copperplate of the Gupta period (Baigram).
Historical events During the anti British armed movement in 1933 the anushilan samiti and the jugantar party (two secret revolutionary organisations) raided the Darjeeling Mail at Hili station and captured the arms and ammunitions' from the boggirs; they also set the railway station on fire. The Pak army raided Hilli on 19 April 1971. Two freedom fighters were killed in an encounter with the Pak army at Hakimpur Chhatni. The Pak army brutally tortured to death many male family members and took the young women to the military camps at villages Banial, Chhatni, Jagrai and Saduria. During the' war of liberation, the freedom fighters used Hili as a safe passage to communicate with the Indian army. During the period between 21 November and 11 December about 345 freedom fighters were killed in encounters with the Pak army at different' places of the upazila. Hakimpur was liberated on 11 December.
Religious institutions Mosque 140, temple 22, church 3.
Literacy rate and educational institutions Average literacy 47.2%; male 52.5%, female 41.6%. Educational institutions: college 3, secondary school 22, primary school 41, madrasa 14. Noted educational institutions: Hakimpur Degree College (1984), Hakimpur Mahila Degree College (1995), Jalalpur Business Management College, Bangla Hili Pilot High School (1941), Bangla Hili Government Girls' High School (1941), Boaldar High School (1949), Hatiso Adibasi Junior High School (2001), Paush Gara Fazil Madrasa (1974).
Newspapers and periodicals Weekly: Zero Point, Hili.
Cultural organisations Library 1, club 12, press club 2, Shilpakala Academy 1, cinema hall 3.
Amusement centres Ratnapuri.
Main sources of income Agriculture 54.26%, non-agricultural labourer 2.85%, industry 0.64%, commerce 23.74%, transport and communication 4.91%, service 4.82%, construction 0.69%, religious service 0.15%, rent and remittance 0.26% and others 7.68%.
Ownership of agricultural land Landowner 52.92%, landless 47.08%; agricultural landowner: urban 43.20% and rural 56.76%.
Main crops Paddy, wheat, potato, jute, sugarcane, oil seed.
Extinct or nearly extinct crops Aush paddy, tobacco, mustard, Kalai.
Main fruits Mango, banana, jackfruit.
Fisheries, dairies and poultries Fishery 12, dairy 2, poultry 2.
Communication facilities Pucca road 25 km, semi-pucca road 6 km; railway 9 km.
Extinct or nearly extinct traditional transport Palanquin, bullock cart, horse carriage.
Noted manufactories Rice mill, husking mill, bidi factory, bread factory, lozenge factory.
Cottage industries Goldsmith, blacksmith, potteries.
Hats, bazars and fairs Hats and bazars are 32, fairs 3, most noted of which are Hili and Dangapara hats, Manglar Par Mela, Jalalpur Mela and Dangapara Mela.
Main exports Paddy, wheat, potato.
Access to electricity All the wards and unions of the upazila are under rural electrification net-work. However 35.10% of the dwelling households have access to electricity.
Sources of drinking water Tube-well 95.60%, pond 0.06%, tap 0.28% and others 4.06%.
Sanitation 17.19% (rural 9.92% and urban 35.61%) of dwelling households of the upazila use sanitary latrines and 36.91% (rural 36.07% and urban 39.03%) of dwelling households use non-sanitary latrines; 45.90% of households do not have latrine facilities.
Health centres Hospital 1, upazila health complex 1, union health and family planning centre 3.
NGO activities Operationally important NGOs are brac, CARE, asa, thengamara mahila sabuj sangha. [Md. Rezaul Karim]
References Bangladesh Population Census 2001, Bangladesh Bureau of Statistics; Cultural survey report of Hakimpur Upazila 2007.