Nawabganj Upazila (Dinajpur District)
Nawabganj Upazila (dinajpur district)  area 314.68 sq km, located in between 25°14' and 25°34' north latitudes and in between 88°58' and 89°13' east longitudes. It is bounded by parbatipur upazila on the north, ghoraghat and hakimpur upazilas on the south, pirganj (rangpur), mithapukur and badarganj upazilas on the east, birampur and phulbari upazilas on the west.
Population Total 229337; male 114763, female 114574; Muslim 201383, Hindu 16546, Buddhist 42, Christian 4729 and others 6637. Indigenous communities such as santal, oraon and munda belong to this upazila.
Water bodies Main rivers: karatoya, Jamuneshwari.
Administration Nawabganj Thana was formed in 1899 and it was turned into an upazila in 1983.
Upazila
Municipality
Union
Mouza
Village
Population
Density (per sq km)
Literacy rate (%)
Urban
Rural
Urban
Rural
-
9
204
272
7225
222112
729
61.9
42.2
Upazila Town

Area (sq km)

Mouza

Population

Density (per sq km)

Literacy rate (%)

3.48
4
7225
2076
61.9
Union
Name of union and GO code
Area (acre)
Population
Literacy rate (%)
Male
Female
Kushdaha 69
11008
14966
14859
42.1
Golapganj 43
10752
15204
15204
43.8
Joypur 51
8895
11433
11431
44.3
Daudpur 25
8842
14919
14875
43.2
Putimara 86
5556
8727
8718
41.7
Binodnagar 17
10034
17084
16707
46.5
Bhaduria 13
9418
12817
12959
40.5
Mahmudpur 77
9330
13806
13913
37.7
Shalkhuria 94
3924
5807
5908
46.7
Source Bangladesh Population Census 2011, Bangladesh Bureau of Statistics.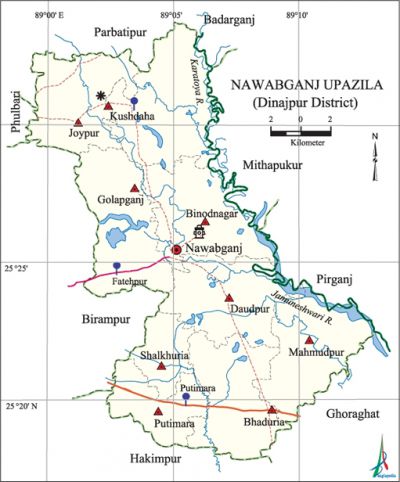 Archaeological heritage and relics Holaijana Ancient Mosque, Setakot Vihara, Kanjir Hari and Aruna Dhap, Jigagarh and Harinathpur Fort.
War of Liberation On 20 July 1971 the Pak army brutally killed 21 innocent people of village Khayergani. Besides, they also killed 157 innocent people at Chararhat of the upazila on 10 October. Freedom fighters had encounters with Pak army at Bhaduria, Bijul Bazar, Garibpara, Klabari and some other places of the upazila. There is a mass grave at Chararhat.
For details: see নবাবগঞ্জ উপজেলা, বাংলাদেশ মুক্তিযুদ্ধ জ্ঞানকোষ (Encyclopedia of Bangladesh War of Liberation), বাংলাদেশ এশিয়াটিক সোসাইটি, ঢাকা ২০২০, খণ্ড ৫।
Religious institutions Mosque 35, temple 17, church 8, math 3. Noted religious institutions: Holaijana Mosque, Tarpanghat Mandir, Kali Mandir.
Literacy rate and educational institutions Average literacy 42.8%; male 44.9%, female 40.7%. Educational institutions: college 11, secondary school 67, primary school 134, madrasa 39. Noted educational institutions: Daudpur Degree College (1972), Nawabganj Degree College (1987), Aftabganj Degree College (1994), Palashbari High School (1921), Daudpur Bilateral High School (1939), Binodnagar High School (1960), Aftabganj High School (1964), Hatishal Dishbandi Fazil Madrasa (1954), Kanchdaha Senior Madrasa (1956), Deoga Senior Madrasa (1959).
Newspapers and periodicals Defunct: Darpan, Ayna, Tarunna, Sapnapuri, Nabachetana.Cultural organisations Club 46, cinema hall 3.
Amusement centres Sapnapuri.
Main sources of income Agriculture 75.28%, non-agricultural labourer 2.92%, industry 0.44%, commerce 9.51%, transport and communication 2.15%, service 4.03%, construction 0.53%, religious service 0.15%, rent and remittance 0.07% and others 4.92%.
Ownership of agricultural land Landowner 59.73%, landless 40.27%; agricultural landowner: urban 49.01% and rural 60.04%.
Main crops Paddy, wheat, jute, maize, pulse, oil seed, sugarcane, potato, vegetables.
Extinct or nearly extinct crops Sesame, linseed, kaun.
Main fruits Mango, banana, jackfruit, litchi.
Fisheries, dairies and poultries Poultry 4.
Communication facilities Pucca road 86.24 km, semi-pucca road 19.84 km, mud road 574.98 km.
Extinct or nearly extinct traditional transport Palanquin, bullock cart, horse carriage.
Noted manufactories Rice mill, auto rice mill, saw mill, lathe machine, ice factory, biscuit factory.
Cottage industries Goldsmith, blacksmith, potteries.
Hats, bazars and fairs Hats and bazars are 26, fairs 5, most noted of which are Daudpur Hat, Nawabganj Hat, Bhaduria Hat, Binodnagar Hat, Daria Hat, Aftabganj Hat, Tarpanghat Mela, Bura Shib Mela, Kali Mela.
Main exports Paddy, jute, sugarcane, molasses.
Access to electricity All the unions of the upazila are under rural electrification net-work. However 31.4% of the dwelling households have access to electricity.
Natural resources High quality coal and minarals have been detected at Dighipara of this upazila.
Sources of drinking water Tube-well 97.1%, tap 0.5% and others 2.4%.
Sanitation 52.4% of dwelling households of the upazila use sanitary latrines and 27.2% of dwelling households use non-sanitary latrines; 20.4% of households do not have latrine facilities.
Health centres Upazila health centre 1, union health and family welfare centre 9.
Natural disasters Many people were victims of starvation due to the famine of 1943. Besides, the floods of 1987 and 1991 caused heavy damages to the settlements, crops and other properties on the bank of the Karatoya.
NGO activities Operationally important NGOs are brac, asa, caritas, thengamara mahila sabuj sangha. [SM Mahfuzur Rahman]
References Bangladesh Population Census 2001 and 2011, Bangladesh Bureau of Statistics; Cultural survey report of Nawabganj Upazila 2007.