Haque, ANM Gaziul (1929-2009) Language-movement (1952) leader, freedom-fighter, advocate; full name Abu Naser Muhammad Gaziul Haque, mother's name Nurjahan Begum, father's name Sirajul Haque, an activist of Congress and Khilafat movements. Born in Nichintapur village under Chhagalnaiya Upazilla of Noakhali district on 13 February 1929, Gaziul Haque got his early education from Kashipur School, and Bogra Zila School wherefrom he passed Marticulation examination in 1946. He passed Intermediate of Arts Examination from Azizul Haque College, Bogra, in 1948. He obtained BA (Hons.) and MA degree in History from the University of Dhaka in 1951 and 1952 and LLB degree from the same university in 1956.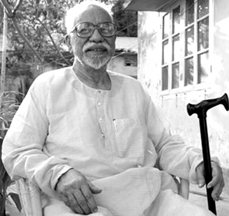 From his early life Haque was involved in different progressive movements. He was arrested in 1942 for pulling down a Union Jack flying on a government building in Ramna and hoisted there instead the Muslim League flag. In 1944, Haque was elected a president of Bengali Muslim Chhatra League of Bogra district. He got introduced to sheikh mujibur rahman in the Conference of Nikhil Bangla Muslim Chhatra League held in Kushtia in the same year.
In 1948 Haque was elected president of the East Pakistan Muslim Chhatra League, Bogra. He led a procession in the dhaka university campus in protest of the statement of Chief Minister Khwaja Nazimuddin on 30 January 1952 on the language issue. Haque presided over the historic amtala meeting held on February 21, 1952, in the Dhaka University campus. It was in that meeting that the epoch making decision was taken to violate section 144 of the criminal procedure code in realizing the demand for making Bangla a state language of Pakistan.
The action led to the police firing on the procession with a number of casualties including abul barkat, rafiuddin ahmed, abdul jabbar, and abdus salam. Since that incident, ekushe february is observed as shaheed dibash or Martyrs Day, which is now internationally observed as the international mother language day.
For his role played in the Ekushey February movement Gaziul Haque's MA degree was cancelled by the Dhaka University authorities under pressure from the government, but the University later recanted and restored his degree. In containing his political activities, Gaziul Haque was put in prison once in 1953, and again in the following year for his involvement in the contemporary politics on the eve of the 1954-elections. He was again imprisoned in 1975 following the assassination of Bangabandhu Sheikh Mujibur Rahman. While in prison, Haque came into close contact with personalities like ramesh shil, munier chowdhury, ajit kumar guha, satyen sen, ranesh das gupta. He played leading role in the 1962 Education Reform movement, 1964 anti-communalism-movement, and mass upsurge of 1969.
Gaziul Haque played significant role in the war of liberation. In April, 1971 he along with 27 freedom fighters including 39 EPR and police men, attacked the Aria Cantonment in North Bengal and liberated it. The battle is also known as Chili-fight. He took part in pitched battle in liberating Hilly, a land port in North Bengal. With the Bangladesh Exile Government in Calcutta Haque was in charge of publishing and distributing Joy Bangla a mouthpiece for Bangladesh War of Liberation. He also participated regularly in the War of Liberation programmes at Akashbani and swadhin bangla betar kendra.'
Gaziul Haque was a regular member of the Awami League Advisory Committee and also one of the founders of 'ekatturer ghatak dalal nirmul committee' (19 January 1992). He was also the chairman of Press Institute of Bangladesh (PIB) and Bogra Hamdard Unani Medical College and Hospital.
Haque had considerable literary ability. While in prison, he wrote a good number of poems and songs. One of his famous song Bhulba na, bhulba na, bhulba na/ ai Ekushey February' had been regularly chanted on the Shaheed Dibash Day processions. Among his publications include: Jeler kabita (1969), Ebarer Sangram Swadhinatar Sangram(1971), Egia Chalo(1971), Bangladesh Unchained (1971), Media Laws and Regulations in Bangladesh (1992). Muhammad Sultan (1994), Bangladesh-er Gena Medhaym Ain o Bidhimala (1996), Uchcha Adalate Bangla (2003).
In recognition of his contributions, Gaziul Haque was awarded Pabna theatre prize (1977), State Language Padak (1993), Bhasha Sainik Padak (1997), Sipep Gold medal (1999), Bangla Academy Fellowship (1999), Bishwa Bangali Conference prize (2000), Ekushey Padak (2000), Jahanara Imam Padak (2001), Bangabandhu Padak (2003), Sher-e-Bangla national award (2004), The University of Dhaka honoured him with the' honoris causa Doctorate of Laws degree in 2008. Gaziul Haque died on 17 June 2009 in Dhaka. [Shamima Akhter]