Haque, Azharul (1940-1971) physician, martyr intellectual. Azharul Haque was born in Dhaka on 2 March 1940. His paternal home was at village Radhanagar in Krishnanagar thana of Nadia district in West Bengal. Azharul Haque was born when his father Md. Zahurul Haque was the jailer of Dhaka Central Jail. His mother was Fatema Khatoon.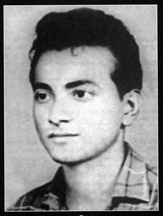 After the death of his father in 1943, Azharul Haque had been under the care of his eldest brother Anwarul Haque who was then a deputy jailer and later elevated to the post of superintendent of jails. Azharul Haque had his early education at the places of posting of his brother in Noakhali, Chittagong, Barisal, and Sylhet. He obtained his L.M.F degree in 1963 from Sylhet Medical School and MBBS in 1968 from Sir Salimullah Medical College in Dhaka. On completion of his internship for one year, Azharul Haque joined the Dhaka Medical College Hospital on 26 June 1969 as Assistant Surgeon.
Azharul Haque, a dedicated young physician, had outstanding contribution towards the cause of war of liberation of Bangladesh. With the beginning of the war he devoted himself to the treatment of the wounded freedom fighters secretly at his private chamber attached to the Saiyida Pharmacy at Hatirpool in Dhaka, and occasionally on call. It is reported that his activities in the service of the freedom fighters were somehow exposed to the armed cadres of al- badr, and he was warned in a letter addressed to his chamber at Hatirpool.
He was also summoned to the police headquarters sometime in July 1971 to have stern warning for his activities in favour of the freedom fighters. Since then he abstained himself from attending the wounded freedom fighters at his chamber, and instead arranged for their treatment at the basti area in and around Hatirpool. He even used to go on call at dead of night to the non-Bangali (Bihari) dominated areas of Mirpur and Mohammadpur for the treatment of the wounded freedom fighters.
Undaunted Azharul Haque was ready to face any reverse, and the impending reverse fell upon him in the month of November. Azharul Haque had his family residence then in Hakim House at 22 Free School Street in Hatirpool area. On the night preceding 15 November 1971 curfew was imposed in the city, and in the morning the Free School Street, Hatirpool and Central Road were kept cordoned by the armed cadres of al-Badr. Azharul Haque finding no way out to attend his duties in the hospital sent telephonic message from the residence of Khan Bahadur Abdul Hakim to the hospital asking for sending an ambulance to have a lift. While waiting for the ambulance at the main gate, his colleague Dr. A B M Hamayun Kabir residing in the same building, hurried downstairs to join him. But the cadres of al-Badr obstructed the entry of the ambulance from hospital into the Free School Street. Meanwhile some armed cadres of al-Badr finding two doctors in uniform at the doorway came forward and began interrogation. It appears that they were in search of Azharul Haque, and when identified one of the cadres struck him on his right hand with the rifle. Thereafter the cadres escorted them on gunpoint towards Hatirpool from where they were reported to have carried on a jeep.
On the day following (16 November), the dead bodies of Azharul Haque and Hamayun Kabir with their eyes veiled, hands and legs tied, were found in the trench below the eastern end of the culvert near Notre Dame College in Motijheel. It appears that they were severely tortured and killed by suffocation. Dr. Azharul Haque is laid to rest at Azimpur graveyard.
A man of progressive ideas, Azharul Haque was interested in cultural activities and literary pursuits. Besides his brothers and sisters, Azharul Haque left behind him his wife Syeda Salma Haque who was then pregnant and gave birth to a male child on 14 January 1972, who was later named as Ashraful' Haque (Nishan).
The Postal Department of Bangladesh Government issued commemorative postal stamp in the name of Azharul Haque on the Martyred Intellectual Day on 14 December of 1995 in recognition of his sacrifice for the cause of the nation. [Muazzam Hussain Khan]