Harinakunda Upazila (jhenaidah district) area 227.19 sq km, located in between 23°33' and 23°46' north latitudes and in between 88°59' and 89°11' east longitudes. It is bounded by kushtia sadar upazila on the north, jhenaidah sadar upazila on the south, shailkupa upazila on the east, alamdanga and chuadanga sadar upazilas on the west.
Population Total 172491; male 89438, female 83053; Muslim 163013, Hindu 9400, Buddhist 33 and others 45.
Water bodies Main rivers: kumar and nabaganga; Narayankandi, Rinikhali and Chandpur baors are notable.
Administration Harinakunda Thana, now an upazila, was formed in 1879.
Upazila
Municipality
Union
Mouza
Village
Population
Density (per sq km)
Literacy rate (%)
Urban
Rural
Urban
Rural

1

8

77

130

18332

154159

759

42.2

39.2
Upazila Town

Area
(sq km)

Mouza

Population

Density
(per sq km)

Literacy rate
(%)

19.96

2

18332

918

42.2
Union
Name of union and GO code
Area (acre)
Population
Literacy rate (%)
Male
Female

Kapashati 63

9090

11210

10283

43.26

Chandpur 21

8366

12752

11822

39.69

Joradaha 52

3505

6280

5886

37.81

Taherhuda 84

6722

11935

11007

41.76

Daulatpur 31

8906

14395

13305

39.51

Bhayna 10

6097

10931

10084

37.92

Raghunathpur 73

7233

11042

10421

36.19

Harinakunda 42

6228

10893

10245

38.86
Source  Bangladesh Population Census 2001,Bangladesh Bureau of Statistics.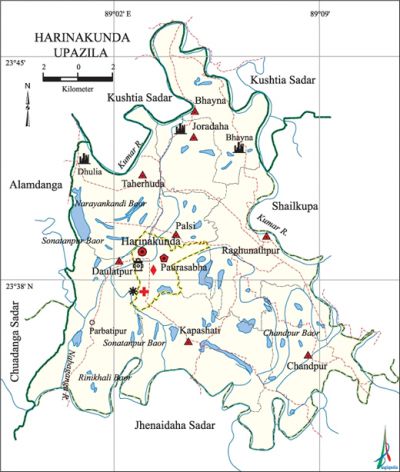 Archaeological heritage and relics Harinakunda zamindarbari, ruins of Neelkuthis at Joradaha, Dhulia, Bhayna, Sonatanpur and Harinakundu.
Historical events The great boul and sufi poet lalon shah (1771-1890) and sufi panju shah (1851) were born in this upazila. Bagha Jatin and Kiran Ray participated in the anti British movement. The people of this upazila participated in the indigo resistance movement. On 21 September 1971, an encounter was held between the local freedom fighters and the Pak army at the Shitli playground of the upazila.
Marks of the War of Liberation Memorial monument 1 (on the southern corner of the upazila foot ball playground.
Religious institutions Mosque 125, temple 16, church 1, sacred place 1, tomb 5. Noted religious institutions: Joradaha doomed Mosque, Shreepur Mosque, Upazila Mosque, Parbatipur Mosque, Andulia Mosque, tomb of Fakir Mahmud Bishwas at Kulbaria and Kali Mandir at Bhabanipur.
Literacy rate and educational institutions Average literacy 41.41%; male 42%, female 36.8%. Educational institutions: college 5, technical institute 1, secondary school 38, primary school 129, madrasa 6. Noted educational institutions: Lalan Shah Government College (1972), Joradaha High School (1872), Harinakunda Priyanath High School (1872), Harinakunda Pilot High School (1945).
Newspapers and periodicals Defunct: Antarik.
Cultural organisations Library 1, theatre group 4, jatra party 1, cinema hall 5, club 34.
Main sources of income Agriculture 78.45%, non-agricultural labourer 2.29%, industry 0.70%, commerce 9.99%, transport and communication 1.71%, service 2.86%, construction 0.62%, religious service 0.07%, rent and remittance 0.17% and others 3.14%.
Ownership of agricultural land Landowner 67.79%, landless 32.21%; agricultural landowner: urban 58.81% and rural 68.83%.
Main crops Paddy, jute, sugarcane, wheat, betel leaf, potato, mustard, pulse, vegetables.
Extinct or nearly extinct crops Rai (mustard seed, linseed, kaun, barley, sesame.
Main fruits Mango, jackfruit, banana, papaya, litchi, blackberry, star apple, date, coconut, plum, wood-apple, custard apple, guava.
Fisheries, dairies and poultries Fishery 5, dairy 2, poultry 7.
Communication facilities Pucca road 107.25 km, semi-pucca road 49.55 km, mud road 238.87 km.
Extinct or nearly extinct traditional transport Palanquin, horse carriage, bullock cart and buffalo cart.
Noted manufactories Rice mill, pulse mill, oil mill, spices grinding mill, flour mill, biscuit factory.
Cottage industries Weaving, potteries, nakshi kantha, bamboo and cane work.
Hats, bazars and fairs Hats and bazars are 26, fairs 3, most noted of which are Harinakunda, Parbatipur, Bhabanipur, Joradaha, Porahati Charpara, Rishkhali, Dakhalpur, Kulbaria, Narayankandi, Satbridge and Mandia bazars and Charak Puja Mela (Kapashati).
Main exports Paddy, jute, sugarcane, betel leaf, banana, date molasses, vegetables.
Access to electricity All the wards and unions of the upazila are under rural electrification net-work. However 18.82% of the dwelling households have access to electricity.
Sources of drinking water 'Tube-well 95.30%, pond 0.06%, tap 0.50% and others 4.14%.
Sanitation 11.82% (rural 11.07% and urban 18.24%) of dwelling households of the upazila use sanitary latrines and 42.53% (rural 42.38% and urban 43.81%) of dwelling households use non-sanitary latrines; 45.65% of households do not have latrine facilities.
Health centres Upazila health complex 1, family welfare centre 6, health services centre 11, community clinic 13.
NGO activities Operationally important NGOs are brac. [Tipu Sultan Bari]
References Bangladesh Population Census 2001, Bangladesh Bureau of Statistics; Cultural survey report of Harinakunda Upazila 2007.