Hashim, Syed Najmuddin (1925-1999) journalist, bureaucrat, diplomat and writer. Syed Najmuddin Hashim was born in Dhaka on 1 June 1925. He passed the Matriculation examination in 1942 from St Gregory's High School, IA in 1944 from Dhaka Intermediate College, and obtained BA (Hons) in English in 1946 from Calcutta Presidency College.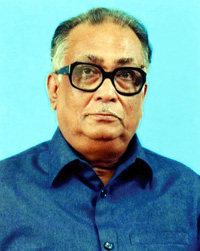 Najmuddin Hashim began his career as a desk-journalist, and served as News Editor and Broadcaster in Radio Pakistan (1948-1962), Chief Public Relations Officer in Industrial Development Bank of Pakistan (1962-1966).
He was the Deputy Director of Bureau of National Research and Reconstruction, Rawalpindi (1966-1968), Executive Director of Pakistan Council (1970-1972), Managing Director of Bangladesh Film Development Corporation (1974-1975), and Joint Secretary to the Ministry of Information in 1975. Najmuddin Hashim was the Director General in the Ministry of Foreign Affairs from 1975 to 1979.
Najmuddin Hashim had a long diplomatic career. He was the First Secretary in the Pakistan Embassy in France (1968-70), Press Minister in Bangladesh High Commission in London (1979-1980), Ambassador of Bangladesh to Burma and High Commissioner to Singapore (1980-1982), Ambassador to USSR, Finland and Mongolia (1984-1986). Najmuddin Hashim was a member of the cabinet of hussein muhammad ershad in 1982-1984 in charge of the Ministry of Information.
Najmuddin Hashim was a man of versatile talent. Some of his literary works are Bandishala Pakistan (1994), Ashleshar Rakshasi Belai: Smritipate Sheikh Mujib O Anyanya (1996), Samudyata Daiva Durbipakey (1999), The Devottee, the Combatant: Selected Poems of Shamsur Rahman (2000). Syed Najmuddin Hashim died in Dhaka on 18 July 1999. [Muazzam Hussain Khan]