Hatiya Upazila (noakhali district) area 1508.23 sq km, located in between 22°07' and 22°35' north latitudes and in between 90°56' and 91°11' east longitudes. It is bounded by noakhali sadar and ramgati upazilas on the north, bay of bengal on the south and the east, manpura upazila on the west.
Population Total 341176; male 174640, female 166536; Muslim 308416, Hindu 32714, Buddhist 21 and others 25.
Water bodies Main river: meghna; Shahbazpur and Hatiya Channels are notable.
Administration Hatiya Thana was turned into an upazila in 1983.
Upazila
Municipality
Union
Mouza
Village
Population
Density (per sq km)
Literacy rate (%)
Urban
Rural
Urban
Rural

-

10

52

62

35768

305408

226

24.99

39.46
Upazila Town

Area
(sq km)

Mouza

Population

Density
(per sq km)

Literacy rate (%)

-

3

35768

-

24.99
Union
Name of union and GO code
Area (acre)
Population
Literacy rate (%)
Male
Female

Char Ishwar 28

25145

22148

20735

48.69

Char King 38

28276

22710

22149

43.52

Chandnandi 19

5150

1897

1670

23.36

Jahajmara 57

35376

24460

22819

30.22

Tamaruddin 95

14954

13565

13897

37.09

Nalchira 66

22299

17816

16194

47.47

Burir Char 9

14808

28399

27796

34.84

Sukh Char 85

9869

10731

10110

38.82

Sonadia 76

3962

17467

17254

36.93

Harni 47

21551

15447

13912

13.69
Source Bangladesh Population Census 2001, Bangladesh Bureau of Statistics.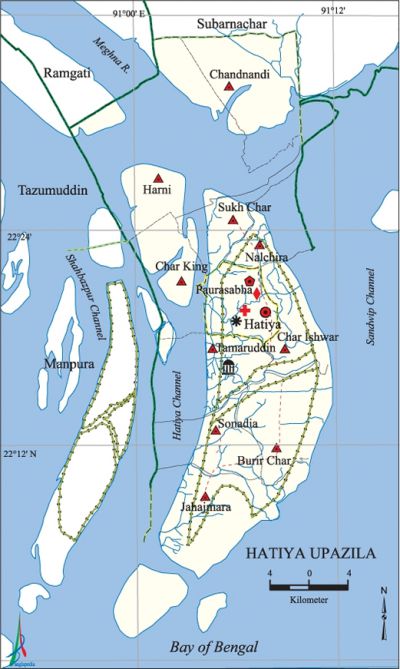 History of the War of Liberation On 11 May 1971, the Pak army raided the Hatiya town and conducted heavy tortures and plundering; they also set many houses on fire. The Pak army shot six persons dead at Afazia Bazar and two persons at Uchhkhali Bazar.
Religious institutions Mosque 410, temple 14. Noted religious institutions: Afazia Bazar Mosque, Tamaruddin Bazar Mosque, Kali Mandir at Uchhkhali Bazar.
Literacy rate and educational institutions Average literacy 37.96%; male 41.21%, female 34.62%. Educational institutions: college 4, secondary school 28, primary school 216, maktab 36, madrasa 154. Noted educational institutions: Hatiya Degree College (1969), Hatiya Dwip Govt. College (1970), Hatiya' Union Model Pilot High School (1912), Tamaruddin Ahamadia Fazil Madrasa (1922), Hatiya Rahmania Fazil Madrasa (1912).
Newspapers and periodicals Weekly: Hatiyar katha;' Fortnightly: Hatiya Kantha.
Cultural organisations Library 3, club 29, playground 22, cinema hall 1.
Amusement centers Nijhum Dwip (island) is one of the most important tourist spots of the country. Sun rise and sun set can be viewed from the vast extended sea beaches located on the southern and western extremities of the island. Considering the natural beauty and to preserve the bio-diversity of the island the government of Bangladesh declared 40 thousand acres of land of the upazila as national park in 2001. Besides, the island renders considerable contributions to Bangladesh economy, especially in the sectors of fishery, and of collecting honey.
Main sources of income Agriculture 65.38%, non-agricultural labourer 5.27%, industry 0.48%, commerce 11.96%, transport and communication 1.33%, service 4.19%, construction 1%, religious service 0.39%, rent and remittance 0.72% and others 9.28%.
Ownership of agricultural land Landowner 45.03%, landless 54.97%; agricultural landowner: urban 14.62% and rural 49.62%.
Main crops Paddy, jute, potato, sugarcane, pulse, oil seed, betel leaf.
Extinct or nearly extinct crops Mustard, aush paddy.
Main fruits Jackfruit, mango, banana, papaya, betel nut, coconut, date.
Fisheries, dairies and poultries Poultry 12, hatchery 17.
Communication facilities Pucca road 380 km, semi-pucca road 220 km, mud road 750 km.
Extinct or nearly extinct traditional transport Palanquin, horse carriage, bullock cart.
Noted manufactories Rice mill, flour mill, ice factory, chilli mill, welding factory.
Cottage industries Jute work, weaving, blacksmith, potteries, crafts, embroidery, cane work, bamboo work, wood work, brass work.
Hats, bazars and fairs Hats and bazars are 40, fairs 2, most noted of which are Uchhkhali, Afazia, Tamruddin, Chaumuhani, Sagaria, Jahajmara and Nalchida' Bazars; Khaser Hat, Baishakhi Mela at Uchhkhali bazar.
Main exports Betel nut, coconut, betel leaf.
Access to electricity All the unions of the upazila are under rural electrification net-work. However 3.78% of the dwelling households have access to electricity.
Natural resources Natural gas has been discovered in Char King union of the upazila.
Sources of drinking water Tube-well 31.74%, tap 52.97%, pond 9.40% and others 5.88%.
Sanitation 17.80% (rural 18.84% and urban 10.85%) of dwelling households of the upazila use sanitary latrines and 68.19% (rural 67.40% and urban 73.45%) of dwelling households use non-sanitary latrines; 14.02% of households do not have latrine facilities.
Health centres Upazila health centre 1, family planning centre 10, satellite clinic 6.
Natural disasters The devastating cyclone and tidal bore on 12 November 1970 caused death of more than one lakh people of the coastal area. It also caused heavy damages to settlements, livestock and crops of the region.
NGO activities Operationally important NGOs are 'asa, proshika, CARE, caritas. [Md Tawhid Hussain Chowdhury]
References Bangladesh Population Census 2001, Bangladesh Bureau of Statistics; Cultural survey report of Hatiya Upazila 2007.