Hawker petty traders paddling in cities and rural areas. In Bangladesh the term refers to a person offering goods or services for sale from door to door and also at public places like streets and pavements. It is a traditional occupation in the country.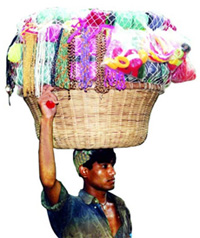 An extended meaning of hawkers also includes quack doctors, services like saloons, cycle/rickshaw repairing and food processing activities such as selling fruits in portions of one serving, rice cakes, snacks and main meals. A large proportion of the hawkers are located in fixed selling sites on temporary basis. The hawkers have lower capital investment within Tk 1,000. Those hawkers who have a fixed location have target customers of lower income groups of cities and towns.
Mobile hawkers have both middle and lower income group customers as they provide door to door service Bangladesh has a rapidly growing urban population. Its annual growth is 6%. A large section of the new urban population cannot be absorbed in the formal sector. As a result a large section of population in the cities of Bangladesh are involved in informal activities, specially hawking in the streets.
The hawkers can be classified according to their mode of operation. There are mobile hawkers, semi-static hawkers and static hawkers. Mobile hawkers provide door to door service. There are various types of mobile hawkers.
Some carry their goods as headloads and others use some sort of carrying carts. The headload hawkers sell fruits, vegetables, fish and household goods like floor and wall cleaning accessories, rugs, etc. Shoulder- load hawkers sell pottery goods, aluminium-cooking pots and plastic wares and sometimes fruits. Young hawkers usually put their goods in a tray and hang it round their neck. These hawkers sell peanuts, hair accessories, imitation jewellery and some other goods in public places. Those hawkers who use carts for carrying their goods usually sell large and heavy seasonal fruits like jackfruit, melon, cooked foods and variety of vegetables and plastic wares. These hawkers operate mainly in the office areas and also around schools. The customers usually buy from them while going home after office or after collecting the children from school. Average daily income of these hawkers vary from Tk 100-150.
Semi-static hawkers change their locations depending on the availability of customers and climatic and security factors. These hawkers usually operate their business in the same location and bring their merchandise with them and at the end of the day they move out with their belongings. Sometimes they operate their business from a cart or sometimes they sit on the pavements, in market areas or public places. As they have no cover over their head during hot days and in rain they protect themselves either with an umbrella or a plastic cover. They conduct their business for 10 to 12 hours a day starting from early morning to late evening. The overhead cost is low, as they have no permanent establishment. Their daily average income ranges from Tk 150-300 but those who operate in busy public places have a higher income.
Static hawkers have permanent stalls either in the market places, commercial areas, bus stops or under the foot overbridges in busy public places. These shops are rented out by the municipal organisation. Capital expenditure is the highest among the hawkers and their target customers are both low and middle-income people of the cities. Usual shops are newspaper stands, fast-food shops, shoe shops and readymade garment shops. Their daily average income ranges from Tk 300-500. Hawkers are regarded as part of the national heritage and culture of Bangladesh. [Naznin Afrose Huq]