Horse Carriage a two or four wheeled vehicle pulled by horses; also familiarly termed as tomtom in Bangla. In the case of one-horse pull carriage, it is termed tanga (in Bangla).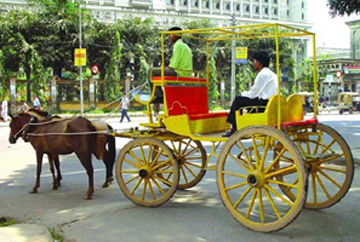 Horse carriages originated in the Indian subcontinent during the British period. The first horse carriage landed in Dhaka from calcutta in mid-19th century. The roads were developed and renovated from brick-dust to cement and finally to pitch covered for plying these carriages.
Following the British culture, local zamindars (landlords) and the elites started to use horse carriages as their mode of transport. Gradually, these carriages also started to ply in district and sub-divisional towns.
The structure and name of carriages differed from place to place. A coach could be two-wheeled or four-wheeled; hooded with colour-glass windows or open seated. Generally, the wheels were large in size and made of wood. In Dhaka, the carriage was called tomtom, but in some other places it was known as tanga, jurigari or ekka. The driver of horse carriage was known as Kochoan or Sahis.
With the introduction of the motor car, the horse carriage trade declined. In some part of the country, it is entirely extinct. In Dhaka, a few carriages still ply from Gulistan to Sadarghat of Old Dhaka. However, in rural areas of Rajshahi, Mymensingh, Netrokona, Dinajpur, Naogaon and Jessore, horse carriages still transport passengers and goods. Colourful carriage rallies organised on special days or functions still attract people of all ages. [Mesbahuddin Tuhin]