Hossain, Nawab Musharraf (1871-1966) a lawyer, political leader and a philanthropist. Born in the Kazi family of Cheora under chauddagram upazila (comilla district) in 1871, Musharraf was the son of Kazi Mokarram Ali, a lawyer of the Comilla Judge Court. Musharraf Hossain graduated from the hughli mohsin college in 1899 and obtained the BL degree from the Calcutta University.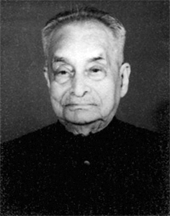 He married Faizunnesa Begum, daughter of a tea-planter and inherited, through his wife, vast landed and other properties at Jalpaiguri. He joined the Jalpaiguri District Bar and served the Jalpaiguri Municipality as its Vice- Chairman for several years. First elected to the Bengal Legislative Council in 1918, Hossain proved himself a very good parliamentarian. He was continuously a member of the Council from 1923-1936 and fought hard for Muslim cause in and outside the Legislature.
In 1924 he moved a resolution in the Bengal Legislative Council to give immediate effect to a provision of the bengal pact. But due to strong opposition of the Hindu leaders the government indefinitely postponed decision which greatly shocked the Muslims. Musharraf Hossain was the Minister of Education in 1927 and got the Compulsory Free Primary Education Bill passed in the Legislative Council. He was the Vice-President of the Bengal United Muslim Party.
Musharraf was elected uncontested to the Bengal Legislative Council in December 1936 as an independent candidate. After the election he joined the muslim league and served as the Law and Judicial Minister from 1937 to 1941. He was a minister again from 1943 to 1945. He actively participated in the Pakistan Movement. After 1947, however, Musharraf Hossain stayed back in India, and was a member of the West Bengal Bidhan Sabha for many years.
A rich tea-planter, Musharraf Hossain was a philanthropist. He built a High English School at Cheora, his own village, and named it 'Faizunnesa High English School' after his wife. He donated 10 acres of land along with Taka 50,000/- for the school. He established a few scholarships for the Muslim students of the newly founded Dhaka University and played an active role in the establishment of the Islamia College, Calcutta (1926) and donated a large amount of money for the purpose. He generously helped many schools and madrasas at Jalpaiguri and other places of West Bengal. He was first given the title of 'Khan Bahadur' and in 1926 the title of 'Nawab' was bestowed upon him. Nawab Musharraf Hossain died on 15 November 1966. [Muhammad Abdus Salam]