Hossain, Tofazzal (1911-1969) journalist, politician, editor of the Daily ittefaq. He is widely known as Manik Mia. Tofazzal Hossain was born at Bhandaria in Pirojpur district in 1911. He passed Entrance examination from Pirojpur High School, and obtained BA degree from Barisal Brajamohan College in 1935. Tofazzal Hossain started his career as an assistant in the office of the Sub-divisional officer of Pirojpur. Later, he was appointed as District Public Relations Officer of Barisal.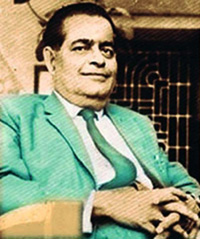 While serving in Barisal Tofazzal Hossain came in close contact with the Muslim League leader huseyn shaheed suhrawardy. On his advice, Tofazzal Hossain resigned from service and went to Kolkata in 1943. There, he was appointed a secretary at the office of the provincial muslim league. From that time, he got directly involved in politics. Leaving this job in 1947, he joined as the secretary of the Board of Directors of Daily Ittefaq, founded by Suhrawardy.
When this newspaper was closed down towards the end of 1948, he came back to Dhaka. He then got involved with the weekly Ittefaq published from Dhaka (1949), and took over the responsibility of its editor in 1951.In 1953, Weekly Ittefaq was converted into Daily Ittefaq under his editorship.
Manik Mia and the Daily Ittefaq played significant role in the movement against military rule of mohammad ayub khan. He was imprisoned in 1959 for his alleged violation of Martial Law regulations and was kept confined for one year. He was again arrested in 1962 for the allegation of instigating the students to organise protest against martial law. Manik Mia rendered strong support to the historic six-point programme, and the Ittefaq played a crucial role as the mouthpiece of the movement. He was again arrested on 16 June 1963. The Daily Ittefaq was banned and the New Nation Printing Press was confiscated. Under government pressure two of his other periodicals, Dhaka Times and Purbani, had to be wound up. The Ittefaq reappeared on 11 February 1969 after the embargo on its publication was lifted in the face of mass upsurge.
Manik Mia was a critical and intrepid journalist. He regularly wrote critical articles on politics under the pseudonym 'Musafir' in the post-editorial columns of Ittefaq like Rajnaitik Halchal and Manchey Nepatthey. In these columns, he tried to create public opinion in favour of parliamentary democracy and regional autonomy in East Bengal.
Manik Mia was one of the patrons of the movement for fostering Bangali nationalism during the sixties. He protested vehemently when the reactionary forces opposed the observance of Rabindranath's birth centenary, and played a leading role in its observance as a key member of the Rabindra birth centenary organising committee. He was a believer in non-communal and exploitation-free social system. He played a courageous role in stopping the apprehended communal riot in Dhaka in 1964 on the issue of 'Hazrat Bal' (Prophet's hair) controversy in Kashmir. He was the chairman of Riot Resistance Committee.
Manik Mia was elected president of the Pakistan branch of International Press Institute in 1963. He also discharged the responsibility of secretary of the government-sponsored Pakistan Press Court of Honour, as well as the Director of Pakistan International Airlines (1956-58). Notable among his books are Pakistani Rajnitir Bish Bachhar (Twenty years of Pakistani politics) and Nirbachita Bhashan O Nibandha (Selected speeches and articles). After independence, the present Manik Mia Avenue of Dhaka city has been named in recognition of his contributions to the Bengali nationalist movement. Tofazzal Hossain died in Rawalpindi on 1 June 1969. [Md Hafizur Rahman]