Hossainpur Upazila (kishoreganj district) area 121.29 sq km, located in between 24°23' and 24°31' north latitudes and in between 90°34' and 90°44' east longitudes. It is bounded by nandail upazila on the north, pakundia and gaffargaon upazilas on the south, kishoreganj sadar upazila on the east, Gaffargaon upazila on the west.
Population Total 161979; male 82201, female 79778; Muslim 158448, Hindu 3382, Buddhist 42 and others 107.
Water bodies Main rivers: old brahmaputra and Narsunda; Panan, Hanjail and Sukoni beels are notable.
Administration Hossainpur Thana was formed in 1922 and it was turned into an upazila in 1983.
Upazila
Municipality
Union
Mouza
Village
Population
Density (per sq km)
Literacy rate (%)
Urban
Rural
Urban
Rural

-

6

73

98

15573

146406

1335

45.4

35.6
Upazila Town

Area
(sq km)

Mouza

Population

Density
(per sq km)

Literacy rate
(%)

4.51

3

15573

3453

45.4
Union
Name of union and GO code
Area (acre)
Population
Literacy rate (%)
Male
Female

Araibaria 13

3782

12795

12455

45.68

Gobindapur 27

5919

18259

18065

33.42

Jinari 40

5777

12362

11656

28.98

Pumdi 54

4759

12226

12065

41.75

Sahedal 67

3040

9530

9099

47.31

Sidhla 81

6545

17029

16438

28.45
Source Bangladesh Population Census 2001, Bangladesh Bureau of Statistics.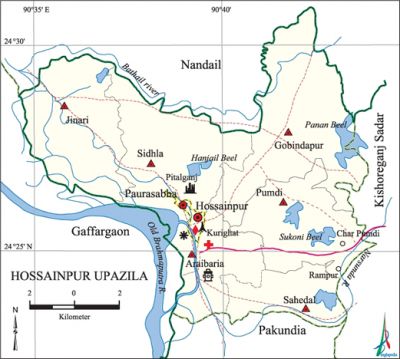 Archaeological heritage and relics Pitalganj Neel Kuthi (1800), temple at the Palace of Gangatia zamindar (1800), Kulishwaribari Kali Mandir (seventeenth century).
History of the War of Liberation During the war of liberation the freedom fighters, in an encounter at Hossainpur, killed 39 Pak soldiers and captured huge amount of arms and ammunitions. On 18 November the freedom fighters destroyed a bridge by explosive. They attacked a Razakar Camp and captured 14 razakars along with their arms.
Marks of the War of Liberation Mass killing site 1 (Kurighat mass killing site, in front of Hossainpur Police Station), memorial 1 (Shahid Manju Gate)
Religious institutions Mosque 209, tomb 10, temple 2, Akhra 2.
Literacy rate and educational institutions Average literacy 36.6%; male 38.6%, female 34.6%. Educational institutions: college 4, secondary school 21, madrasa 13. Noted educational institutions: Gobindapur High School (1918), Hossainpur Pilot High School (1920), Hossainpur High School (1936), Piplakandi High School (1941), Madhakhola Fazil (Hons) Madrasa (1929).
Main sources of income Agriculture 65.81%, non-agricultural labourer 3.67%, industry 0.25%, commerce 11.98%, transport and communication 2.89%, service 4.81%, construction 0.93%, religious service 0.17%, rent and remittance 1% and others 8.49%.
Ownership of agricultural land Landowner 60.87%, landless 39.13%; agricultural landowner: urban 43.74% and rural 62.63%.
Main crops Paddy, jute, wheat, potato, mustard, sugarcane, betel leaf, maize, vegetables.
Extinct or nearly extinct crops Local varieties of paddy, kalai.
Main fruits Mango, blackberry, litchi, jackfruit, banana, papaya, custard apple, coconut, palm, star apple, indian apple.
Fisheries, dairies and poultries Fishery 1, dairy 10, poultry 14, hatchery 20.
Communication facilities Pucca road 25.80 km, semi-pucca road 35 km, mud road 195.31 km.
Extinct or nearly extinct traditional transport Palanquin, horse carriage, bullock cart.
Noted manufactories Flour mill, rice mill, saw mill, ice factory, biscuit factory.
Cottage industries Goldsmith, potteries, blacksmith, bamboo and wood work, tailoring.
Hats, bazars and fairs Hats and bazars are 17, fairs 5, most noted of which are Hossainpur Bazar, Hajipur Kachari Bazar, Pitalganj Bazar, Rampur Bazar, Harenja and Char Pumdi Bazar.
Main exports Paddy, jute, wheat, potato, sugarcane molasses, banana.
Access to electricity All the unions of the upazila are under rural electrification net-work. However 16.52% of the dwelling households have access to electricity.
Sources of drinking water Tube-well 94.91%, pond 1.28%, tap 0.34% and others 3.47%. The presence of arsenic has been detected 4.99% in shallow tube-well water of the upazila.
Sanitation 14.03% (rural 12.42% and urban 29.74%) of dwelling households of the upazila use sanitary latrines and 52.53% (rural 52.74% and urban 50.46%) of dwelling households use non-sanitary latrines; 33.44% of households do not have latrine facilities.
Health centres Upazila health complex 1, family planning centre 5, satellite clinic 6.
NGO activities Operationally important NGOs are brac, proshika. [Azizur Rahman Bhuiyan Babul]
References Bangladesh Population Census 2001, Bangladesh Bureau of Statistics; Cultural survey report of Hossainpur Upazila 2007.