Jagadbandhu (1871-1921) Vaishnava mystic and author, born in 1871 at Gobindapur in faridpur district, son of Dinananth Chakraborty (Nyayaratna), a sanskrit scholar. He started his education at the village school. He later attended schools at Faridpur, pabna and Ranchi but could not pass the Entrance examination.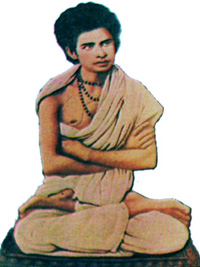 Jagadbandhu was a life-long mystic, and would go into a trance listening to religious discussions or kirtan songs. His daily schedule included yoga practice, regular evening worship, and devotion to the saints. Gradually people became attracted to him and the number of his disciples increased. He organised collective kirtan and preached devotion through it. He travelled to many holy places and engaged in meditation at Vrindavan where he attained siddhi or divine grace.
After returning to Faridpur, Jagadbandhu established a hermitage in its outskirts. He worked for the eradication of caste and class inequalities.
He believed that the well-being in the world could be brought about through singing kirtans. He composed eight books on the worship of God through kirtan: Shrimatisangkirtan, Shrimansangkirtan, Bibidhasabgit, Shrisangkirtan, Padavali, Shrishriharikatha, Chandrapat, Trikal and Uddharan. The first three books were printed together under the title of Sangkirtan Padamrta and contain 177 verses. He died in 1921 at the Sriangan Ashram in Faridpur. [Paresh Chandra Mandal]