Jagannathpur Upazila (sunamganj district) area 368.27 sq km, located in between 24°31' and 24°40' north latitudes and in between 91°27' and 91°41' east longitudes. It is bounded by chhatak and sunamganj sadar upazilas on the north, nabiganj upazila on the south, bishwanath and balaganj upazilas on the east, derai upazila on the west.
Population Total 225271; male 116483, female 108788; Muslim 201804, Hindu 23365, Buddhist 30, Christian 29 and others 43.
Water bodies Main rivers: kushiyara and Dahuka. Haors 25, Beels 98; Gaziala Group Haor, Pinglar Haor, Nalua Haor and Paruar Haor; Jamaikata Beel, Borat Beel, Feora Beel and Kumaria Beel are notable.
Administration Jagannathpur Thana was formed in 1922 and it was turned into an upazila in 1983. Municipality was established in 1999.
Upazila
Municipality
Union
Mouza
Village
Population
Density (per sq km)
Literacy rate (%)
Urban
Rural
Urban
Rural

1

8

263

310

34908

190363

612

47.62

44.86
Municipality

Area
(sq km)

Ward

Mahalla

Population

Density
(per sq km)

Literacy rate
(%)

25.45

9

43

34908

1372

47.62
Union
Name of union and GO code
Area (acre)
Population
Literacy rate (%)
Male
Female

Asharkandi 17

12608

12080

11162

46.18

Kalkalia 38

13463

14057

13236

40.96

Pailgaon 57

10346

13351

13162

43.33

Patali 66

8034

9324

8701

47.81

Mirpur 47

7142

10725

9633

51.54

Raniganj 76

12194

16828

15869

39.88

Syedpur 85

5487

10286

9461

49.22

Haldipur 19

15168

11463

11025

44.68
Source Bangladesh Population Census 2001,Bangladesh Bureau of Statistics.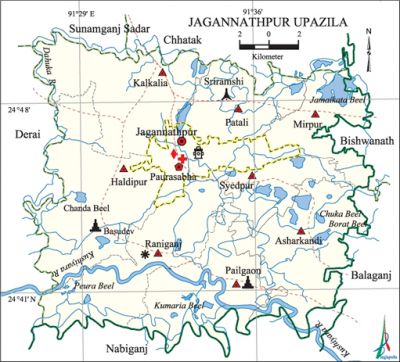 Archaeological heritage and relics Mazar of Hazrat Shah Kama (R). Memorial of Radha Raman (Keshabpur), Bishnu Temple (Pailgaon) and House of Gobinda Roy (Haripur).
History of the War of Liberation During the war of liberation, on the 31 August 1971, the local razakars arranged a so-called peace meeting at Sriramshi High School compound and arranged a gathering of teachers, officials, union parishad members, local elite and a cross section of the people. With the help of the Razakars the Pakistani army brutally killed 126 persons by firing on the meeting, and the entire village was set on fire. Again on 8 September the Pak Army killed 30 innocent civilians and sacked about 150 shops at Raniganj Bazar.
Marks of the War of Liberation Mass killing site 1; mass grave 1 (Sriramshi).
Religious institutions Mosque 360, temple 21, tomb 7. Noted religious institutions: Ikarsai Jami Mosque, Basudev Mandir are notable.
Literacy rate and educational institutions Average literacy 45.3%; male 48.1%, female 42.3%. Noted educational institutions: Jagannathpur college, Jagannathpur Swarup Chandra Government High School (1926), Pailgaon BN High School (1919), Mirpur Public Multilateral High School (1931), Syedpur Pilot High School (1963), Nayabandar Bilateral High School (1975), Ishaquepur Public High School (1982), Syedpur Saiadia Shamchhia Senior Madrasa (1903) and Asharkandhi Zakir Muhammad Primary School (previously Madhyabanga Bidyalaya, 1887).
Newspapers and periodicals Weekly: Jagannathpur Kantha; fortnightly: Jagannathpur, Jagannathpur Darpan; monthly: Jagannathpur Kantha, Jagannathpur Times, Jagannathpur; Irregular: Methopath, Kathokatha,' Jagannathpur Barta, Ishaquepur Barta.
Cultural organisations Club 20, library 11, theatre stage 1, theatre group 1, women organisation 30, art school 1, music school 1, literary organisation 2.
Main sources of income Agriculture 57.11%, non-agricultural labourer 6.87%, industry 0.42%, commerce 9.42%, transport and communication 0.96%, service 3.79%, construction 0.88%, religious service 0.34%, rent and remittance 9.70% and others 10.51%.
Ownership of agricultural land Landowner 38.44%, landless 61.56%; agricultural landowner: urban 31.51% and rural 39.62%.
Main crops Paddy.
Extinct or nearly extinct crops Aman paddy.
Main fruits Mango, blackberry, jackfruit, banana, betel nut.
Fisheries, dairies and poultries This upazila has a number of fisheries, dairies, poultries and hatcheries.
Communication facilities Pucca road 45 km, semi-pucca road 20 km, mud road 278.15 km; waterway 11 nautical miles.
Extinct or nearly extinct traditional transport Palanquin, horse carriage.
Noted manufactories Flour mill, ice factory and rice mill.
Cottage industries Bamboo and cane work.
Hats, bazars and fairs Hats and bazars are 31, fairs 3, most noted of which are Jagannathpur, Raniganj, Nayabandar, Syedpur and Kasabpur bazars and Basudev Bari Mela.
Main exports Fish.
Access to electricity All the wards and unions of the upazila are under rural electrification net-work. However 15.30% of the dwelling households have access to electricity.
Sources of drinking water Tube-well 70.65%, pond 21.53%, tap 1.36% and others 6.46%.
Sanitation 37.42% (rural 35.11% and urban 50.99%) of dwelling households of the upazila use sanitary latrines and 49.42% (rural 51.20% and urban 38.91%) of dwelling households use non-sanitary latrines; 13.16% of households do not have latrine facilities.
Health centres Upazila health centre 1, family planning centre 3, union health and family planning centre 5, TB clinic (operated by brac) 1, leprosy treatment centre (operated by HEED Bangladesh) 1, clinic (Pathology) 2.
NGO activities Operationally important NGOs are brac, Swanirvar Bangladesh. [Jiban Kumar Chanda]
References Bangladesh Population Census 2001, Bangladesh Bureau of Statistics; Cultural survey report of Jagannathpur Upazila 2007.