Jatiya Press Club established in Dhaka in 1954, when it was called East Pakistan Press Club. Besides being a meeting place for journalist, it provides a forum for political, social and cultural groups and individuals for holding press briefings and seminars. It is run by an elected body and under its own rules and regulations. Local press clubs exist at districts and other places to serve similar purposes but are not constituents of the Jatiya (National) Press Club. Press clubs are regarded as a symbol of freedom of the press. Aggrieved groups of people often hold protest rallies at places close to these clubs for drawing attention of the media.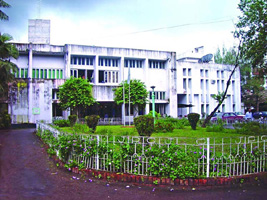 After partition of Bengal, the first move to set up a press club in Dhaka was made in 1948 by Associated Press of India's representative PM Balan, Sangbad editor Khairul Kabir and Sangbad news editor Syed Nuruddin. After a lapse of two years, Syed Muhammad Husain, director of public relations of the East Pakistan government, and Abdus Salam, editor of the Pakistan Observer, joined the efforts. At one stage a committee with AMA Azim, manager of Associated Press of Pakistan, as chairman and Abdul Matin, editor of United Press of Pakistan, as secretary, was formed to draw up a memorandum of association for the club. The East Pakistan Press Club was established on 20 October 1954 and government allotted to it a redbrick house at 18 Topkhana Road at a monthly rent of Tk 100. Before 1947, it was a residential house of the university of dhaka. Famous physicist satyendra nath bose used to live in it. NM Khan, chief secretary of the provincial government, was made the club's first life member.
The first president of the East Pakistan Press Club was Mujibur Rahman Khan, joint editor of the Azad, and its secretary was Zahur Husain Choudhury of the Sangbad. In 1959-60, a move was made to register it as a club. After Liberation, it was named the Jatiya Press Club. Abdul Awal Khan became its president and its secretary was ASM Habibullah. The club's flag and emblem were selected in 1995.
In the 1950s, the club had a membership of about fifty. After the first Wage Board for journalists announced its award in 1961, there was a substantial increase in the number of newspapers and of journalists and consequently, the membership of the club also rose sharply. The present constitution of the Jatiya Press Club provides for three categories of membership: life membership, permanent membership for professional journalists and associate membership for public relations personnel. The associate members have no voting rights. At present, the club has a total membership of about eight hundred.
The redbrick building where the press club was first established in 1954 is no longer in existence. On the night of 25 March 1971, the Pakistan Army shelled the club building and almost destroyed it. On 22 December 1977, the Topkhana Road land was permanently leased out to the club and the government provided the funds to bear the cost of construction of a new building for it. The club is now a well-equipped institution with two auditoriums, a VIP lounge, a canteen, a TV room, guestrooms and a library.
Although a professional club of journalists, the Jatiya Press Club has from its inception played an important role on many national issues. In 1964, it took out a procession to protest against communal riots and in 1967, it took out another procession to protest against the government's ban on playing Tagore songs on radio and TV. In due course this club became a vehicle of movements for autonomy and the war of liberation, and later, for democracy and freedom of the press, and for resisting autocracy. [Aminur Rahman Sarkar]