Jhaudiya Mosque located about 21 km southwest of kushtia town and about 6.5 km west of the Kushtia-Jhenaidaha highway, is locally attributed to a saint. Adjacent to the mosque there is also a ruinous tomb. Muslims and Hindus gather there everyday, particularly on Friday, and offer special prayers for gaining the saint's grace. The identity and date of the saint are not known.
The mosque has been thoroughly repaired and a verandah added in the east. Recently the Department of Archaeology, Bangladesh has taken the monument under its protection, removed the verandah and made some minor repairs with a view to bringing it back to its original shape and design.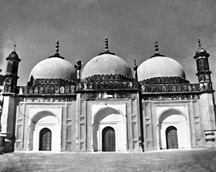 Built in brick, the mosque occupies the western half of a low platform. The remaining eastern part of the platform, forming an open court, is plastered over and enclosed by a low wall with a gateway in the middle of the eastern side. The two front corners of the platform are emphasised with octagonal domed pavilions, each having four axial arched openings. These domed pavilions resemble those hollow domed corner towers of the satgumbad mosque at Dhaka and those of the ghoraghat fort mosque in Dinajpur.
The mosque proper is oblong in plan, 16.15m by 6.10m on the outside. In the eastern wall there are three arched doorways, each opening out under a half-dome. Each of the north and south walls is pierced with a single archway, now filled with brick grills. The qibla wall has three semi-octagonal mihrabs. The central archway and the central mihrab show the usual outside projection, bounded by ornamental turrets. These turrets rise high above the horizontal parapets and are topped by small cupolas with kalasa finials. The three square bays in the interior of the mosque, formed by two wide transverse arches, are covered with three slightly bulbous domes. The two wide transverse arches and the blocked arches over the mihrabs and doorways support the octagonal drums, which directly carry the thrust of the domes above. All the domes are crowned with beautiful lotus and kalasa finials. The four octagonal corner towers, carried beyond the parapets, have kalasa bases and are topped by solid kiosks and cupolas with kalasa finials.
On the eastern facade the rectangular frames, which border the archways, are marked with sunken arched panels. The parapets and the outer face of the drums are decorated with rows of blind merlons. The spandrels of the mihrab and doorway arches are decorated with stucco ornamentation, the motifs being geometric patterns, small trees with flowers and interlocking spiral scrolls with intertwining rosettes in their bends.
In plan and in some of its constructional and decorative aspects the building bears the closest similarity with the Ghoraghat Fort Mosque (1740-41) in Dinajpur and the bajra shahi mosque (1741-42) in Noakhali. It is on this stylistic ground that the Jhaudia Mosque in Kushtia may be dated sometime in the middle of the 18th century. [MA Bari]