Kushtia District (khulna division) area 1621.15 sq km, located in between 23°42' and 24°12' north latitudes and in between 88°42' and 89°22' east longitudes. It is bounded by rajshahi, natore and pabna districts on the north, chuadanga and jhenaidah districts on the south, rajbari district on the east, west bengal of India and meherpur district on the west.
Population Total 1740155; male 893744, female 846411; Muslim 1682154, Hindu 57241, Buddhist 313, Christian 67 and others 380.
Water bodies Main rivers: padma, Garai, Mathabhanga, kumar.
Administration Once Kushtia region was included in the Nadia District of the undivided Bengal. In 1947, Kushtia District was formed comprising Kushtia Sadar, Chuadanga and Meherpur Sub Divisions. Later on all these Sub Divisions were turned into separate districts. Of the six upazilas of the district daulatpur is the largest (468.76 sq km, it occupies 28.92% of the total area of the district) and khoksa is the smallest (106.70 sq km).
District
Area (sq km)
Upazila
Municipality
Union
Mouza
Village
Population
Density (per sq km)
Literacy rate (%)
Urban
Rural

1621.15

6

4

61

711

978

214275

1525880

1073

40.4
Others Information of District

Name of Upazila

Area
(sq km)

Municipality

Union

Mouza

Village

Population

Density
(per sq km)

Literacy rate
(%)

Kumarkhali

258.37

1

11

187

201

297728

1152

38.1

Kushtia Sadar

316.27

1

14

117

165

423818

1340

48.4

Khoksa

106.70

-

4

85

101

114188

1070

39.7

Daulatpur

468.76

-

14

153

246

443655

946

35.6

Bheramara

153.72

1

6

47

78

175677

1143

42.5

Mirpur

317.35

1

12

122

187

285289

898

37.1
Source Bangladesh Population Census 2001, Bangladesh Bureau of Statistics
History of the War of Liberation A group of 147 Pak soldiers faced heavy resistance from the local EPR Police, Ansar, students and general public on their entry to' Kushtia on 25 March 1971. An encounter was held between the freedom fighters and the Pak army at Bangshitala of the Kushtia sadar on 5 September in which a number of freedom fighters were killed. Besides, the Pak army made a surprise attack on a house of Mill Para of the upazila and killed 12 persons of a single family. On 6 August, 5 freedom fighters were killed while they raided a house of the local razakar. A number of Pak soldiers were killed in a battle with the freedom fighters on 13 November in Daulatpur upazila.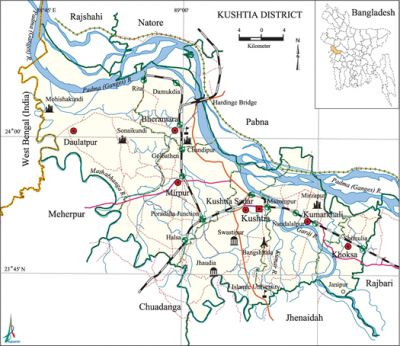 Marks of the War of Liberation Mass grave 13, Memorial monument 2, road named after martyrs 10, notable memorial sculpture 'Muktabangla' at the islamic university.
Literacy rate and educational institutions Average literacy 40.4%; male 43.4%, female 37.2%. Noted educational institutions: Islamic University (1979), Kushtia Government University College (1947), Kushtia Government Mahila College (1967), Kushtia Islamia College (1968), Kumarkhali Degree College (1970), Khoksa Degree College (1972),' Panti Degree College (1978), Kumarkhali MN Pilot High School (1856), Goswami Durgapur High School (1860), Juniadaha Secondary School (1872), Khoksa Janipur Pilot High School (1900), Jaduboyra High School (1902), Kushtia High School (1910), Mirpur Pilot High School (1913), Dinamoni Secondary School (1930), Mathurapur High School (1948), Panti High School (1957), Kushtia High School and Kushtia Zila School (1960), Daulatpur Pilot Secondary School (1963), Kumarkhali Girls' School (1963), Maricha Secondary School (1973), Daulatpur Pilot Secondary Girls' School (1979), Bheramara Model Primary School (1869), Pragpur Government Primary School (1905), Mission Primary School (1989).
Main sources of income Agriculture 51.71%, non-agricultural labourer 5.58%, industry 3.99%, commerce 17.61%, transport and communication 4.03%, service 7.32%, construction 1.54%, religious service 0.15%, rent and remittance 0.40% and others 7.67%.
Newspapers and periodicals Daily: Ajker Alo, Bangladesh Barta, Bajrapat, Shikal, Sutrapat, Kushtia Darpan, Srijanshil, Prottashar Protibimba, Deshbhumi, Deshtathya, Haowa, Shikal Niharika, Deshbrati; weekly: Droho, Kushtiar Kantha, Simanta Katha; fortnightly: Hitokori; monthly: Kakoli, Arunoday, Daulatpur Barta, Shoaibi; bi-monthly: Ovijan; Periodical: Prodip, Chader Hasi Bad Vengese, Hishna, Palashi, Parabar, Protiddhoni; defunct periodical: Jagaran (1921), Grambarta (1857), Dipika (1933), Shaibi (1895), Azad (1932), Tili Samaj, Pratyaya, Srijanshil, Prottashar Protibimba, Kohinoor, Jogajog, Ispat, Abarudha Kantha.
Folk culture The most notable folk culture of the district include Bau gan, Murshidi gan, Jarigan, Gazi gan, Marfati, Punthi-path (recitation from the puthi), puppet show, etc.
Tourists spots' hardinge bridge (1912), Bheramara Thermal Power Station, Shaheed President Ziaur Rahman Shishu Park (Kushtia Sadar), Kuthibari of rabindranath tagore, tomb of Baul Lalon Shah, homestead of novelist mir mosharraf hossain (Kumarkhali). [SM Rakib Nehal]
See also The upazilas under this district.
References Bangladesh Population Census 2001, Bangladesh Bureau of Statistics; Cultural survey report of Kushtia District 2007; Cultural survey report of Upazilas of Kushtia District 2007.