Kabir, Alamgir (1938-1989) film director and cultural activist, was born on 26 December 1938 at rangamati. His parents originally hailed from banaripara of barisal. Alamgir Kabir started his schooling in Hughli Collegiate School and in 1948, he was admitted to Dhaka Collegiate School. He passed the matriculation examinations in 1952 from this school with distinction in Mathematics. After passing the ISc examination in 1954 from Dhaka College, he took admission in the Department of Physics of the University of Dhaka.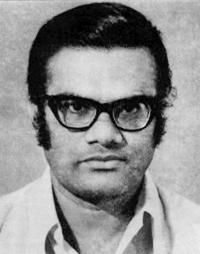 In 1958, he obtained BSC degree and went to England, where he studied Electrical Engineering in Oxford University. During his stay in England he became attracted to filmmaking after watching the famous filmmaker Ingmar Bergman's movie the Seventh Seal. A liking for leftist politics was developed in him and became a member of the Communist Party of England. Then he became a reporter of the Communist Party newspaper the Daily Worker and completed several courses on the history of the film industry, film directing and aesthetics.
Alamgir Kabir was the founder of organisations such as East Pakistan House and East Bengal Liberation Front in London and took active part in the 'campaign against racial discrimination'. While working in the Daily Worker, he interviewed Cuban President Fidel Castro and got idea about strategies and methods of guerilla warfare.
Later, he took part in the war of liberation of Palestine and Algeria. The French government arrested and put him behind the bars for eight months.
Alamgir Kabir returned home in 1966 and got involved in the leftist movement. The Ayub government arrested him. Even after being released from jail, he was confined under house arrest for a year. He started his profession as a journalist in East Pakistan for the Daily Observer. Later he associated himself with the weekly Holiday. Very soon, he became popular as a serious film critic. He then joined the Express, a weekly, as its editor. With the start of the war of liberation in 1971, He joined the swadhin bangla betar kendra as the chief of its English news service. He used the pseudonym Ahmed Chowdhury in reading English news and features over the radio. He also worked as the chief reporter of the exile government during liberation war. Since then he started making films. His first documentary film was The Liberation Fighters. He was the commentator of another famous documentary film Stop Genocide.
After the liberation of Bangladesh, Alamgir Kabir made a number of feature films of high standard. Those included Dhire Bahe Meghna (1973), Suryakanya (1976), Simana Periey (1977), Rupali Saikate (1979), Mohana (1982), Mahanayak (1985), and Parinita (1984). The short films were the Liberation Fighter, Program in Bangladesh, Culture in Bangladesh, Sufia, Amulya Dhan, Bhor Halo Dor Kholo, Amra Dujan, Ek Sagar Rakter Binimoye, Manikancha and Chorasrot. Alamgir Kabir is the author of a number of books including Film in East Pakistan, Film in Bangladesh, Suryakanya, Simana Periey and Mohana. He also prepared cinematic adaptations of two plays, the Dhire Bahe Meghna and This was Radio Bangladesh in 1971. He was honoured with the Cine Journalists Award, Zahir Raihan Film Award of Uttaran, and Syed Mohammad Parvez Award.
He died on 20 January 1989. [Ayub Hossain]