Rangamati District (chittagong division) area 6116.13 sq km, located in between 22°27' and 23°44' north latitudes and in between 91°56' and 92°33' east longitudes. It is bounded by tripura state of India on the north, bandarban district on the south, Mizoram state of India and Chinpradesh of Mayanmar on the east, khagrachhari and chittagong districts on the west.
Population Total 508182; male 274551, female 233631; Muslim 187132, Hindu 26944, Buddhist 8781, Christian 284906 and others 419. Indigenous communities such as santal, chakma, marma, manipuri, tanchangya, tripura, Bome, Chak, Khumi, Kheyang, lushei, Mro, Murang, pankho belong to this upazila.
Water bodies Main rivers: karnafuli, Kassalong, Chengi, Myani; Kaptai lake is notable.
Administration Rangamati sub-division was turned into a district in 1983. Of the ten upazilas of the districts baghaichhari is the largest (1931.28 sq km) and rajasthali is the smallest (145.04 sq km).
District
Area (sq km)
Upazila
Municipality
Union
Mouza
Village
Population
Density (per sq km)
Literacy rate (%)
Urban
Rural

6116.13

10

1

48

162

1344

170188

337994

83

43.60
Others Information of District

Name of Upazila

Area
(sq km)

Municipality

Union

Mouza

Village

Population

Density
(per sq km)

Literacy rate
(%)

Kawkhali

339.29

-

4

10

162

48240

142

38.9

Kaptai

259.00

5

10

148

66135

255

60.3

Juraichhari

606.05

-

4

11

89

22277

37

27.3

Naniarchar

393.68

4

20

146

39190

100

38.4

Barkal

760.88

-

5

28

164

39781

52

36.1

Baghaichhari

1931.28

-

7

19

177

78519

41

35.2

Belaichhari

745.92

-

3

9

59

24154

32

26.7

Rangamati Sadar

546.49

1

6

21

162

99261

182

60.2

Rajasthali

145.04

-

3

9

102

22611

156

34.0

Langadu

388.50

-

7

25

135

68014

175

35.8
Source  Bangladesh Population Census 2001,Bangladesh Bureau of Statistics.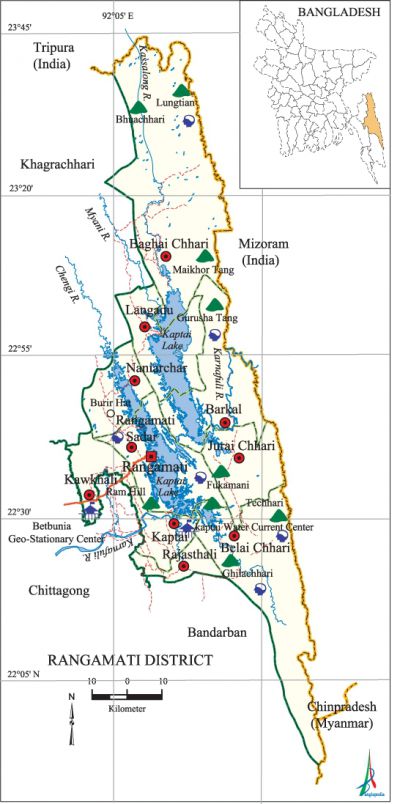 Archaeological heritage and relics Palace, dighi and mosque of Raja Jan Baksh Khan, remnants of the residence of Raja Harish Chandra Roy (1873), residence of the Deputy Commissioner (1868).
War of History of the Liberation Ranagamati district was under Sector 1 during the war of liberation. On 27 March 1971, a temporary training camp was established in the playground of the Station Club to locally train the freedom fighters. On 2 April, then Deputy Commissioner Hossain Towfiq Imam distributed a huge amount of money and arms and ammunitions (belonging to Police, EPR and Ansar) to the freedom fighters from the treasury. On 20 April Lance Naik munshi abdur rauf of 8 East Bengal Regiment destroyed 2 gun boats and one speed boat of the Pak army and drowned to death about one platoon Pak soldiers. He ultimately embraced martyrdom. In recognition to his heroic role he was awarded with the title Birsrestha. There were Pak army bases at Barkal, Farua and Shukur Chhari in 1971. Nearlymore than one hundred freedom fighters were killed in encounters with the Pak army in Farua area. Rangamati district was liberated on 14 December.
Literacy rate and educational institutions Average literacy 43.60%; male 51.47%, female 34.21%. Educational institutions: primary teacher's training institute, polytechnic institute 1, technical training institute 1, college 13, pali college 3, secondary school 177, primary school 512, kindergarten 13, community school 10, madrasa 11. Noted educational institutions: Kachal Degree College, Rangamati Government College, Rangamati Government Mohila College, Kawkhali College, Bangalhalia College, Naniarchar College, Rajasthali College, Barkal High School, Narangiri Government High School, Ghagra High School, Mainimukh Model High School, Langadu Girls' High School, Naniarchar Islampur Dakhil Madrasa, Siddiqui Akbar Dakhil Madrasa, Betbunia Moinul Ulam Rezvia Dakhil Madrasa.
Main sources of income Agriculture 59.08%, non-agricultural labourer 6.06%, industry 0.46%, commerce 10.70%, transport and communication 1.06%, service 13.48%, construction 0.83%, religious service 0.19%, rent and remittance 0.73% and others 7.41%.
Newspapers and periodicals Daily: Giri Darpan, Rangamati, Parbatta Barta; weekly: Banabhumi, Parbatta Barta; monthly: School Barta.
Folk culture Biju Sangrai Baisabi festival, Hal Palani festival, Pala Gan, Pahari Lokageeti, Geeti Nritya Natak (dance drama),Garaiya dance, Jhum dance, Bamboo dance, Bottle dance are the prevalent folk culture of the district.
Tourist spots Rangamati Lake, Chakma Rajbari, Buddhist Vihara at Rajban, Hanging Bridge, Shuvolong Water Fall, Furaman Hill, Tribal Cultural Institute and Museum, Memorial Sculpture of the War of Liberation, Satellite Ground Station at Betbunia, Police Special Training School, Kaptai Hydro-electric Power Centre, Karnafuli Paper Mill. [Atikur Rahman]
See also The upazilas under this district.
'References Bangladesh Population Census 2001, Bangladesh Bureau of Statistics; Cultural survey report of Rangamati District 2007; Cultural survey report of upazilas of Rangamati District 2007.