Kabir, Humayun (1906-1969) educationist, politician, writer, philosopher. Humayun Kabir was born on 22 February 1906 at Komarpur village near the district town of faridpur. Kabir's family name was Humayun Zahiruddin Amir-i-Kabir. His father, Kabiruddin Ahmad, was a deputy magistrate and a man with a liberal outlook and independent mind. Both Humayun Kabir's father and grandfather were awarded the title of 'Khan Bahadur' by the British government.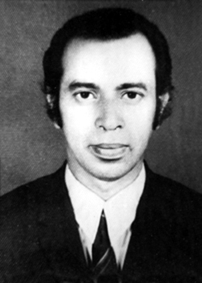 Humayun Kabir was gifted in many ways. He topped the list of successful candidates in the Matriculation examination of 1922. He studied at Presidency College for the next two years and passed the Higher Secondary Examination, standing third in the first division with letter marks in English. He did his Honours and Masters in English from Calcutta University and set a new record by standing first class first in both examinations. The most brilliant students of the time were his friends and among them was Shanti Devi whom he married.
Kabir decided not to enter government service. He opted for teaching and went to Exeter College, Oxford in 1928 on a scholarship. There he took up Honours in philosophy, political science and economics. Here too he stood first class first in 1931. He also established himself as a student leader and orator.
In 1932, Kabir joined Andhra University as a lecturer in philosophy at the invitation of Dr Radhakrishnan. A year later he joined Calcutta University. Since then he led a very active life. Alongside teaching, he devoted himself to literary activities and became associated with trade union politics. He joined ak fazlul huq's krishak praja party and was elected to the bengal legislative assembly (1937-1947). Humayun Kabir was a strong advocate of the rights of peasants and workers. He played active role in trade unionism.
In 1946, Humayun Kabir became private secretary to the Congress president, maulaNa abul kalam azad (1888-1958) . After Partition, many Muslims opted for Pakistan, but Kabir stayed behind in India. When Abul Kalam Azad became the Education Minister, Kabir served as joint education advisor, education secretary and chairman of the University Grants Commission. The Maulana dictated to him in Urdu his famous book India Wins Freedom.
In 1956, Humayun Kabir was elected a member of the Indian Rajya Sabha or upper house. Prime Minister Pandit Jawaharlal Nehru appointed him State Minister for Civil Aviation and, after the death of Maulana Azad in 1958, made him Minister for Education. Kabir was later appointed Minister for Scientific Research and Cultural Affairs. From 1957 until his death in 1969 he was a member of Lok Sabha from Bashirhat constituency of West Bengal. When Lal Bahadur Shastri became Prime Minister of India after Nehru's death, Humayun Kabir was again made Education Minister. When Indira Gandhi became Prime Minister after Shastri's death, Humayun Kabir was offered the governorship of Madras but he declined the post. In view of his differences with the Congress leadership, he quit Congress and became involved with organising the Bengal Congress Party. He played an active role in 1967 in dislodging the Congress government in west bengal and forming a united front government in its place.
Humayun Kabir was an eminent literary figure. He edited several periodicals. In the history of Bangla periodicals, Kabir will be remembered for the high quality quarterly Chaturabga (1939-69). He also edited reports and books for many local and foreign organisations. A collection of Bangla short stories and poems, Green and Gold (1958) deserves special mention.
Humayun Kabir was a poet, novelist, and essayist. He made his literary debut in 1928 with Svapnasadh, Sathi (1930) and Astadashi (1938) followed. The poems in these volumes reflect his romanticism in which he followed the tradition of rabindranath tagore. Equally fluent in Bangla and Urdu, he translated Musaddas-e-Hali into Bangla.
Humayun Kabir also wrote short stories and novels. His novel, Nadi O Nari, was published in 1945. Its English version, Men and Rivers, was also published at about the same time. This novel, which tells about the lives of Bengali Muslims living along the banks of the Padma, was made into a film in Dhaka in 1956. Humayun Kabir was a remarkable essayist. His very on philosophy, literature, education and sociology made remarkable contributions to the processes of Bengali intellectual thinking. Some of his well-known books are Imanuel Kant (1936), Sharat Sahityer Multattva (1942), Banglar Kavya (1945), Marksbad (1951), Naya Bharater Shiksa (1955), Shiksak O Shiksarthi (1957), Mirza Abu Talib Khan (1961), Delhi-Washington-Moscow (1964), Kant on Philosophy in General (1935), Poetry, Monads and Society (1941), Muslim Politics in Bengal (1943), Rabindranath Tagore (1945), The Indian Heritage (1946/60), Science, Democracy and Islam (1955), Education in India (1956), Studies in Bengali Poetry (1964), The Bengali Novel (1968), Education for Tomorrow (1968), Minorities in a Democracy (1969) etc.
For his contributions to knowledge he was honoured with awards by universities such as Aligarh (1958), Annamalai (1959), Khairagarh (Madhya Pradesh, 1961), Viswa-Bharati, Mahishur and Athens. Well-known as an orator, Humayun Kabir was invited to speak by many universities at home and abroad. At Oxford he delivered the Herbert Spencer Lectures on Einstein and Russell. In 1957 he spoke at the kagmari conference of maulana abdul hamid khan bhasani as leader of the Indian delegation. He died in Kolkata on 18 August 1969. [Mahmud Shah Qureshi]