Kachua Upazila (Bagerhat District)
Kachua Upazila (bagerhat district) area 131.62 sq km, located in between 22°34' and 22°45' north latitudes and in between 89°49' and 89°56' east longitudes. It is bounded by chitalmari upazila on the north, morrelganj upazila on the south, nazirpur and pirojpur sadar upazilas on the east, bagerhat sadar upazila on the west.
Population Total 100093; male 50766, female 49327; Muslim 79238, Hindu 20830, Buddhist 16 and others 9.
Water bodies Main rivers: Baleshwari, Taleswar, bishkhali; Larar Canal are notable.
Administration Kachua Thana was formed in 1886 and it was turned into an upazila on 14 September 1983.
Upazila
Municipality
Union
Mouza
Village
Population
Density (per sq km)
Literacy rate (%)
Urban
Rural
Urban
Rural

-

7

78

101

9632

90461

760

58.7

62.3
Upazila Town

Area
(sq km)

Mouza

Population

Density
(per sq km)

Literacy rate
(%)

8.32

3

9632

1158

58.7
Union
Name of union and GO code
Area (acre)
Population
Literacy rate (%)
Male
Female




Kachua 57

3731

7510

7112

59.54

Gazalia 38

4945

8511

8499

56.45

Gopalpur 47

3316

4902

4844

61.10

Dhopakhali 28

3135

6629

6748

59.18

Badhal 15

5246

7629

7211

60.59

Maghia 66

4908

6772

6546

68.53

Raripara 76

5225

8813

8367

68.01



Source Bangladesh Population Census 2001,Bangladesh Bureau of Statistics.
Archaeological heritage and relics Shibpur Shivabari (1300 AD), Kali Mandir adjacent to the Zamindar Bari at Maghia.
History of the War of Liberation On 3 May 1971, the Pak army brutally killed 42 villagers at Shankharikathi Hat of Badhal union. The Pak army in collaboration with the razakars captured 60 persons from the Bhasa Bazar of Maghia union and later shot them dead at a place near the Bhasarhat Bridge of village Maghia.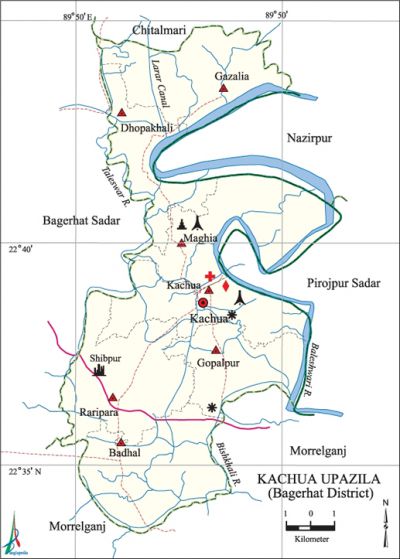 Marks of the War of Liberation Mass grave 7 (Sakharikati, Maghia and Kachua); memorial monument 2.Religious institutions Mosque 169, temple 47, sacred place 2.
Literacy rate and educational institutions Average literacy 62.0%; male 63.7%, female 60.2%. Educational institutions: college 3, secondary school 17, primary school 94, madrasa 8. Noted educational institutions: Kachua Degree College, Kachua Mahila Degree College, Majeda Begum Krishi Projukti College, Moshni Secondary School (1915), Goalmath Rashikpal High School (1916), Baroikhali Government Primary School (1918), Madhabkati Ahmadia Fazil Degree Madrasa (1915).
Newspapers and periodicals Weekly: Khanjahan, Sujanesu International, Dipayan, Tritiya Nayan, Sundarban, Kabikantha, Partha Sarathi (religious peroidical); periodical: Muktijuddhe Kachua (1999).
Cultural organisations Library 4, club 58, cinema hall 1, theatre group 1.
Main sources of income Agriculture 58.66%, non-agricultural labourer 3.67%, industry 0.6%, commerce 17.57%, transport and communication 5.43%, service 7.05%, construction 1.48%, religious service 0.20%, rent and remittance 0.29% and others 5.05%.
Ownership of agricultural land Landowner 63.75%, landless 36.25%; agricultural landowner: urban 41.50% and rural 66.13%.
Main crops Paddy, sugarcane, wheat, jute, cotton, betel leaf, pulse, vegetables.
Extinct or nearly extinct crops Mustard, sesame, sweet potato, ground-nut, tobacco.
Main fruits Coconut, banana, sapodilla, water-melon, betel nut, plam.
Fisheries, dairies and poultries This upazila has a number of fisheries, dairies and poultries.
Extinct or nearly extinct traditional transport Palanquin, bullock cart.
Noted manufactories Rice mill, saw mill.
Cottage industries Jute work, nakshi kantha, cane work, bamboo work.
Hats, bazars and fairs Hats and bazars are 14, fairs 11, most noted of which are Kachua Hat, Bairagi Hat, Signboard Bazar, Goalmat Bazar, Bishkhali Baruni Mela and Shivabari Mela.
Main exports Coconut, betel nut, banana, palm molasses.
Access to electricity All the unions of the upazila are under rural electrification net-work. However 17.33% of the dwelling households have access to electricity.
Sources of drinking water Tube-well 75.74%, tap 2.75%, pond 20.20% and others 1.31%.
Sanitation 48.31% (rural 51.47% and urban 18.67%) of dwelling households of the upazila use sanitary latrines and 46.60% (rural 43.37% and urban 76.83%) of dwelling households use non-sanitary latrines; 5.09% of households do not have latrine facilities.
Health centres Hospital 1, union health and family welfare centre 7, satellite clinic 2, community clinic 10, clinic 1.
NGO activities Operationally important NGOs are Onnesha, Prodeepan, asa, brac, CARE, CODEC. [Partho Dev Shaha]
References Bangladesh Population Census 2001, Bangladesh Bureau of Statistics; Cultural survey report of Kachua Upazila 2007.