Kadamtali Thana (Dhaka metropolitan) area 10.16 sq, located in between 23°39' and 23°42' north latitudes and in between 90°26' and 90°28' east longitudes. It is bounded by jatrabari thana on the north, keraniganj upazila on the south, narayanganj sadar upazila and demra thana on the east, shyampur and Jatrabari thanas on the west.
Population Total 330565; male 183169, female 147396; Muslim 322574, Hindu 7856, Buddhist 69, Christian 40 and others 26.
Water bodies buriganga River.
Administration Kadamtali Thana was formed on 23 September 2008 comprising parts of Shyampur and Demra thanas.
Thana
Ward
Mohalla
Population
Density (per sq km)
Literacy rate (%)
Urban
Rural
Urban
Rural

4+2 (part)

15

97332

233233

32536

63.45

64.49
Ward
Name number of Ward
Area (sq km)
Population
Literacy rate (%)
Male
Female

Ward No. 88

0.26

17785

14446

65.30

Ward No. 89

0.73

27068

23266

65.21

Ward No. 90 (part)

0.20

8439

6328

59.85

Dhania Union

3.32

79688

66097

71.02

Matuail (part) Union

1.38

7916

6345

60.34

Shyampur Union

4.27

42273

30914

61.53
Source Bangladesh Population Census 2001, Bangladesh Bureau of Statistics.
Archaeological heritage and relics Shanir Akhra and Shani Mandir (1191).
Religious institutions Mosque 55, temple 2. Noted religious institutions: Baitul Najat Mosque, Mujahid Nagar Mosque, Shanir Akhra Mandir, Sree Sree Banga Bihari Radharani Jeu Mandir (1200 BS).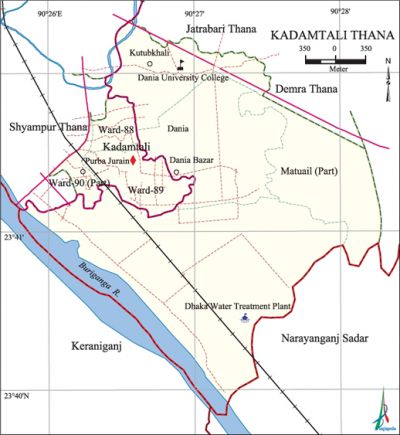 Literacy rate and educational institutions Average literacy 63.87%; male 67.28%, female 59.53%. Educational institutions: college 4, secondary school 18, primary school 15. Noted educational institutions: Dhania University College, AK High School and College, Shyampur Model School and College (2006), Barnamala Ideal Higher Secondary School, Kutubkhali High School, Agradut Biddya Niketan, Dhania Ideal Girls' High School, Sheikhdi Abdullah Mollah High School, Janatabagh High School, Haji Shariatullah Ideal Junior School, East Kadamtali Islamia Dakhil Madrasa.
Cultural organisations Club 3, community centre 4, cinema hall 1.
Noted installations Dhaka Water Treatment Plant, Pagla Sewerage, Dhaka Electric Supply Company Sub Station, Tits Gas Transmission Centre, Shyampur Launch Terminal and the first Bangladesh China Friendship Bridge.
Main sources of income Industry 4.16%, agriculture 1.13%, non-agricultural labourer 1.77%, commerce 28.49%, transport and communication 13.71%, construction 4.0%, service 30.92%, religious service 0.13%, rent and remittance 3.78% and others 11.91%.
Ownership of agricultural land Landowner 55.85%, landless 44.15%.
Main crops Paddy, vegetables.
Main fruits Mango, jackfruit, coconut, guava, banana, papaya.
Fisheries, dairies and poultries This thana has a number of poultries.
Communication facilities Total road 43.91 km.
Extinct or nearly extinct traditional transport Palanquin, horse carriage.
Noted manufactories Garments industries, packaging industries, television factory, shoe factory, match factory, rubber and plastic industries, furniture factory, tyre and electrical goods production industries. Kadamtali industrial area is also notable.
Cottage industries Goldsmith, ironsmith, handicrafts.
Hats, bazars and markets Hats and bazars are 13, most noted of which are Dhania Bazar, Bou Bazar, Shyampur Bazar, Dhaka Match Bazar, Baitus Sharaf Market, Alam Market, Janata Market and Meraj Nagar Super Market.
Main exports Ready made garments, foot ware, car tire and plastic goods.
Access to electricity All the wards and unions of the thana are under electrification net-work. However 96.71% of the dwelling households have access to electricity.
Sources of drinking water Tube-well 39.50%, pond 0.17%, tap 59.59% and others 0.74%.
Sanitation 92.02% of dwelling households of the thana use sanitary latrines and 7.58% of dwelling households use non-sanitary latrines; 0.40% of households do not have latrine facilities.
Health centres Hospital 2; Matuail Maternity Institute and Shyampur Family Planning Clinic are notable.
NGO activities Operationally important NGOs are BRDB, brac, asa. [Lilima Ahmed]
References Bangladesh Population Census 2001, Bangladesh Bureau of Statistics.