Kahaloo Upazila (Bogra district) area 238.79 sq km, located in between 24°43' and 24°57' north latitudes and in between 89°09' and 89°19' east longitudes. It is bounded by shibganj and bogra sadar upazilas on the north, nandigram and shahjahanpur on the south, Bogra Sadar and Shajahanpur upazilas on the east, adamdighi, dhupchanchia and Nandigram upazilas on the west.
Population Total 195565; male 99515, female 96050; Muslim 182967, Hindu 12483, Buddhist 13 and others 102.
Water bodies Main river: nagar.
Administration Kahaloo Thana was formed in 1928 and it was turned into an upazila in 1983.
Upazila
Municipality
Union
Mouza
Village
Population
Density (per sq km)
Literacy rate (%)
Urban
Rural
Urban
Rural

1

9

167

270

9477

186088

819

58.6

47.3
Upazila Town

Area
(sq km)

Mouza

Population

Density
(per sq km)

Literacy rate (%)

5.52

3

9477

1717

58.6
Union
Name of union and GO code
Area (acre)
Population
Literacy rate (%)
Male
Female

Kalai Majh Para 47

4743

9440

9025

39.93

Kahaloo 38

6862

14011

13611

51.73

Jamgaon 28

8059

10524

10167

45.88

Durgapur 19

7703

11635

11347

53.94

Narahatta 76

5614

9464

9173

47.55

Paikar 85

6011

10578

9987

42.69

Bir Kedar 09

5289

10885

10467

44.26

Malancha 57

8413

13015

12770

47.11

Murail 66

6314

9963

9503

55.35
Source Bangladesh Population Census 2001, Bangladesh Bureau of Statistics.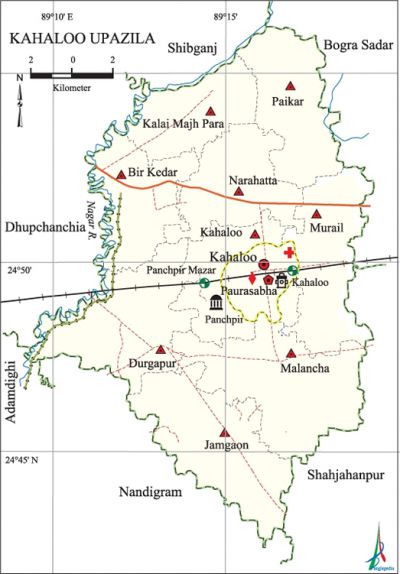 Archaeological heritage and relics Mahadeva Jogi Rishi Mandir (Paikar union), Zamindar Kachari (Narahatta).
History of the War of Liberation At the end of October 1971, direct encounters were held between the freedom fighters and the Pak army in Karibamuja and Nasirpara areas of the upazila. During the war of liberation the Pak army conducted mass killing in different places of the upazila; they also set many houses of the upazila on fire.
Marks of the War of Liberation Memorial monument 1 (Kahaloo High School).
Religious institutions Mosque 360, temple 20, tomb 4. Noted religious institutions: tomb of Shah Baba Kalu, Dorga Hat tomb.
Literacy rate and educational institutions Average literacy 47.9%; male 53.2%, female 42.4%. Noted educational institutions: Kahaloo High School (1873),' Narahatta High School (1908).
Cultural organisations Library 1, club 72, cinema hall 2.
Amusement centers Jasmine park at Saraibazar of' Kahaloo Sadar.
Main sources of income Agriculture 67.34%, non-agricultural labourer 2.77%, industry 0.80%, commerce 11.25%, transport and communication 4.27%, service 4.31%, construction 1.01%, religious service 0.16%, rent and remittance 0.36% and others 7.73%.
Ownership of agricultural land Landowner 63.08%, landless 36.92%; agricultural landowner: urban 48.12% and rural 63.81%.
Main crops Paddy, jute, wheat, mustard, potato, vegetables.
Extinct or nearly extinct crops Aman paddy.
Main fruits Mango, blackberry, date, palm, banana.
Fisheries, dairies and poultries Hatchery 8.
Communication facilities Pucca road 83 km, mud road 339 km; railway 15 km; rail station 2.
Noted manufactories Rice mill.
Cottage industries Jute work, weaving, blacksmith, potteries, bamboo work, cane work, wood work.
Hats, bazars and fairs Hats and bazars are 20, fairs 9, most noted of which are Malkar, Kahaloo, Jamgaon, Durgapur, Valsun, Goabisha and Iroil hats; Dhakontala Khabashpur, Pathara and Bara Pukuria melas.
Main exports Fish and fish fry, paddy, rice, date molasses.
Access to electricity All the wards and unions of the upazila are under rural electrification net-work. However 34.47% of the dwelling households have access to electricity.
Sources of drinking water Tube-well 93.3%, tap 0.46%, pond 0.23% and others 6.01%.
Sanitation 30.09% (rural 28.97% and urban 52.97%) of dwelling households of the upazila use sanitary latrines and 36.32% (rural 36.62% and urban 30.10%) of dwelling households use non-sanitary latrines; 33.59% of households do not have latrine facilities.
Health centres Upazila health centre 1, satellite health centre 4, maternity and child centre 4, diagnostic centre 1, family welfare centre 8, veterinary hospital 3.
Natural disasters The flood of 1954 caused heavy damages to settlements and crops. Besides, the flood of 1988 caused loss of life and damages to crops of the upazila.
NGO activities Operationally important NGOs are asa, brac, thengamara mahila sabuj sangha, ECD. [Md Khairul Alam Pulak]
References Bangladesh Population Census 2001, Bangladesh Bureau of Statistics; Cultural survey report of Kahaloo Upazila 2007.