Kaliganj Upazila (Jhenaidah District)
Kaliganj Upazila (jhenaidah district) area 310.16 sq km, located in between 23'16' and 23'28' north latitudes and in between 89'02' and 89'16' east longitudes. It is bounded by jhenaidah sadar upazila on the north, jessore sadar and chaugachha upazilas on the south, salikha and bagherpara upazilas on the east, kotchandpur and Chaugachha upazilas on the west.
Population 252443; male 130716, female 121727; Muslim 210481, Hindu 41214, Buddhist 587, Christian 35 and others 126.
Water bodies Main rivers: chitra, bhairab, Begabati; Simla Baors, Sakot, Uttar, Dighar,' Arua Salva and Tentul beels are notable.
Administration Kaliganj Thana was formed in 1863 and it was turned into an upazila in 1983.
Upazila
Municipality
Union
Mouza
Village
Population
Density (per sq km)
Literacy rate (%)
Urban
Rural
Urban
Rural

1

11

188

198

36733

215710

814

62.0

43.4
Municipality

Area
(sq km)

Ward

Mahalla

Population

Density
(per sq km)

Literacy rate (%)

15.48

9

20

36733

2228

62.0
Union
Name of union and GO code
Area (acre)
Population
Literacy rate (%)
Male
Female

Kashtabhanga 40

6154

9735

9139

47.06

Kola 47

8026

10993

10407

39.08

Jamal 20

6354

8384

7796

41.12

Trilochanpur 94

7548

11478

10648

40.51

Niamatpur 61

5471

9710

9346

43.04

Bara Bazar 10

8681

14887

13884

47.88

Maliat 54

5770

8358

8134

44.04

Rakhalgachhi 81

8267

11429

10460

39.16

Roygram 74

6970

11457

10693

49.89

Simla Rokonpur 88

4186

6905

6472

39.31

Sundarpur Durgapur 33

5125

7943

7532

43.50
Source Bangladesh Population Census 2001, Bangladesh Bureau of Statistics.
Archaeological heritage and relics Many archaeological relics of the sultanate period have been discovered at Bara Bazar of this upazila. These include Ghorar Mosque, Jore Bangla Mosque, Jore Bangla Dighi (fifteenth century); Galakata Mosque, Monohar Mosque, Nungola Mosque, Pir Pukur Mosque, Cheragdani Mosque, 36-domed Satgachhia Mosque, Shukur Mallick Mosque, Badedihi Mosque, Ghoper Dhibi and Ghazir Dhibi. Other archaeological relics include ancient dighis (ponds) like Pir Pukur, Has Pukur, Sat Pukur, Mirer Pukur, Ghoramari Pukur, Cheragdani Pukur, Rajmatar Dighi, Sawdagar Dighi, Galakata Dighi, Kanai Dighi, Panch Pir Dighi, Biswaser Dighi, Ber Dighi, Jal Dhala Dighi, Sreeram Raja Dighi. Besides, Sree Krishna Balaram Dev Bigraha Mandir (Balarampur), the graves of Gazi Kalu and Champabati on the south bank of the Dighi of Sreeram Raja are also notable.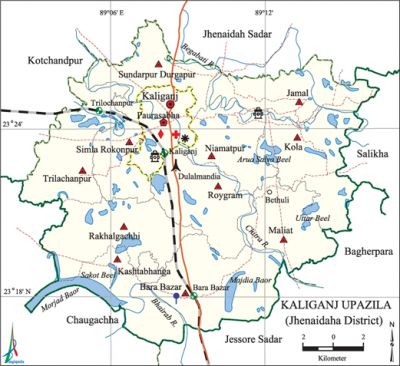 History of the War of Liberation A battle was fought between the freedom fighters and the Pak army on 13 April 1971 at Mandartala of village Mahishati (on the border of jessore and Jhenaidah) in which about 100 Pak soldiers were killed and so were 20 freedom fighters. On 14 April, the freedom fighters retreated from Mandartala and took shelter at Dulalmudia. The Pak army attacked them from behind and killed nearly 200 freedom fighters.
Marks of the War of Liberation Memorial monument 1.
Religious institutions Mosque 288, temple 75, church 4, tomb 2. Noted religious institutions: Badshahi Mosque, Pir Pukur Mosque, Galakata Mosque, Naldanga Kali Mandir.
Literacy rate and educational institutions Average literacy 46.2%; male 51.1%, female 51%. Educational institutions: college 8, secondary school 46, primary school 132, orphanage 3, madrasa 31. Noted educational institutions: Mahtab Uddin Degree College (1966), Naldanga Bhusan Pilot High School (1882), Raygram Banikanta Secondary School (1920), Hat Bara Bazar Secondary School (1937), Salimunnesa Secondary Girls' School (1953), Kolabazar Sammilita Secondary School (1961), Chaprail Secondary School (1963), Panch Kahunia Secondary School (1966), Shoyabnagar Fazil Madrasa (1957), Belat Doulatpur Alim Madrasa (1947).
Newspapers and periodicals Daily Nabachitra.
Cultural organisations Library 1, club 12, cinema hall 3, women's organisation 1.
Main sources of income Agriculture 64.40%, non-agricultural labourer 2.35%, industry 1.10%, commerce 15.07%, transport and communication 5.25%, service 5.64%, construction 1.30%, religious service 0.12%, rent and remittance 0.69% and others 4.08%.
Ownership of agricultural land Landowner 63.46%, landless 36.54%; agricultural landowner: urban 44.40% and rural 66.58%.
Main crops Paddy, sugarcane, jute, wheat, betel leaf, mustard, sesame, verities of' pulse,' vegetables.
Extinct or nearly extinct crops Tobacco, khesari, gram, barley, kaun.
Main fruits Mango, jackfruit, banana, black berry, star apple, litchi, guava, date.
Fisheries, dairies and poultries This upazila has a number of fisheries, dairies and poultries.
Communication facilities Pucca road 62 km, semi-pucca road 50 km, mud road 430 km; railway 20 km; waterway 8 nautical miles.
Extinct or nearly extinct traditional transport Palanquin, horse carriage, bullock cart.
Noted manufactories Sugar mill, ice factory, rice mill, oil mill, flour mill, pulse mill, welding factory, saw mill.
Cottage industries Weaving, bamboo and cane work, factory for manufacture of bullock cart wheel.
Hats, bazars and fairs Hats and bazars are 31, fairs 2, Kaliganj, Baro bazar, Kola, Baliadanga, Chaprail, Kala and Tattipur Bazars; Baishaki Mela at Barfa and Shashan Mela (Angit) are notable.
Main exports Sugar, paddy, banana, betel leaf, pulse, date molasses, vegetables.
Access to electricity All the wards and unions of the upazila are under rural electrification net-work. However 23.69% of the dwelling households have access to electricity.
Sources of drinking water Tube-well 96.13%, tap 0.59%, pond 0.14% and others 3.14%.
Sanitation 22.45% (rural 17.50% and urban 52.70%) of dwelling households of the upazila use sanitary latrines and 44.48% (rural 45.91% and urban 35.73%) of dwelling households use non-sanitary latrines; 33.07% of households do not have latrine facilities.
Health centres Upazila health complex 1, union health and family welfare centre 8, satellite clinic 2, veterinary hospital 1.
NGO activities Operationally important NGOs are brac, asa, Srejani. [Md Zulfiker Ali Bhutto]
References Bangladesh Population Census 2001, Bangladesh Bureau of Statistics; Cultural survey report of Kaliganj Upazila 2007.