Kanaighat Upazila (sylhet district) area 412.25 sq km, located in between 24°53' and 25°06' north latitudes and in between 92°01' and 92°26' east longitudes. It is bounded by Meghalaya state of India and jaintiapur upazila on the north, beanibazar and zakiganj upazilas on the south, Maghalaya state of India on the east, golapganj and Jaintiapur upazilas on the west.
Population Total 216495; male 108234, female 108261; Muslim 208169, Hindu 8036, Buddhist 222 and others 68. Indigenous communities such as manipuri and khasia belong to this upazila.
Water bodies Main rivers: Surma; Chatal Beel is notable.
Administration Kanaighat Thana was formed in 1932 and it was turned into an upazila in 1983.
Upazila
Municipality
Union
Mouza
Village
Population
Density (per sq km)
Literacy rate (%)
Urban
Rural
Urban
Rural

1

9

252

292

4989

211506

525

43.19

29.29
Upazila Town

Area
(sq km)

Mouza

Population

Density
(per sq km)

Literacy rate
(%)

3.36

5

4989

1485

43.19
Union
Name of union and GO code
Area (acre)
Population
Literacy rate (%)
Male
Female




Kanaighat 47

10949

18647

18249

36.47

Jhingrabari 38

15270

15032

15175

27.24

Dakshin Banigram 19

8652

11976

12715

32.76

Paschim Dighirpar 70

6210

8032

8121

35.90

Paschim Lakshmi Prasad 66

9805

9685

9602

21.22

Purba Dighirpar 76

8372

8178

8244

36.71

Purba Lakshmi Prasad 72

15454

13478

12565

27.14

Bara Chatul 09

11417

9353

9462

22.96

Rajaganj 85

13648

13853

14128

24.84
Source Bangladesh Population Census 2001, Bangladesh Bureau of Statistics.
Historical events The annual Jalsha of the Kanaighat Madrasa was scheduled to be held on 23 March 1922. The British government imposed ban on the jalsha and declared 144 in and around the place. The organisers violated the Section 144 and the mob attacked the Commissioner. In this conflict six persons died and 38 injured by police firing. This is known as 'Kanaighater Larai' (fight at Kanaighat). During the war of liberation in 1971 the Pak army in collaboration with the local razakars conducted mass killing, mass torturing and plundering in diferrent places of the upazila including at Maligram and Gouripur.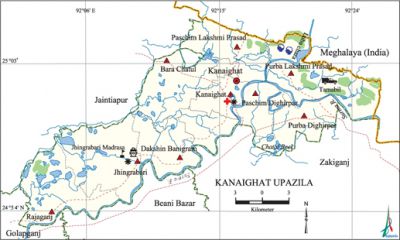 Marks of the War of Liberation Mass killing site 1 (Bishnupur), Mass grave 1 (Bishnupur, on the bank of a canal); memorial monument 1 (Momtazganj).
Religious institutions Mosque 491, temple 30, church 1. Noted religious institutions: Kanaighat Jami Mosque, Mangalpur Presbyterian Church.
Literacy rate and educational institutions Average literacy 29.62%; male 34.43%, female 24.89%. Educational institutions: college 3, technical college 1, primary training institute 1, secondary school 20, primary school 113, community school 8, kindergarten 14, madrasa 15. Noted educational institutions: Durgapur High School (1915), Jhingrabari Senior Madrasa (1882), Kanaighat Mansuria Senior Madrasa (1889), Gachbari Jamiul Ullum Alia Madrasa (1901), Soroker Bazar Ahmadia Alim Madrasa (1914).
Newspapers and periodicals Monthly Simanter Dak, Kanaighat Barta.
Cultural organisations Library 1, club 6, cultural organisation 1, women's organisation 7, auditorium 2, community centre 12, playground 4.
Tourist spots Tea garden, Patharkoari, Tamabil Land Port.
Main sources of income Agriculture 48.03%, non-agricultural labourer 11.49%, industry 0.42%, commerce 8.90%, transport and communication 0.95%, service 4.30%, construction 1.26%, religious service 1.20%, rent and remittance 12.61% and others 10.84%.
Ownership of agricultural land Landowner 56.15%, landless 43.85%; agricultural landowner: urban 53.96% and rural 56.20%.'
Main crops Paddy, tea, potato, cassia leaf, betel leaf, vegetables.
Extinct or nearly extinct crops Tobacco, jute, wheat.
Main fruits Jackfruit, pineapple, orange, lemon, shaddock, latkan, betel nut.
Fisheries, dairies and poultries This upazila has a number of fisheries, dairies and poultries.
Communication facilities Pucca road 101.47 km, semi-pucca road 24.03 km, mud road 586.08 km; waterway 5 nautical miles. Culvert 30, bridge 1.
Extinct or nearly extinct traditional transport Palanquin, horse carriage, bullock cart.
Cottage industries Goldsmith, blacksmith, potteries, cane work.
Hats, bazars and fairs Hats and bazars are 21, most noted of which are Kanaighat and Jhingrabari bazars.
Main exports Tea, betel leaf, stone, sand, cassia leaf.
Access to electricity All the wards and unions of the upazila are under rural electrification net-work. However 7.22% of the dwelling households have access to electricity.
Sources of drinking water Tube-well 27.99%, tap 1.17%, pond 61.76% and others 9.08%. The presence of intolerable level of arsenic has been detected in shallow tube-well water of the upazila and that is 27.46.
Sanitation 22.67% (rural 21.97% and urban 53.36%) of dwelling households of the upazila use sanitary latrines and 69.53% (rural 70.07% and urban 45.92%) of dwelling households use non-sanitary latrines; 7.80% of households do not have latrine facilities.
Health centres Upazila health complex 1, union health and family planning centre 8, community clinic 26, charitable dispensary 2, diagnostic centre 2, veterinary hospital 5.
NGO activities Operationally important NGOs are brac, asa, thengamara mahila sabuj sangha (tmss). [Jayanta Singh Roy]
References Bangladesh Population Census 2001, Bangladesh Bureau of Statistics; Field report of Kanaighat Upazila 2010.