Jaintiapur Upazila (sylhet district) area 280.27 sq km, located in between 24'59' and 25'11' north latitudes and in between 92'03' and 92'14' east longitudes. It is bounded by Meghalaya State of India on the north, kanaighat and golapganj upazilas on the south, Kanaighat upazila on the east, gowainghat and sylhet sadar upazilas on the west. The Jaflong Hills Range is located on the northeast of the upazila.
Population Total 121458; male 63254, female 58204; Muslim 09123, Hindu 12066, Buddhist 92, Christian 17 and others 160. Indigenous community such as khasia belongs to this upazila.
Water bodies Main river: shari-goyain. Kakai Beel, Pitha Beel, Dhupani Beel and Sat Beel are notable.
Administration Jaintiapur Thana was formed in 1903 and it was turned into an upazila in 1983.
Upazila
Municipality
Union
Mouza
Village
Population
Density (per sq km)
Literacy rate (%)
Urban
Rural
Urban
Rural

-

6

160

177

5963

115495

433

59.18

33.78
Upazila Town

Area
(sq km)

Mouza

Population

Density
(per sq km)

Literacy rate
(%)

2.27

1

5963

2627

59.18
Union
Name of union and GO code
Area (acre)
Population
Literacy rate (%)
Male
Female

Charikata 27

12553

6848

6384

24.59

Chiknagul

8226

8870

8220

-

Jaintiapur 52

11629

11178

10284

33.05

Darbasta 31

18396

16345

14849

34.68

Nijpat 63

4063

11321

10412

43.84

Fatehpur 45

14536

17562

16275

35.13
Source Bangladesh Population Census 2001, Bangladesh Bureau of Statistics.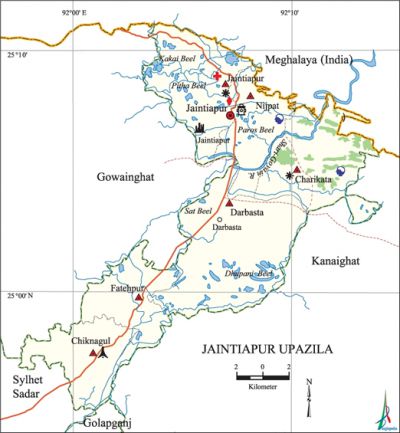 Archaeological heritage and relics Megalith Monument, remnants of Jaintiaswari Temple, remnants of Jaintia Rajbari, Sarighat Temple.
History of the War of Liberation In 1971 the Pak army conducted heavy torture, genocide and plundering; they also set many houses of the upazila on fire. The Pak army killed a number of innocent persons at village Hemo by gun shot from the fighter plane. Besides, the Pak army brutally killed 30 persons including the Khan Tea Garden workers.
Marks of the War of Liberation Mass killing site 1 (Chiknagul); memorial monument 1 (Tamabeel checkpost).
Religious institutions Mosque 227, temple 7, church 2, tomb 4.
Literacy rate and educational institutions Average literacy 35.11%; male 39.51%, female 30.34%. Educational institutions: college 5, secondary school 16, primary school 53, community school 11, kindergarten 5, madrasa 23. Noted educational institutions: Jaintiapur Tayob Ali Degree College (1995), Central Jaintiapur High School (1955), Haripur High School (1957), Jaintiapur Government High School (1867).
Newspapers and periodicals Jaintiabarta.
Cultural organisations Club 17, playground 3.
Tourist spots Jaintiapur Rajbari, Sreepur Tea Garden.
Main sources of income Agriculture 53.38%, non-agricultural labourer 10.32%, industry 0.70%, commerce 12.60%, transport and communication 1.79%, service 4.71%, construction 0.79%, religious service 0.64%, rent and remittance 0.15% and others 14.92%.
Ownership of agricultural land Landowner 48.95%, landless 51.05%; agricultural landowner: urban 52.53% and rural 49.88%.
Main crops Tea, Paddy, potato, bay leaf, betel leaf.
Extinct or nearly extinct crops Tobacco.
Main fruits Jackfruit, pineapple, betel nut.
Communication facilities Pucca road 228 km, mud road 59 km. Culvert 99, Bridge 25.
Extinct or nearly extinct traditional transport Palanquin, bullock cart.
Cottage industries Goldsmith, blacksmith, potteries.
Hats, bazars and fairs Hats and bazars are 7, fairs 3, most noted of which are Jaintiapur, Darbasta, Haripur, Chiknagul and Shukrabari bazars.
Main exports Natural Gas, pebble, limestone, tea, bay leaf, betel leaf, betel nut.
Access to electricity All the unions of the upazila are under rural electrification net-work. However 12.94% of the dwelling households have access to electricity.
Natural resources Natural Gas, pebble, limestone.
Sources of drinking water Tube-well 57.08%, pond 28.81%, tap 1.81% and others 12.30%.
Sanitation 26.92% (urban 24.04% and rural 78%) of dwelling households of the upazila use sanitary latrines and 47.54% (urban 49.28% and rural 16.64%) of dwelling households use non-sanitary latrines; 25.54% of households do not have latrine facilities.
Health centres Upazila health complex 1, family planning centre 5, satellite clinic 2, community clinic 19.
NGO activities Operationally important NGOs are brac, asa. [Jayanta Singha Roy]
References Bangladesh Population Census 2001, Bangladesh Bureau of Statistics; Field report of Jaintiapur Upazila 2007.