Karim, Abdul1 (1922-1973) soil scientist and educationist, was born in the district of comilla in 1922. He passed the matriculation examination in 1939 from Homna High School and ISc examination in 1942 from Dhaka College. He obtained BSc (Hons) and MSc degrees in Chemistry from Dhaka University in 1945 and 1946 respectively.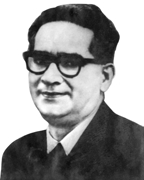 Abdul Karim started his career as a lecturer of Chemistry in Dhaka University in 1947. He was then offered a UNESCO Fellowship for studying in the University of Adelaide in 1949 leading to PhD degree in Soil Science. He obtained his Doctorate degree in 1951. Since his return in 1951 Dr Abdul Karim joined the newly established Department of Soil Science of the University of Dhaka as an Assistant Professor. In this capacity he conducted researches on various aspects of soils and published them in national and international journals.
He became reader in 1957 and continued as Professor and Head of Soil Science Department in 1963. Later he became the founder Head of Agricultural Chemistry Department at bangladesh agricultural university (BAU). In addition to his teaching assignment, he had been the Dean of Faculty of Agriculture and Syndicate member for a considerable period of time.
A Karim had been a reputed Soil Scientist and worked on a method for producing high quality glass from Sylhet sand and was the pioneer in Bangladesh to develop a technology for producing biogas in rural areas. He also worked on producing edible oil from rice bran. His fields of research specialization were soil chemistry, pedology and agricultural chemistry. He developed a new method for determining free iron oxide, also presented a classification of soils of the world in the International Congress of Soil Science.
In recognition of his services to the cause of Agriculture, Professor Abdul Karim was awarded President's Gold medal (posthumous) in 1980. Professor Karim prepared a paper on 'Agricultural research, Food Science and Technology in Bangladesh' for presenting at the IDRC Symposium at Singapore in 1974, but his premature death on 22 December 1973 deprived his participation. [Tanjina Khan Munni]