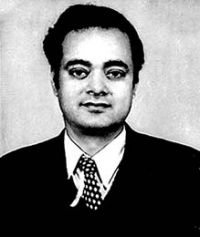 Karim, Nazmul (1922-1982) educationist, sociologist' was born in an educated middle class family on August 1, 1922 in Luxmipur Thana of Nohakhali district. His father's name is Abu Rashid and mother's name Shamsun Nessa. His parental home was at Falgunkara village, under Chouddagram Upazila of Comilla district.
Nazmul Karim passed his MA Examination in 1946 in political science from the university of dhaka. He then served as a Lecturer in Political Science in Feni College and dhaka college for five years. He was appointed as a Lecturer in the department of Political Science at the university of dhaka in 1951. In the same year he got a scholarship from East Pakistan Government and went to study at the University of Columbia, USA. He obtained MA degree on 'Government and Sociology' from there in 1953.  
He acquired his PhD degree from the University of London in 1964. Nazmul Karim was closely associated with the establishment of the Sociology Department at the University of Dhaka under the joint collaboration of the University of Dhaka and the UNESCO. He joined the new department as a Lecturer on 19 August, 1957. He served the Department in different capacities up to 1982.
Nazmul Karim wrote two articles while he was a student of University of Dhaka. The articles titled Evolution of Religion and Marxism (Aroni, Kolkata, 14 April 1944) and Geography and God (Dhaka University Annual, 1946) drew a special attention of the intellectuals as Nazmul Karim's radical thinking reflected in those articles. His Master's thesis entitled Changing Society in India and Pakistan, which was prepared during his studies at the University of Columbia, was published as a book in 1956. In the subsequent year WA Garstin, an eminent British Sociologist, published a review of his book with appreciation in the Journal of Royal Asiatic Society, London.
Nazmul Karim was a pioneer in the introduction of sociological research in Bangladesh. He played a prominent role in the publication of first two research works edited by Dr Pierre Bessaignet and Dr John E Owen, two UNESCO advisers and Head of the Department of Sociology in 1960 and 1962 respectively under the auspices of the Asiatic Society of Pakistan (now Bangladesh), Dhaka. He had written the first article of the first book concerning Sociological methods. Dr Pierre Bessaignet, editor of the book himself made a critical review of Nazmul Karim's first research.
'He made valuable contributions by participating in a good number of seminars and symposiums held at home and abroad during his professional life. His contributions were included in Changing Patterns of an East Pakistan Family, Women in the New Asia, edited by Barbara Ward, (UNESCO, Paris, 1965); Social Science in Bangladesh, (UNESCO, Paris, 1974); and Religion and Society in Bangladesh, Religion in Oriental Societies, (Monton Press, Canada). His PhD thesis entitled The Modern Muslim Political Elite in Bengal was published under the title of Dynamics of Bangladesh Society (Delhi 1980). Nazmul Karim died on November 18 in1982. [Rangalal Sen]
Bibliography M Afsaruddin, et al, (eds), AK Nazmul Karim Memorial Lectures, volume-1, (Dhaka 2005); John E Owen (ed), Sociology in East Pakistan, (Dhaka 1962); Pierre Bessignet (ed), Social Research in East Pakistan, (Dhaka 1960); Ibn Rashid, Falgunkara, (Dhaka 1958).