Karnafuli Thana (Chittagong metropolitan) area 136.59 sq km, located in between 22'11' and 22'24' north latitudes and in between 91'48' and 91'52' east longitudes. It is bounded by bakalia and chandgaon thanas and boalkhali upazila on the north, Anwara upazila and bay of bengal on the south, patiya and anowara upazilas on the east, patenga, kotwali, bandar and double mooring thanas and karnafuli river on the west.
Population 179148; male 94472, female 84676, Muslim 166755, Hindu 10226, Buddhist 523, Christian 1526 and others 118.
Water bodies Main river: Karnafuli.
Administration Karnafuli Thana was established on 27 May 2000 comprising parts of Anwara, Boalkhali and' Patia upazilas.
Thana
Union
Mouza
village
Population
Density (per sq km)
Literacy rate (%)
Urban
Rural
Urban
Rural
7+1 (part)
27
27
179148
-
1312
45.70
-
Ward
Name number of Ward
Area (sq km)
Population
Literacy rate (%)
Male
Female

Bara Uthan 18

22.20

14232

13182

46.90

Bairag 19 (part)

21.89

6116

4950

47.40

Char Lakshya 24

16.20

11661

10208

46.40

Char Patharghata 27

12.79

10679

8694

46.60

West Gomdandi 50

16.08

17346

16547

47.20

Juldha 55

17.12

8500

7566

37.90

Kalagaon 73

15.29

11653

11044

48.30

Sikalbaha 85

15.02

14285

12485

43.30
Source  Bangladesh Population Census 2001, Bangladesh Bureau of Statistics
Noted religious institution KAFCO AC Mosque.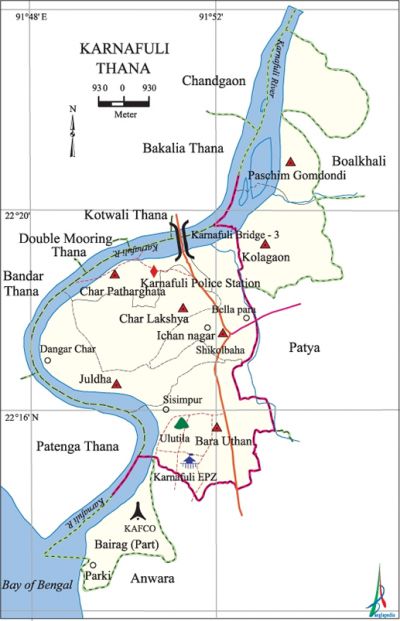 Literacy rate and educational institutions Average literacy 45.70%; male 50.30%, female 40.70%. Noted educational institutions: Ayub Bibi City Corporation School and College, Achhia Motaleb Rizia Nasrin School and College, Shah Niamat (R) Grammar School, Ureka Shishu Niketan, Char Lakshya Sirajul Munir Waijunnur Gauchhia Dakhil Madrasa, Marine Academy, Bangladesh Fisheries Academy.
Tourist spots Parki Sea Beach.
Main sources of income Agriculture 18.04%, non-agricultural labourer 10.09%, industry 0.73%, commerce 17.25%, transport and communication 6.66%, service 19.25%, construction 2%, religious service 0.57%, rent and remittance 4.91 and others 20.08%.
Ownership of agricultural land Landowner 32.64%, landless 67.36%.
Noted industrial' establishments S Alam Group, Cheman Steel Limited, Weaving Factory of TK Group, Jobeda Steel Mills Limited, Sikalbaha Electric Station, Urea Fertilizer Factory, kafco, Diamond Cement Factory, Korean EPZ, JB Oil Mills, JB Food Industries, Fish Processing and Dried Fish Factory and Madhumati Salt Industries.
Hats, bazars and fairs Fakirnir Hat, Mahalkhan Bazar, Char Lakshya Board Bazar, Jamtala Bazar and Bridgeghat Bazar are notable.
''Main exports Dried sea fish, ready made garments, urea fertilizer, cement.
Access to electricity All the wards of the thana are under electricity network; however 45% dwelling households have access to electricity.
Sources of drinking water Tubewell 91.67%, pond 3.12%, tap 1.69% and others 3.52%.
Sanitation 37.93% of dwelling households use sanitary latrines and 51.08% of dwelling houses use non-sanitary latrines; 10.99% of households do not have latrine facilities. [Md. Abdul Baten]
References Bangladesh Population Census 2001, Bangladesh Bureau of Statistics; Field report of Karnafuli Thana.