Kawkhali Upazila (Pirojpur District)
Kawkhali Upazila (pirojpur district) area 79.65 sq km, located in between 22°31' and 22°40' north latitudes and in between 90°01' and 90°07' east longitudes. It is bounded by nesarabad (Swarupkati) upazila on the north, bhandaria upazila on the south, jhalokati sadar and rajapur upazilas on the east, pirojpur sadar upazila on the west.
Population Total 74134; male 37596, female 36538; Muslim 62395, Hindu 11660, Christian 70 and others 9.
Water bodies Main rivers: Swarupkati, Nalchity, Kaliganga, Katcha.
Administration Kawkhali Thana was formed in 1906 and it was turned into an upazila on 1 August 1983.
Upazila
Municipality
Union
Mouza
Village
Population
Density (per sq km)
Literacy rate (%)
Urban
Rural
Urban
Rural

-

5

45

59

9820

64314

931

80.7

68.0
Upazila Town

Area (sq km)

Mouza

Population

Density
(per sq km)

Literacy rate (%)

5.34

3

9820

1839

80.7
Union
Name of union and GO code
Area (acre)
Population
Literacy rate (%)
Male
Female

Amrajuri 15

3210

4730

4327

63.27

Kawkhali 47

5245

13523

12808

71.58

Chira Para Parsaturia 31

4002

6943

6727

74.74

Shialkati 79

1546

1818

2033

68.95

Sayna Raghunathpur 63

3351

6354

6505

68.40
Source Bangladesh Population Census 2001, Bangladesh Bureau of Statistics.
History of the War of Liberation During the war of liberation the freedom fighters of Kawkhali upazila established a strong base at village Keundia. In the month of August the freedom fighters raided the Kawkhali Police Station and captured arms and ammunitions. A battle was fought between the freedom fighters and the Pak army at Keundia in which 17 Pak soldiers and razakars were killed. Besides, the Pak army killed 30 innocent persons of Amrajuri and burnt a number of houses.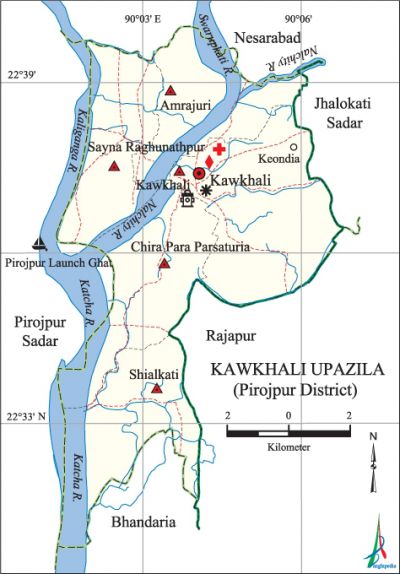 Marks of the War of Liberation Memorial monument 1 (Launch ghat).
Religious institutions Mosque 105, temple 20, sacred place 2.
Literacy rate and educational institutions Average literacy 69.7%; male 71.2%, female 68.2%. Educational institutions: college 2, secondary school 16, primary school 72, madrasa 49. Noted educational institutions: Kawkhali Degree College, Kawkhali Government KG Union High School, Kawkhali Government SB Girls' School, Kawkhali Ideal Junior High School, Kawkhali Central Alim Madrasa.Cultural organisations Library 4, theatre group 2, cinema hall 1.
Main sources of income Agriculture 37.01%, non-agricultural labourer 4.48%, industry 1.13%, commerce 23.68%, transport and communication 1.82%, service 13.31%, construction 1.51%, religious service 0.43%, rent and remittance 1.13% and others 15.50%.
Ownership of agricultural land Landowner 59.58%, landless 40.42%; agricultural landowner: urban 57.48% and rural 59.89%.'
Main crops Paddy, chilli, betel leaf, pulse. Amra (hog plum) and Mankachu (a variety of arum) of the upazila are the main cash crops. Most of the arable lands of the upazila are used for two crops: aus and aman paddy. In the recent past the peasants have been attracted to the cultivation of high breed paddy. The main varieties of paddy of the upazila include Kartik Balam, Bashpair, Joyna, Mota, Beti Chikan, Rajashail, etc. The local Birat community (they are also called the 'Barajibi' meaning producer of betel leaf) is involved in the cultivation of betel leaf. Betel leaf produced in the upazila, are also exported.
Main fruits Mango, coconut, betel nut, palm, elephant apple, hog plum.
Fisheries, dairies and poultries Fishery 109, dairy 55, poultry 20.
Communication facilities Pucca road 30 km, semi-pucca road 10 km, mud road 180 km; waterway 4.24 nautical miles.
Extinct or nearly extinct traditional transport Palanquin.
Noted manufactories Oil mill, flour mill, rice mill, saw mill.
Cottage industries This upazila is noted for production of shital pati. Other notable cottage industries include pottery, wood works, nakshi kantha, etc.
Hats, bazars and fairs Hats and bazars are 12, most noted of which are Kawkhali, Amrajuri and Keundia hats; Durga Puja Mela and' Rash Purnima Mela.
Main exports Amra, betel leaf, coconut.
Access to electricity All the unions of the upazila are under rural electrification net-work. However 19.96% of the dwelling households have access to electricity.
Sources of drinking water Tube-well 89.79%, tap 0.26%, pond 6.74% and others 3.21%. The Directorate of the Public Health Engineering has conducted a survey on the presence of arsenic in shallow tube-well water of' Kawkhali region. The survey has detected the presence of arsenic at the rate of 68% of shallow tube-well water in Raghunathpur Union, 70% in Amrajuri Union, 71% in Kawkhali Union, 24% in Chira Para Par Saturia Union and 25% of shallow tube-well water in Shialkati Union.
Sanitation 40.40% (rural 33.11% and urban 89.36%) of dwelling households of the upazila use sanitary latrines and 56.73% (rural 63.75% and urban 9.52%) of dwelling households use non-sanitary latrines; 2.87% of households do not have latrine facilities.
Health centres Upazila health centre 1, community clinic 7, family planning centre 5.
Natural disasters Many people were victims of the earthquake and cyclone of 1762, tidal bores of 1822 and 1909, famines of 1770 and 1943 and cyclones of 1960, 1965, 1970 and 1988. Besides these caused heavy damages to settlements, livestock and other properties of the upazila.
NGO activities Operationally important NGOs are CARE, brac, caritas, asa. [Tapan Kumar Roy]
References Bangladesh Population Census 2001, Bangladesh Bureau of Statistics; Cultural survey report of Kawkhali Upazila 2007.