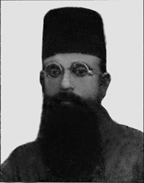 Khan, Matiur Rahman (1872-1937) social worker, litterateur, was born in the village Paril of Manikganj district on 24 December 1872. His father Mofiz Uddin Khan was a Munsefat Chittagong. He became an orphan at the age of only six. At this stage, his uncle Wakiluddin Khan, the then sub-registrar of Narayanganj, took the responsibility of bringing him up. His grandfather Nader Ali Khan was a government Serestadar (clerk) in Chittagong.
Matiur Rahman Khan passed the entrance examination with distinction and then got admitted to dhaka college. Abdullah Suhrawardy was his classmate. It was said that Abdullah Suhrawardy wrote poems in English, and Matiur Rahman Khan translated those into Bengali. His poetic talents blossomed at a very tender age. He started writing poems while studying in class five and wrote a long poem titled 'Axha'. He wrote another long poem titled 'Dhritarashtrer Bilap' while a student of class eight.
Khan started his career as the headmaster of Shibganj English Medium School in dinajpur, before passing the BA examination. Later, he taught for some time at Layek Jubilee School of Kolkata and Kolkata Madrasa.
At this juncture, he wrote a short social novel titled Amina. Later, he joined as a teacher of mathematics and history at Mokhlesia Academy school of Delhi. He served in the post of Kanungo under the survey department during 1906-07. Even after retiring as Khasmahal Officer, he worked in the zamindari estate of Maharaja Pradyotkumar Thakur for almost two years. After that, he worked as Land Superintendent of Royal Calcutta Golf Club for about two years. Matiur Rahman Khan wrote a number of government approved text-books.
His poem titled 'Samrat Nasiruddin' was published in the 18 March 1935 issue of the Hanafi Patrika. He chaired the annual conference of All-Bengal Kanungo Association in 1926. A long poem titled 'Farane Hazera Devi' written by him was published in the 27 August 1928 issue (Fateha-e-Dwazdaham) of the weekly Mohammadi.
Alongside his morality-based writings, he also demonstrated his adeptness in writing satirical pieces. He wrote many satirical poems in 1903 under the pen-names Sridodela, Sri Sri Dukankata, Uchit Bakta etc. He translated the poem 'Love of Country' written by the renowned English poet Sir Walter Scott into Bengali by maintaining its original spirit. Matiur Rahman Khan was an outstanding classical writer. His historical narrative titled 'Pir Shah Shahi' received critical acclaim in the literature page of the periodical Babgabashi. It demonstrated the writer's power of narration as well as his command over language. His notable books were: poetry ' Ezid Badh (in blank verse), Emam Badh; novel 'Jamuna, Naba-Kumud, Moksa Prapti; travelogue' Probasher Smriti, Agra Kahini; satires' Mohaprabhu, Goorhatatta, Guptasabha. His travelogue Probasher Smriti contains heart-rending descriptions of Taj Mahal, Agra Fort, Dewan-i-Khas, Dewan-i-Am, Sheesh Mahal, Nagina Mosque, Jodhabai Mahal, Jame Masjid, Moti Masjid, Aram Bag, Sekendra and Fatepur Sikri. He wrote the novel 'Jamuna' as a response to a novel written by bankimchandra chattopadhyay (1838-1894). He died in Dhaka on 29 July 1937. [Mahfuza Khanam]