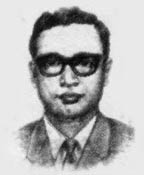 Khan, Serajul Haque (1924-1971) educationist, martyr intellectual. He was born in 1924 at village Satkuchia in Parshuram upazila of Feni district. His father was Chowdhury Chand Khan. He had his early education in the Satkuchia Primary School. He passed Matriculation examination from Fulghazi High School in 1939, IA in 1941 and obtained graduation in 1943 from Feni College.
Serajul Haque Khan started his career as an Inspector in the Department of Customs and Excise of the government. But he left the job after three months and joined local Fulghazi High School as the Headmaster. He obtained the degree of Bachelor of Teaching in 1949 from Dhaka Teachers' Training College. In the same year he resigned from the Fulghazi High School to join Armanitola Government High School of Dhaka as a teacher. Subsequently he served in the Motijheel Central Government High School and in the Government Laboratory High School in Dhaka. In 1965 Serajul Haque Khan obtained M.Ed degree from the Institute of Education and Research of the University of Dhaka.
In the same year he secured a scholarship of the US government for higher studies and joined the Doctor of Education Programme at the Colorado State College, USA. He obtained the Ed. D degree in 1967. On 1968 Serajul Haque joined in the Department of Educational Administration at the Institute of Education and Research of the University of Dhaka as an Assistant Professor.
Serajul Haque Khan wrote a number of text books on Bengali, English and History which were approved by the School Text Book Board. Although Serajul Haque Khan was not actively involved in politics, he was politically conscious and a supporter of left politics. He was a victim of police harassment in 1951. On 14 December 1971 Serajul Haque Khan was abducted by the activists of al-badr from his residence at Dhaka University Staff Quarters. His dead body was later recovered from the scaffold of Mirpur. He was laid to rest beside the Dhaka University Central Mosque.
The Postal Department of the Government of Bangladesh issued commemorative postal stamp in the name of Serajul Haque Khan on the Martyred Intellectual Day on 14 December 1991 in recognition of his sacrifice for the cause of the nation. [Md. Enamul Haque Khan]