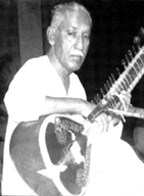 Khan, Ustad Abed Hossain (1929-1996) musician, music composer and music director, was born in a family of musicians in the village of Shibpur in the district of brahmanbaria. His father, ustad ayet ali khan, was also an illustrious musician. Abed Hossain Khan took lessons in the sitar from his father and soon made his mark as an expert sitar player. He was equally skilled in playing the sarod and the surbahar. After completing the BA, he joined the Dhaka Station of Radio Pakistan as a staff artiste in 1950.
Khan produced and wrote the score for innumerable modern and patriotic songs, which are broadcast from radio and television. He was also an expert in writing musical notations. He visited many countries as a cultural representative. He appeared as a sitar player in an international conference held in Geneva in 1966. He played the sitar at the All-India Radio Music Conferences held in Kolkata, Madras, Delhi, Mumbai and Srinagar in India and won acclaim. He also popularised classical music abroad by playing the sitar in the United Kingdom, the United States of America, Switzerland, India, Pakistan and France.
Abed Hossain Khan also directed the music in a number of films, including Nadi O Nari in 1969. He wrote a book on music, Sura-Lahari, in three volumes.
He was a lecturer of history, theory and practical music in the Government Music College. He established a music academy named 'Ustad Ayet Ali Khan Sangeet Niketon' in 1973 and remained its principal till his death. He was also a music teacher in the bangladesh shilpakala academy and conducted a course in classical music under the 'Mentor Fellowship in Music' organised by the Bangladesh Shilpakala Academy and sponsored by the Ford Foundation. He used to perform the sitar and the sarod on Bangladesh Radio and BTV regularly. His performances with the German musicians Phillip Karl Schaeffer, a sitarist, and Michael Grube, a violinist, were highly lauded. He was also a very skilled manufacturer of musical instruments. He was awarded the Ekushey Padak by the Government of Bangladesh in 1985 for his contribution to music. [Mobarak Hossain Khan]