Khan Jahan Ali Thana (Khulna metropolitan) area 8 sq km, located in between 22°53' and 22°55' north latitudes and in between 89°29' and 89°31' east longitudes. It is bounded by phultala upazila on the north, dumuria upazila on the south, dighalia upazila and daulatpur (khulna) thana on the east, Phultala and Dumuria upazilas on the west.
Population Total 36853; male 20147, female 16706; Muslim 34471, Hindu 2163, Buddhist 203 and others 16.
Water bodies Main rivers: rupsa; Beel Dakatia is notable.
Administration Khan Jahan Ali Thana was formed in 1886.
Thana
Ward and union
Mahalla and Mouza
Population
Density (per sq km)
Literacy rate (%)
Urban
Rural
Urban
Rural
1+ 1 (Part)
4
5177
31676
4607
77.10
72.50
Ward and union
Name of the ward and union
Area (sq km)
Population
Literacy rate (%)
Male
Female
Ward no. 2 (Part)
1.07
3079
2098
77.10
Jugipal 48
6.93
17068
14608
72.50
Source Bangladesh Population Census 2001, Bangladesh Bureau of Statistics.
Archaeological heritage and relics satgumbad mosque, Khan Jahan Ali Dighi.
Marks of the War of Liberation Monument 1.
Religious institutions Mosque 200, temple 20.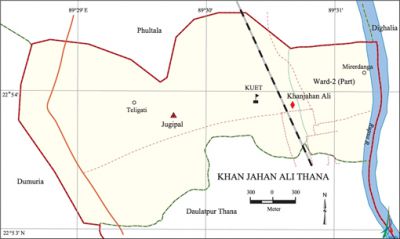 Literacy rate and educational institutions Average literacy 74.8%; male 78.89%, female 67.93%. Noted educational institutions: Cantonment School and College, Khan Jahan Ali Adarsha College.
Cultural organisations Club 5, cinema hall 2, playground 15.
Noted installations Police Training Centre, Rainge Reserve Force (RRF) and Armed Battalion Head Quarter, Wonder land Park (Cantonment) and Zoo.
Main sources of income Agriculture 9.17%, non-agricultural labourer 3.49%, industry 6.55%, commerce 17.09%, transport and communication 8.20%, service 37.38%, construction 3.66%, religious service 0.09%, rent and remittance 2.10% and others 15.27%.
Ownership of agricultural land Landowner 39%,' landless 61%.
Main crops Paddy, jute, betel nut, betel leaf.
Main fruits Mango, blackberry, jackfruit, litchi, papaya, coconut.
Fisheries, dairies and poultries This upazila has a number of fisheries, dairies and poultries.
Communication facilities Pucca road 135 km, semi-pucca road 10 km, mud road 240 km; waterway 12 nautical miles.
Extinct or nearly extinct traditional transport Palanquin.
Noted manufactories Jute mill, textile mill, flour mill, medicine farm, battery factory, steal mill, salt factory, saw mill, aluminum factory, packaging industry.
Cottage industries Goldsmith, blacksmith, potteries.
Hats, bazars and fairs Fulbaria Hat, Shiromoni Bazar and Jahanabad Cantonment Fair are notable.
Access to electricity All the wards and union of the thana are under electrification net-work. However 67.64% of the dwelling households have access to electricity.
Sources of drinking water Tube-well 91.72%, pond 0.55%, tap 6.57% and others 1.16%.
Sanitation 13.67% of dwelling households of the thana use sanitary latrines and 23.63% of dwelling households use non-sanitary latrines; 0.20% of households do not have latrine facilities
Health centres Child hospital 1, TB hospital 1, clinic 1, family planning centre 5.
NGO activities brac, asa, proshika. [Ekramul Kabir]
References Bangladesh Population Census 2001, Bangladesh Bureau of Statistics.