Khilkhet Thana (Dhaka metropolitan) area 15.88 sq km, located in between 23°49' and 23°51' north latitudes and in between 90°24' and 90°29' east longitudes. It is bounded by dakshinkhan and uttarkhan thanas on the north, badda thana on the south, rupganj and kaliganj upazilas on the east, cantonment and bimanbandar thanas on the west.
Population Total 67047; male 36408, female 30639; Muslim 64149, Hindu 2048, Buddhist 780, Christian 54 and others 16.
Administration Khilkhet Thana was established on 27 June in 2005 consisting of south parts of Badda thana.
Thana
Ward
Mahalla and union
Population
Density (per sq km)
Literacy rate (%)
Urban
Rural
Urban
Rural
1
11
23585
15642
2470
69.13
52.92
Ward
Name of the ward and union
Area (acre)
Population
Literacy rate (%)
Male
Female
Ward No 17 (Part)
2.26
28198
23205
69.13
Dumni (Part)
5.77
4170
3787
47.49
Dakshinkhan (Part)
7.85
4040
3647
58.35
Source Bangladesh Population Census 2001, Bangladesh Bureau of Statistics.
Religious institutions Mosque 66, temple 3. Noted religious institutions: Dumni Namapara Jami Mosque, Dumni Bazar Jami Mosque, Barua Shah Jami Mosque, Uttar Jami Mosque (Bara Mosque), Radha Krishna Mandir.
Literacy rate and educational institutions Average literacy 58.32%; Male 63.32%, female 52.52%. Noted educational institutions: Barua Alauddin Dewan High School, Dumni High School, Jaan-E Alam Govt. High School, Manarat Model High School, Patira' Primary School, Barua Govt. Primary School, Dumni Primary School, Kurmitola Govt. Primary School, Talna Govt. Primary School, Khilkhet Battala Islamia Madrasa, Patira Hafezia Madrasa.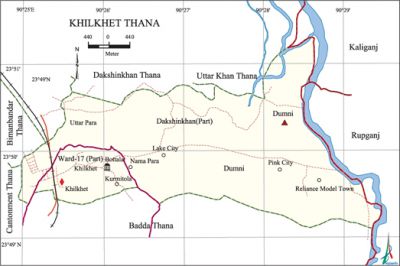 Cultural organisations Club, cinema hall and playground are the cultural organisations of this thana.
Main sources of income Agriculture 15.10%, non-agricultural labourer 2.14%, industry 1.38%, commerce 29.10%, transport and communication 5.21%, construction 3.59%, religious service 0.09%,' service 30.38%, rent and remittance 2.33% and others 10.68%.
Ownership of agricultural land Landowner 63.93%, landless 36.07%.
Main crops Chili, vegetables.
Extinct or nearly extinct crops Paddy.
Main fruits Mango, jackfruit, blackberry, papaya, banana.
Communication facilities Total road 36.04 km.
Extinct or nearly extinct traditional transport Palanquin, bullock cart.
Manufactories Garments 17, ice-factory; most noted of which are Mohammadi Fashions Sweater Limited, T-Mart Computerized Sweater Limited, Conversion Natural Gas Company Limited, ice-cream factory.
Bazars and markets Market 6, Rajuk Trade Centre (Nikunja 2), Khilkhet Super Market (Khilkhet Bazar), Jaan-E Alam Super Market (Tanpara).
Main exports Ready made garments.
Access to electricity All the wards and unions of the thana are under electrification net-work. However 93.50% of the dwelling households have access to electricity.
Sources of drinking water Tube-well 39.24%, tap 57.99%, pond 0.09% and others 2.68%.
Sanitation 78.54% of dwelling households of the upazila use sanitary latrines and 17.83% of dwelling households use non-sanitary latrines; 3.63% of households do not have latrine facilities.
Health centres Asia Medical Pvt. Limited, Al-Arafa Hospital, Disha Drug Prevention Centre. [Shamima Akhter]
References Bangladesh Population Census 2001, Bangladesh Bureau of Statistics.