Kushtia Sadar Upazila (kushtia district) area 316.27 sq km, located in between 23°42' and 23°59' north latitudes and in between 88°55' and 89°04' east longitudes. It is bounded by pabna sadar and ishwardi upazilas on the north, harinakunda and shailkupa upazilas on the south, kumarkhali upazila on the east, mirpur (Kushtia) and alamdanga upazilas on the west.
Population Total 423818; male 219144, female 204674; Muslim 404642, Hindu 18769, Buddhist 172, Christian 34 and others 201. Indigenous communities such as Baghdi, Buno and banshphod belong to this upazila.
Water bodies Main rivers: padma, Kaliganga, Garai, kumar; Sagarkhali Canal is notable.
Administration Kushtia Sadar Thana was formed in 1823 and it was turned into an upazila in 1983. Municipality was formed in 1969.
Upazila
Municipality
Union
Mouza
Village
Population
Density (per sq km)
Literacy rate (%)
Urban
Rural
Urban
Rural

1

14

117

165

99705

324113

1340

70.5

41.3
Municipality

Area (sq km)

Ward

Mahalla

Population

Density (per sq km)

Literacy rate
(%)

13.31

12

30

83658

6285

71.3
Upazila Town

Area (sq km)

Mouza

Population

Density (per sq km)

Literacy rate (%)

1.01

2

16047

15888

66.7
Union
Name of union and GO code
Area (acre)
Population
Literacy rate (%)
Male
Female

Ailchara 17

5307

9335

8773

37.26

Abdulpur 16

6202

12858

11746

35.82

Alampur 18

6659

12470

11729

41.66

Ujangram 94

5294

10413

9640

38.28

Gosind Durgapur 31

5547

8944

8582

30.14

Jagati 50

5173

18441

17770

43.48

Jiarakhi 56

5732

11206

10594

40.97

Jhaudia 63

6601

10948

10158

30.86

Paitkabari 88

4223

8619

8267

31.94

Barakhada 25

4184

18174

16946

59.66

Mazampur 75

2008

17893

16960

58.92

Manohardia 82

5243

9334

8612

35.40

Harinarayanpur 37

3804

13059

11260

48.16

Hatas Haripur 44

7060

14049

13380

35.29
Source Bangladesh Population Census 2001, Bangladesh Bureau of Statistics
Archaeological heritage and relics Jhaudia Mosque (Mughal period) and Swastipur Mosque (Shayesta Khani period).
Historical events Like other parts of Bengal indigo resistance movement spread over Kushtia. A group of 147 Pak soldiers faced heavy resistance from the local EPR, Police, Ansar, students and general public on their entry to Kushtia on 25 March 1971. On 30 March 1971, the flag of the independent Bangladesh was hoisted in Kushtia. An encounter was held between the freedom fighters and the Pak army at Bangshitala of the Kushtia sadar on 5 September in which a number of freedom fighters were killed. The Pak army killed about 12 persons of a single family at 'Kohinoor Lodge' in Mill Para.'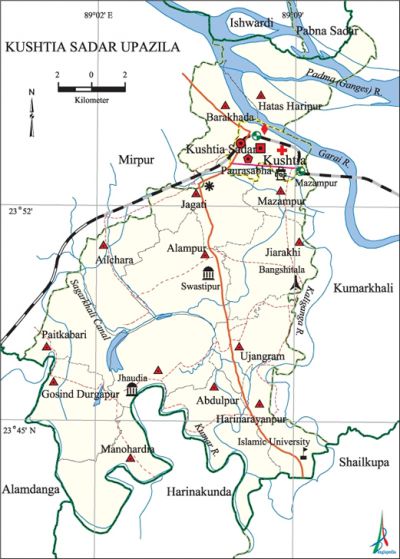 Marks of the War of Liberation Mass grave 3 (Kushtia Zila School, Kushtia Police Line and on the bank of the Garai river; sculpture 1 (Muktabangla at Kushtia Islamic University); memorial monument 1 (Bangshitala).
Religious institutions Mosque of Shah Suja, Paitkabari Shahi Mosque, Kuti Para Puratan Jami Mosque, Lahini Karikarpara two-stored Jami Mosque, Kushtia Boro Jami Mosque, Islampur Shahi Mosque, Gosind Durgapur Radha Raman Mandir, Lahini Sarbajanin Puja Mandir, Church of Bangladesh.
Literacy rate and educational institutions Average literacy 48.4%, male 51.8%, female 44.6%. Educational institutions: university 1, college 16, secondary school 74, primary school 140, madrasa 18. Noted educational institutions: Islamic University (1979), Kushtia Government College (1946), Kushtia Government University College (1947), Kushtia Technical College (1964), Kushtia Government Mahila College (1967), Kushtia Islamia College (1967), Kushtia Nursing Training Institute, Kushtia PTI, Goswami Durgapur High School (1860), Harinarayanpur Secondary School (1891), Kushtia High School (1910), Dinmani Secondary School (1930), Mohini Mohan High School (1944), Kushtia Technical School (1958), Kushtia Zila School (1960), Mission Primary School (1898).
Newspapers and periodicals Daily: Bangladesh Barta, Andoloner Bazar, Ajker Alo, Bajrapat, Kushtia, Ajker Sutrapat, Deshbhumi, Deshtathya, Haowa, Shikal; weekly: Ispat, Deshbrati.
Cultural organisations Library 10, theatre stage 2, cinema hall 4, literary organisation 4, women organisation 9.
Amusement centres Shaheed President Ziaur Rahman Shishu Park.
Main sources of income Agriculture 41.12%, non-agricultural labourer 4.58%, industry 3.16%, commerce 2.12%, transport and communication 4.94%, service 13.31%, construction 2.09%, religious service 0.13%, rent and remittance 0.62% and others 27.93%.
Ownership of agricultural land Landowner 47.66%, landless 52.34%; agricultural landowner: urban 31.30% and rural 52.32%.
Main crops Paddy, wheat, jute, sugarcane, potato, tobacco, betel leaf.
Extinct or nearly extinct crops Indigo.
Main fruits Mango, banana, jackfruit, litchi.
Fisheries, dairies and poultries This upazila has a number of fisheries, dairies, poultries and hatcheries.
Communication facilities Pucca road 65 km, railway 19 km. Rail station 3.
Extinct or nearly extinct traditional transport Palanquin, horse carriage, bullock cart.
Noted manufactories Rubber industry, plastic industry, aluminum industry, garments industry, ice cream factory, pharmaceutical industry, sugar mill.
Cottage industries Blacksmith, potteries, nakshi kantha, bamboo and cane work.
Hats, bazars and fairs Kamalapur Hat, Ziarokhi Hat, Harinarayanpur Hat, Jhaudia Hat, Rath Mela and Baishakhi Mela.
Main exports Tobacco, betel leaf, banana, sugarcane.
Access to electricity All the wards and unions of the upazila are under rural electrification net-work. However 48.31%' of the dwelling households have access to electricity.
Sources of drinking water Tube-well 92.79%, tap 2.59%, pond 0.16% and others 4.46%. The presence of arsenic has been detected 8.04% in shallow tube-well water of the upazila.
Sanitation 48.65% (rural 38.35% and urban 84.85%) of dwelling households of the upazila use sanitary latrines and 31.66% (rural 37.19% and urban 12.21%) of dwelling households use non-sanitary latrines; 19.69% of households do not have latrine facilities.
Health centres Upazila health complex 1, health and family planning centre 1, maternity and child care centre 1, TB hospital 1, diabetic centre 1, eye hospital 1, child hospital 1, private hospital 2, upazila health and family planning centre 14, diagnostic centre 50.
Natural disasters A few thousands of people were victims of the famines of 1876 and 1897.'
NGO activities Operationally important NGOs are' brac, asa, Swanirvar Bangladesh, Jagarani, Dristi. [SM Rakib Nehal]
References Bangladesh Population Census 2001, Bangladesh Bureau of Statistics; Cultural survey report of Kushtia Sadar Upazila 2007.