Lakshmichhari Upazila (khagrachhari district) area 220.15 sq km, located in between 22°38' and 22°53' north latitudes and in between 91°58' and 92°05' east longitudes. It is bounded by mahalchhari and ramgarh upazilas on the north, kawkhali (rangamati) and fatikchhari upazilas on the south, naniarchar and Mahalchhari upazilas on the east, manikchhari and Fatikchhari upazilas on the west.
Population Total 21745; male 11596, female 10149; Muslim 3609, Hindu 477, Buddhist 73, Christian 17581 and others 5. Indigenous communities such as santal, chakma and marma belong to this upazila.
Water bodies Dhurung canal is notable.
Administration Lakshmichhari Thana was turned into an upazila on 7 November 1983.
Upazila
Municipality
Union
Mouza
Village
Population
Density (per sq km)
Literacy rate (%)
Urban
Rural
Urban
Rural

-

3

16

126

1922

19823

99

55.1

19.6
Upazila Town

Area (sq km)

Mouza

Population

Density (per sq km)

Literacy rate (%)

7.77

1

1922

247

55.14
Union
Name of union and GO code
Area (acre)
Population
Literacy rate (%)
Male
Female

Dulyatali 47

15360

3283

2955

18.24

Barmachhari 23

17920

3093

2908

16.85

Lakshmichhari 71

21120

5220

4286

29.44
Source Bangladesh Population Census 2001, Bangladesh Bureau of Statistics.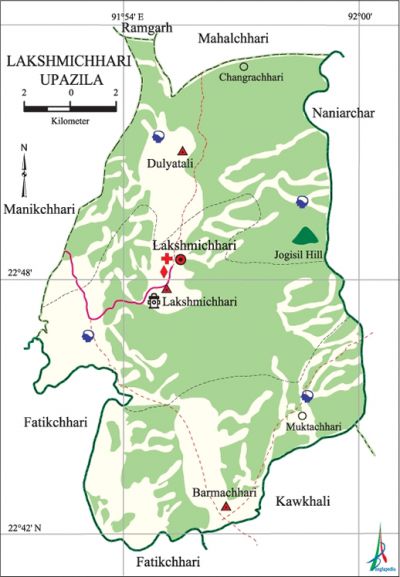 Archaeological heritage and relics Shilachhari Buddhist Vihara, Masterpara Buddhist Keyang, Major Para Buddhist Keyang and tomb of Shilachhari Sundarshah.
Religious institutions Mosque 9, temple 3, tomb 1, keyang 34.
Literacy rate and educational institutions Average literacy 22.9%; male 31.5%, female 12.9%. Educational institutions:' college 1, secondary school 4, primary school 23, madrasa 4. Noted educational institutions:' Lakshmichhari College (2002), Lakshmichhari High School (1978).
Cultural organisations Library 1, club 14, playground 3.
Main sources of income Agriculture 84.08%, non-agricultural labourer 4.22%, commerce 5.18%, service 3.07%, construction 0.48%, religious service 0.21%, rent and remittance 0.09% and others 2.67%.
Ownership of agricultural land Landowner 59.40%, landless 40.60%; agricultural landowner: urban 30.08% and rural 62.10%.
Main crops Paddy, turmeric, ginger, sugarcane, barley, arahar, vegetables.
Extinct or nearly extinct crops Kaun.
Main fruits Banana, papaya, pineapple, jackfruit.
Communication facilities Pucca road 18' km, semi-pucca road 9 km, mud road 162 km.
Noted manufactories Saw mill, rice mill, brick-field.
Cottage industries Goldsmith, weaving, wood work, cane work, bamboo work.
Hats, bazars and fairs Hats and bazars are 3, fair 1, most noted of which are Lakshmichhari Bazar, Dulyatali Bazar and Lakshmichhari Adibasi Mela.
Main exports Banana, jackfruit, papaya, wood and bamboo.
Access to electricity All the unions of the upazila are under rural electrification net-work. However 7.25% of the dwelling households have access to electricity.
Sources of drinking water Tube-well 22.59%, tap 0.56%, pond 6.40% and others 70.45%.'
Sanitation 10.01% (rural 6.50% and urban 48.19%) of dwelling households of the upazila use sanitary latrines and 74.41% (rural 76.88% and urban 47.63%) of dwelling households use non-sanitary latrines; 15.58% of households do not have latrine facilities.
Health centres Upazila health complex 1, union health centre 1.
Natural disasters The cyclone of 29 April 1991 caused heavy damages to settlements, crops, livestock and forestry of the upazila.
NGO activities Operationally important NGOs are brac, Alo, Grameen Shakti. [Md. Saiful Islam]
References Bangladesh Population Census 2001, Bangladesh Bureau of Statistics; Cultural survey report of' Lakshmichhari Upazila 2007.