Lalmonirhat District (rangpur division) area 1241.46 sq km, located in between 25°46' and 26°33' north latitudes and in between 89°01' and 89'36' east longitudes. It is bounded by west bengal state of India on the north, rangpur district on the south, kurigram district and West Bengal of India on the east, nilphamari and Rangpur districts on the west. Lalmonirhat may be called a district of enclaves; it has 33 enclaves. The two biggest enclaves of the district are Dahagram and Angarpota which are connected with the main land by Tin Bigha Corridor.
Population Total 1109343; male 566344, female 542999; Muslim 941186, Hindu 166720, Buddhist 661, Christian 59 and others 719.
Water bodies Main rivers: dharla, tista.
Administration Lalmonirhat district was formed in 1984. Of the 5 upazilas of the district hatibandha is the largest (288.42 sq km) and aditmari is the smallest (195.03 sq km).
District
Area (sq km)
Upazila
Municipality
Union
Mouza
Village
Population
Density (per sq km)
Literacy rate (%)
Urban
Rural

1241.46

5

2

42

382

476

141361

367982

894

42.3
Others Information of District

Name of Upazila

Area
(sq km)

Municipality

Union

Mouza

Village

Population

Density
(per sq km)

Literacy rate
(%)

Aditmari

195.03

-

8

58

102

203742

1045

39.8

Kaliganj

236.96

-

8

64

92

216868

915

41.1

Patgram

261.51

1

7

74

69

193185

739

44.7

Lalmonirhat Sadar

259.54

1

9

123

148

289272

1114

45.5

Hatibandha

288.42

-

10

63

65

206276

715

39.3
Source Bangladesh Population Census 2001, Bangladesh Bureau of Statistics.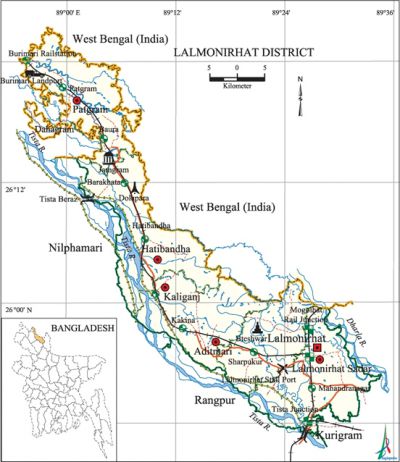 History of the War of Liberation In 1971 Lalmonirhat was under Sector 6. Having arrived at Lalmonirhat Sadar and Aditmari' on 4 April the Pak army killed a number of people. On 8 April they entered into Hatibandha upazila and killed many people; they also set many houses of these upazilas on fire. During the war of liberation the Pak army killed many Bangali Railway officers and staff. On 30 November the Pak army left Hatibandha and took shelter in Kaliganj. The Pak army was forced to leave Lalmonirhat district on the face of the heavy attack by the freedom fighters on 4 and 5 December. Lalmonirhat was liberated on 6 December.
Marks of the War of Liberation Mass grave 10 (Bateshwar, Dolapara); mass killing site 1; memorial monument 8.
Literacy rate and educational institutions Average literacy 42.3%; male 48.2%, female 36.2%. Educational institutions: college 27, secondary school 200, primary school 548, madrasa 269. Noted educational institutions: Aditmari Degree College (1991), Saptibari Degree College (1992), Patgram Mahila Degree College (1997), Lalmonirhat Government College (1964), Hatibandha Mahila Degree College (1995), Tushbhandar Mahila College (1998), Kakina Mahima Ranjan Memorial Bilateral High School (1901), Dalgram Bilateral High School (1916), Lalmonirhat Government High School (1921), Aditmari Bhadai Girija Shankar High School (1942), Patgram Taraknath High School (1945), Barakatha High School (1952), Saptibari Multilateral High School (1957), Railway Children Park Government High School (1960), Mirza Court HM High School (1972), Hatibandha SS School (1946), Tushbhandar Nasar Uddin Government Girls' School (1968), Kobi Sheikh Fazlul Karim Girls' High School (1986), Madanpur Boirati Government Primary School (1865), Patgram NP Senior Madrasa (1962).
Main sources of income Agriculture 72.78%, non-agricultural labourer 3.46%, industry 0.5%, commerce 10.49%, transport and communication 2.38%, service 4.45%, construction 0.69%, religious service 0.19%, rent and remittance 0.2% and others 4.86%.
Newspapers and periodicals Daily: Lalprovat (2000); weekly: Lalmonirhat Barta (1991), Janajani (1984); literary periodical: Raktasurya' (1977), Ashikar (1978); quarterly: Chalaman (1984), Bikash (1986), Sahitya Parishad Patrika (1990), Lalposter (1995), Monthly Roddur (2001), Sampriti (2005), Prachchhad, Pratyasha; defunct: monthly Bashana, Rangapur, Dikprakash, Chalaman, Akata, Daruchini, Chharpatra, Idaning, Aurenna Radan.
Folk culture Notable folk culture include rhymes, riddle, proverbs, Meyeligeet (song sung by women), Mantra, folk song, Palligeeti, Baul song, etc.
Tourists spots Air Base, Mogalhat Zero Point, Tista Railway Bridge at Lalmonirhat Sadar, 'Nag Lingam' (rare variety of plant), Kutub Khana at Patgram, Sindurmati at Lalmonirhat Sadar, Lalmonirhat District Museum, Khetu Mohammad Sarkar Bridge and Well' at Aditmari, Tin Bigha Corridor and Burimari Land Port (Patgram),' Kakina Zamindar Bari Hawakhana, Zamindar Mahima Ranjan Museum,' residence' of Sheikh Fazlul Karim, Tushbhandar Zamindar Bari (Kaliganj), Tista Barrage (Hatibandha), Shalban (Hatibandha). [Tanzimul Nayan]
See also The upazilas under this district.
References Bangladesh Population Census 2001, Bangladesh Bureau of Statistics; Cultural survey report of Lalmonirhat District 2007; Cultural survey report of Upazilas of Lalmonirhat District 2007.