Kurigram District (rangpur division) area 2296.10 sq km, located in between 25°23' and 26°14' north latitudes and in between 89°27' and 89°54' east longitudes. It is bounded by west bengal state of India on the north, gaibandha and jamalpur districts on the south, assam state of India on the east, West Bengal of India, rangpur and lalmonirhat districts on the west.
Population Total 1792073; male 896930, female 895143; Muslim 1666880, Hindu 123627, Buddhist 164, Christian 164 and others 1238.
Water bodies Main rivers: brahmaputra, jamuna, dharla, dudhkumar, tista, Zinzira; Chakir Posar Beel is notable.
Administration Kurigram Sub Division was formed in 1874 and it was turned into a district in 1984. Kurigram Municipality was formed in 1972. The district has 14 enclaves. Of the 9 upazilas of the district ulipur is the largest (504.19 sq km, it occupies 22% of the total area of the district) and char rajibpur is the smallest (111.03 sq km).
District
Area (sq km)
Upazila
Municipality
Union
Mouza
Village
Population
Density (per sq km)
Literacy rate (%)
Urban
Rural

2536.58

8

4

77

1241

2076

191633

1566032

667

37.72
Others Information of District

Name of Upazila

Area
(sq km)

Municipality

Union

Mouza

Village

Population

Density
(per sq km)

Literacy rate (%)

Ajmiriganj

223.98

-

5

68

89

99294

443

35.28

Chunarughat

495.49

-

10

165

386

267056

539

32.87

Nabiganj

439.62

1

13

218

350

287030

653

39.38

Baniachong

482.25

-

15

237

337

268691

557

31.54

Bahubal

250.66

-

7

145

337

167265

667

37.50

Madhabpur

294.28

1

11

181

268

272578

926

42.12

Lakhai

196.56

-

6

70

63

120677

614

28.75

Habiganj Sadar

253.74

2

10

157

246

275074

1084

47.04
Source Bangladesh Population Census 2001, Bangladesh Bureau of Statistics.
History of the War of Liberation In 1971, the freedom fighters attacked a military convoy at a place near the Chaumohani Bazar of Ulipur upazila. On 20 May the Pak army brutally killed 30 persons of Chilmari upazila at a place on the bank of the Brahmaputra. On 11 November, 69 members of the allied forceds including Major Ram Singh and 5 freedom fighters were killed in a battle with the Pak army in Bhurungamari upazila of the district. On 13 November the Pak army brutally killed nearly 700 innocent people at Hatia in Ulipur upazila. Besides, an encounter was held between the freedom fighters and the Pak army on 19 November near the Roiganj bridge of Nageshwari upazila in which three freedom fighters including Lt. Col. Samad were killed. Another battle was held between the freedom fighters and the Pak army on 20 November in Bhurungamari upazila in which more than 100 Pak soldiers were killed and so were a number of freedom fighters including Lt. Abu Saiyed Mohammad Ashfaqus Samad (Bir Uttam). The Pak army killed 62 persons of Nilur Khamar mouza under Santoshpur union of Nageshwari upazila. Besides, they also burned to death 35 persons at a place on the north west side of the Nageshwari Health Complex.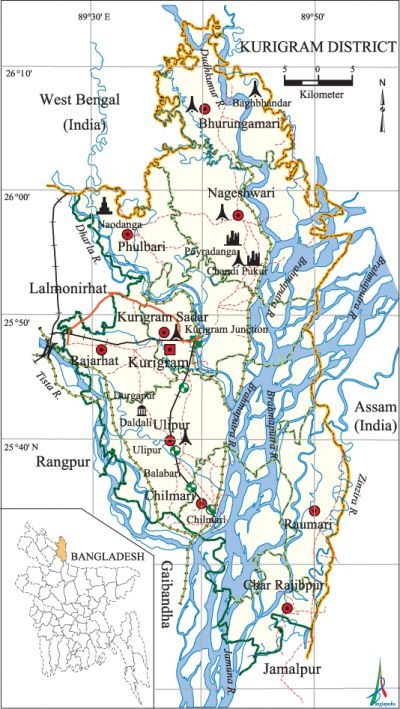 Marks of the War of Liberation Mass grave 11 (Nageshwari, Bhurungamari, Ulipur and Kurigram Sadar upazila); Mass killing site 2 (Bhurungamari and Chilmari upazila); Memorial monument 4; martyr memorial plate (Ghosh Para); victory pillar (turning point near the College).
Literacy rate and educational institutions Average literacy 33.45%; male 39.42%, female 27.55%. Noted educational institutions: Ulipur Maharani Sarnamoye High School and College (1868), Kurigram Government College (1961), Ulipur Government Degree College (1964), Bhurungamari Degree College (1967), Mir Ismail Hossian Degree College (1973), Phulbari Degree College (1973), Raumari Degree College (1979), Chilmari Degree College (1985), Rajibpur Degree College (1987), Kurigram Government High School (1895), Ulipur Government Girls' High School (1909), Durgapur High School (1914), Kurigram River View High School (1915), Naodanga High School (1919), Bhurungamari Pilot High School (1925), Kurigram Girls' High School (1928), Chilmari High School (1933), Pangarani Lakshmipriya High School (1939), Raumari Government Primary School (1898), Payardanga Government Primary School (1907), Nageshwari Alia Madrasa (1960), Kurigram Alia Madrasa (1967).
Main sources of income Agriculture 70.41%, non-agricultural labourer 4.74%, industry 0.51%, commerce 9.45%, transport and communication 2.02%, service 4.98%, construction 0.77%, religious service 0.15%, rent and remittance 0.21% and others 6.76%.
Newspapers and periodicals Daily: Chaoa Paoa, Jago bahe, Kurigram Khabor, Banglar Manush; weekly: Ganakatha, baher desh, Dudhkumar, Ganapran, Gramantar,' Julfikar; fortnightly: Dwip Desh, 'Bartabaha, Utshoo, Ayena; irregular: Uttar Chaiti,' Agradut.
Folk culture The distinctive folk culture of the district include Bhawaiya song, Palli geeti, Murshidi, Marfati, Baul song, marriage song, Chatka song, song of Bhanna Kushan, Goralir Panchali, Jari gan, rhymes, proverbs, folk tale, riddle, etc.
Tourists spots Dharla Bridge (Kurigram), Behular Char (Char Rajibpur), Ramna Ghat (Chilmari), Phulsagar' (Phulbari), Naodanga Zamindar Bari (Phulbari), Bhitarbandh Zamindar Bari (Nageshwari),' Chakir Poshar Beel (Rajarhat), Sindurmati Dighi (Rajarhat). [Md Kamal Hossain]
See also The upazilas under this district.
References Bangladesh Population Census 2001, Bangladesh Bureau of Statistics; Cultural survey report of Kurigram District 2007; Cultural survey report of Upazilas of Kurigram District 2007.