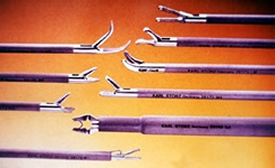 Laparoscopic Surgery an advanced technique of surgery using camera and video instruments without the conventional method of opening the abdomen by way of making large and painstaking incisions. Instead of obtaining direct observation through a long incision, two-dimensional video monitoring of the operative field with a minimally invasive portal of entry is the main aim of this operative procedure. The technology of laparoscopic cholecystectomy (removal of diseased gallbladder) was first successfully experimented in France in 1987. Soon it became a vogue in most advanced countries of the world.
Laparascopic procedure was quickly followed by the development of laparoscopic appendectomy, herniorrhaphy, bowel resection, and other abdominal procedures. This surgery is a unique combination of camera and video aids with sophisticated surgical technique with the application of some special instruments and equipment. Less pain, quick postoperative recovery, very short hospital stay, early return to work and practically no damage to cosmetic health made this procedure most acceptable to surgeons and patients alike worldwide.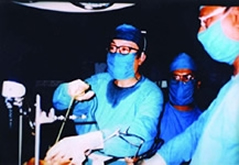 In Bangladesh, the first laparoscopic cholecystectomy was performed on 20 December 1991 at birdem Hospital with the patient named Sarwat Khanum, 24, following an International Surgical Congress at Birdem Hospital, Dhaka. This demonstrative case was jointly performed by Dr Hashimoto Daijo, the then chief of the Surgery Department of Tokyo Metropolitan Police Hospital, Tokyo, Japan and Dr Sarder A Nayeem, then a postgraduate student in the Department of Surgery of the University of Tokyo, Japan. Dr Nayeem, who got advanced training in the technology in Tokyo, imported necessary equipment and instruments and trained some fellow surgeons and technicians to introduce and popularise the Laparoscopic cholecystectomy in Bangladesh.
Though the first laparoscopic operation was performed in 1991, it took some more time to introduce it on a regular basis. The technology took its root at Birdem in 1993 with the joining of Dr Sardar A Nayeem as the first laparascopic surgeon in the country. Though begun at Birdem, laparascopic surgery was practiced on a much larger scale later at the Japan Bangladesh Friendship Hospital, Dhaka, a private clinic where Dr Nayeem worked as a part time practitioner. Both at Birdem and Japan Bangladesh Friendship Hospital, programmes were undertaken to train surgeons about the laparoscopic cholecystectomy procedure. Now this mode of surgery is quite firmly established in Bangladesh. [Faisal Abdullah Muazzam]