Lohajang Upazila (munshiganj district) area 130.12 sq km, located in between 23°24' and 24°32' north latitudes and in between 90°01' and 90°15' east longitudes. It is bounded by sreenagar and serajdikhan upazilas on the north, zanjira upazila on the south, tongibari upazila on the east, shibchar' upazila on the west.
Population Total 167743; male 82502, female 85241; Muslim 152972, Hindu 14739, Buddhist 15,' and others 17.
Water bodies Main river: padma.
Administration Lohajang Thana was formed in 1916 and it was turned into an upazila in 1983.
Upazila
Municipality
Union
Mouza
Village
Population
Density (per sq km)
Literacy rate (%)
Urban
Rural
Urban
Rural

-

10

115

110

5238

162505

1289

52.9

55.3
Upazila Town

Area (sq km)

Mouza

Population

Density (per sq km)

Literacy rate (%)

1.23

1

5238

4258

52.9
Union
Name of union and GO code
Area (acre)
Population
Literacy rate (%)
Male
Female

Kanaksar 55

1982

10171

10678

56.04

Kalma 47

3119

9049

9695

58.05

Kumarbhog 71

1824

5789

6019

48.52

Khidir Para 63

3738

10593

10690

55.73

Gaodia 31

3731

9248

9731

54.70

Bejgaon 07

2012

6948

7327

52.86

Baultali 15

2004

5955

6008

59.04

Medini Mandal 87

2436

12170

12236

56.39

Lohajang Teotia 94

2795

4257

3921

45.91

Haldia 39

2190

8322

8936

57.46
Source Bangladesh Population Census 2001, Bangladesh Bureau of Statistics.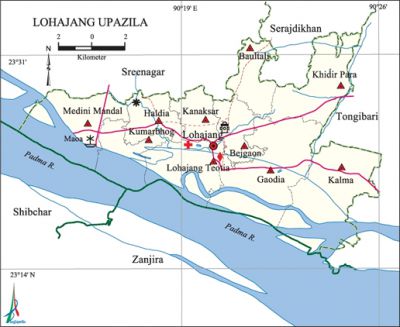 Archaeological heritage and relics Alamnida Jami Mosque, Sujanagar Jami Mosque.
History of the War of Liberation On 14 August 1971, at dead of night, the freedom fighters raided the Lohajang Police Station and captured a bulk of arms and ammunitions. During this operation the freedom fighters also set the Police Station on fire. A battle was fought between the freedom fighters and the Pak army on 25 October at village Dakshin Paiksha in which 5 Pak soldiers were killed and 7 boats carrying the Pak soldiers were destroyed. In November the freedom fighters launched a surprise attack on the Pak army while they were passing through the Shreenagar-Lohajang Canal in which many Pak soldiers and razakars were killed. The Pak army evacuated the Lohajang Camp at dead of night. Lohajang was liberated on 30 November.
Religious institutions Mosque 220, temple 10, tomb 4. Noted religious institutions: Ghordaur Jami Mosque, Satgharia Mosque, Society Jami Mosque, Hat Bhogdia Jami Mosque, Malir Anka Jami Mosque, Bejgaon Kali Mandir, Kanaksar Durga Mandir, tomb of Kadam Shah.
Literacy rate and educational institutions Average literacy 55.2%; male 55.3%, female 52.9%. Educational institutions: college 2, secondary school 12, technical institutions 2,' primary school 71, kindergarten 5, madrasa 5. Noted educational institutions:' Kazir Pagla AT Institution (1901), Kalma LK High School (1901), Brahmangaon Multilateral High School (1902), Haldia High School (1919), Lohajang Pilot Girl's High School (1943), Medini Mandal Anwar Chowdhury Girl's High School (1983), Lohajang Pilot High School (1885), Baultali Primary School (1870), Kalma Primary School (1885), Kazirgaon Primary School (1895), Basudia Madrasa, Jangalia' Dakhil Madrasa, Basira Islamia Dakhil Madrasa.
Cultural organisations Library 10, club 45, press club 1, women organisation 5, cinema hall 1, playground 20.
Main sources of income Agriculture 32.16%, non-agricultural labourer 1.96%, industry 0.96%, commerce 31.05%, transport and communication 4.53%, service 9.94%, construction 2.27%, religious service 0.21%, rent and remittance 5.61% and others 11.31%.
Ownership of agricultural land Landowner 36.50%, landless 63.50%; agricultural landowner: urban 16.37% and rural 37.11%.'
Main crops Paddy, potato, jute, mustard, wheat, gram, pea, sesame, sugarcane, coriander, chilli.
Extinct or nearly extinct crops Kaun, futi, bitter guard.
Main fruits Mango, banana, papaya, guava, pomegranate.
Fisheries, dairies and poultries Fishery 5, dairy 59, poultry 25.
Communication facilities Pucca road 20.07 km, semi-pucca road 10 km, mud road 177.26 km; waterway 32 nautical miles.
Extinct or nearly extinct traditional transport Palanquin, horse carriage.
Noted manufactories Rice mill, ice factory.
Cottage industries Goldsmith, blacksmith, weaving, potteries, embroidery, copper and bell metal work, wood work, hand work, bamboo and cane work.
Hats, bazars and fairs Hats and bazars are 20, fairs 3, most noted of which are Gaodia Bazar, Kalma Bazar, Dighali' Hat, Kanaksar Hat, Kukutiar Baishakhi Mela and Jhulun Mela.
Main exports Potato, Jute, copper and bell metal products, bamboo and cane products.
Access to electricity All the unions of the upazila are under rural electrification net-work. However 57.95% of the dwelling households have access to electricity.
Sources of drinking water Tube-well 93.83%, tap 0.36 %, pond 2.06% and others 3.70%. The presence of arsenic in an intolerable level has been detected in 9304 shallow tube-well water of the upazila.
Sanitation 59.04% (rural 59.61% and urban 40.31%) of dwelling households of the upazila use sanitary latrines and 34.95% (rural 34.70% and urban 43.32%) of dwelling households use non-sanitary latrines; 6% of households do not have latrine facilities.
Health centres Upazila health complex 1, satellite health centre 4, family planning centre 8, diagnostic centre 2, clinic 1.
Natural disasters The devastating cyclone of 9 April 1995 caused heavy damages to the settlements, crops and other properties of village Paisa under Baultali Union.
NGO activities Operationally important NGOs are asa, caritas, brac, proshika, CARE, SDO. [Helen Nawshin]
References Bangladesh Population Census 2001, Bangladesh Bureau of Statistics; Cultural survey report of Lohajang Upazila 2007.