Maulvibazar Sadar Upazila
Maulvibazar Sadar Upazila (maulvibazar district) area 344.34 sq km, located in between 24°24' and 24°38' north latitudes and in between 91°36' and 91°51' east longitudes. It is bounded by balaganj and rajnagar upazilas on the north, sreemangal upazila on the south, Rajnagar and kamalganj upazilas on the east, nabiganj and Sreemangal upazilas on the west.
Population Total 281593; male 145151, female 136442; Muslim 235604, Hindu 45500, Buddhist 153, Christian 17 and others 319.
Water bodies Main rivers: manu, Barak; Mathakhali Canal is notable.
Administration Maulvibazar Thana was formed in 1882 and it was turned into an upazila in 1984. Maulvibazar Municipality was formed in 1930.
Upazila
Municipality
Union
Mouza
Village
Population
Density (per sq km)
Literacy rate (%)
Urban
Rural
Urban
Rural

1

12

192

434

40107

241486

818

65.2

45.7
Municipality

Area
(sq km)

Ward

Mahalla

Population

Density
(per sq km)

Literacy rate (%)

10.36

9

47

40107

3871

65.2
Union
Name of union and GO code
Area (acre)
Population
Literacy rate (%)
Male
Female

Akhailkura 13

7195

9925

9718

41.55

Upper Kagabala 94

9178

7978

8052

32.93

Amtail 14

7574

9775

9356

50.08

Ekatuna 29

5228

8599

8009

50.59

Kanakpur 51

6236

9196

9262

56.81

Kamalpur 43

3974

7628

7611

53.71

Khalilpur 58

7112

12570

12354

44.08

Giasnagar 36

11146

13089

12346

41.90

Chandighat 21

6281

15243

14103

47.23

Nazirabad 87

10981

10773

10398

39.01

Manumukh 65

4286

8358

8324

43.09

Mostafapur 80

3325

9830

8989

48.95
Source  Bangladesh Population Census 2001, Bangladesh Bureau of Statistics.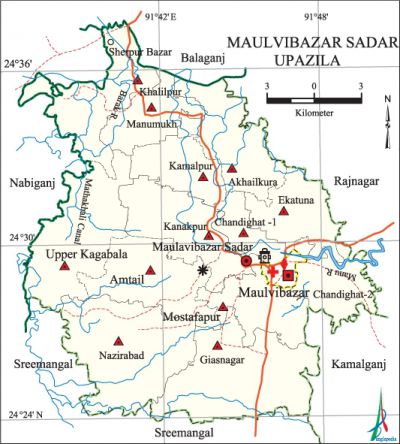 Archaeological heritage and relics Khoja Mosque at Gaygar, tomb of Hazrat Syed Shah Mostafa (R), Radha Govinda Jeu Akhra (Kamalpur), temple of Augnan Thakur, Maulvibazar District Judge Court.
Historical events Anti-British movement was initiated in 1912 at village Jagatsi of this upazila 'under Swami Dayananda having its seat at Dolgovinda Ashram. As a part of anti-British Movement Khilafat Conference was held in Maulvibazar in 1921 in which Deshbandhu chitta ranjan das, Maulana Hossain Ahmad Madani, sorojini naidu were present. Armed resistance against the Pak army begun at village Sreerai Nagar of Maulvibazar sadar on 27 March 1971. The Pak army made a surprise attack on the procession there in which two persons were killed. Encounters between the freedom fighters and the Pak army were held at different places of Maulvibazar sadar upazila including at Manumukh, Kamalpur, and Sherpur. On 20 December, a number of people were killed and wounded by mine explosions at the premises of the Maulvibazar Government High School.
Marks of the War of Liberation Mass grave 2: Naliura and at a place adjacent to the Maulvibazar High School playground; mass killing site 5; memorial monument 1 (Maulvibazar High School).
Religious institutions Paschim Bazar Jami Mosque, Court Jami Mosque, tomb of Hazrat Syed Shah Mostafa (R.), tomb of Shah Hilal (R.), Sree Sree old Kalibari, Sree Sree Durgabari (Paschim Bazar), Sree Sree Loknath Brakkhachari Ashrama (Saiyerpur).
Literacy rate and educational institutions Average literacy 48.6%; male 51.0%, female 46.1%. Educational institutions: college 5, vocational training institute and college 1, primary teachers training institute 1, nursing institute 1, co-operative institute 1, youth training centre 1, blind welfare training centre1, horticulture research institute 1, primary school 17, community and satellite school 7, kindergarten 16, madrasa 42. Noted educational institutions: Maulvibazar Government College (1956), Maulvibazar Government Mahila College (1985), Jagatsi Gopallkrishna M Saifur Rahman School and College (1915), Maulvibazar Government High School (1891), Kashinath Alauddin High School (1917), Ali Amzad Government Girls' High School (1932), Darul Ulum Madrasa.
Newspapers and periodicals Daily: Maulvibazar, Banglar Din; weekly: Patakunrir Desh, Manubarta, Janaprattasa, Muktakatha, Maulvibazar Barta; fortnightly: The Sylhet Today; monthly: Durdiganta, Sree Gaurbanee; defunct: monthly Tablig-ul-Islam and Tanjimul Muslemin (1924), weekly Avijan (1935), Agradut (1960), monthly Bonna (1970).
Cultural organisations Library 2, club 2, theatre group 6, women organisation 11.
Tourist spots Monu Barrage (Matarkapan), Barshijora Eco Park and two Pan Punji of the Khasia community.
Main sources of income Agriculture 40.22%, non-agricultural labourer 6.61%, industry 1.91%, commerce 14.54%, transport and communication 3.99%, service 7.56%, construction 2.66%, religious service 0.49%, rent and remittance 6.51% and others 15.51%.
Ownership of agricultural land Landowner 44.85%, landless 55.15%; agricultural landowner: urban 40.03% and rural 45.67%.
Main crops Paddy, tea, betel leaf, naga chilli, satkara, vegetables.
Extinct or nearly extinct crops Jute.
Main fruits Jackfruit, pineapple, mango, litchi, banana, coconut, betel nut, blackberry, kamranga, shaddock.
Fisheries, dairies and poultries This upazila has a number of fisheries, dairies and poultries.
Communication facilities Pucca road 273 km, mud road 176 km. river port 1 (Sherpur).
Extinct or nearly extinct traditional transport Palanquin, bullock cart.
Cottage industries Bamboo work, cane work, mat manufacturing.
Hats, bazars and fairs Hats and bazars are 40, fairs 5, most noted of which are Maulvibazar, Dighirpar Bazar, Sarkar Bazar, Sherpur Bazar, Kamalpur Bazar, Shamserganj Bazar, Shimultala Bazar, fair of Shah Mostafa, Fish Mela of Sherpur, Mangalchandi Austami Mela, Garments Fair and Trade Fair.
Main exports Dried fish, naga chilli, tea.
Access to electricity All the wards and unions of the upazila are under rural electrification net-work. However 43.18% of the dwelling households have access to electricity.
Sources of drinking water Tube-well 68.6%, tap 6.89%, pond 18.36% and others 6.15%. The presence of arsenic in an intolerable level has been detected in 2816 shallow tube-well water of the upazila.
Sanitation 48.90% (urban 85.11% and rural 42.75%) of dwelling households of the upazila use sanitary latrines and 41.11% (urban 12.64% and rural 45.95%) of dwelling households use non-sanitary latrines; 9.99% of households do not have latrine facilities.'
Health centres Hospital 1, upazila health centre 1, union and rural health centre 1, family welfare centre 1, maternity and child welfare centre 1, TB hospital 1, diabetic hospital 1, police hospital 1, prison hospital 1, eye hospital 1, missionary clinic 1, clinic 14.'
NGO activities Operationally important NGOs are brac, asa, CARE, HEED Bangladesh. [Shah Abdul Wadud]
References Bangladesh Population Census 2001, Bangladesh Bureau of Statistics; Cultural survey report of Maulvibazar Sadar Upazila 2007.