Mostafa, Golam (1897-1964) poet and writer, was born in the village of Manoharpur in shailkupa thana, jessore (now jhenaidaha), son of Golam Rabbani and grandson of Kazi Golam Sarwar, both folk poets.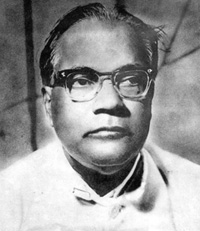 Golam Mostafa passed BA from Ripon College in 1918 and BT from David Hare Training College in 1922. In the mean time he started teaching at Barakpore Government School in 1920. He retired as headmaster of Faridpur Zila School in 1949. He was the secretary of the East Bengal Government's Language Reform Committee, formed in 1949. He believed in the ideals of Pakistan and, during the language movement in 1952, supported Urdu as the state language of pakistan.Though known mostly as a poet, Golam Mostafa was a skilled writer of both prose and poetry. His poetic works include Raktarag (1924), Khoshroj (1929), Kavya-Kahini (1932), Sahara (1936), Hasnahena (1938), Bulbulistan (1949), Tarana-i-Pakistan (1956), Baniadam (1958), Gitisanchalan (1968), etc. He also translated the writings of the Urdu poets Hali and Iqbal: Musaddas-i-Hali (1941), Kalame Iqbal (1957), Shikwa O Jawab-i-Shikwa (1960). In 1958 he translated the holy quran.  
His prose works include Islam O Jehad (1947), Islam O Communism (1946), Amar Chintadhara (1952), Pakistaner Rastrabhasa etc. His Bishwanabi (1942) is a popular book about the life of Prophet muhammad (Sm) and is often read aloud at milads.
Golam Mostafa's poems are characterised by their simple and artistic expression and lyrical quality. He also wrote some textbooks, which were used in undivided Bengal. Some of his poems are prescribed reading at school. He also composed and sang songs, many of them Islamic and patriotic, inspired by the Pakistan movement. He recorded a number of his songs, including some duets with abbasuddin ahmed. In recognition of his literary and cultural contribution, he was conferred the title 'Kavya-Sudhakar' (1952) by the Jessore Sangha and 'Sitara-i-Imtiaz' (1960) by the Pakistan Government. [Shahidul Islam]