Motijheel Thana (Dhaka metropolitan) area 3.69 sq km, located in between 23°43' and 23°44' north latitudes and in between 90°24' and 90°25' east longitudes. It is bounded by ramna, rampura and khilgaon thanas on the north, sutrapur thana on the south, Khilgaon and sabujbagh thanas on the east, paltan and Ramna thanas on the west.
Population Total 225999; male 133151, female 92848; Muslim 215970, Hindu 9303, Buddhist 415, Christian 268 and others 43.
Administration Motijheel Thana was formed in 1976.
Thana
Ward and Union
Mahalla and Mouza
Population
Density (per sq km)
Literacy rate (%)
Urban
Rural
Urban
Rural
5+1 (part)
23
225999
-
61246
76.22
-
Ward
Ward
Area (sq km)
Population
Literacy rate (%)
Male
Female
Ward no. 31
0.84
19563
12239
74.14
Ward no. 32
0.86
28509
12155
74.25
Ward no. 33
0.45
16706
14054
80.45
Ward no. 34
0.84
35375
28531
77.07
Ward no. 35
0.52
30348
23484
71.22
Ward no. 53 (part)
0.18
2650
2385
80.23
Source  Bangladesh Population Census 2001, Bangladesh Bureau of Statistics.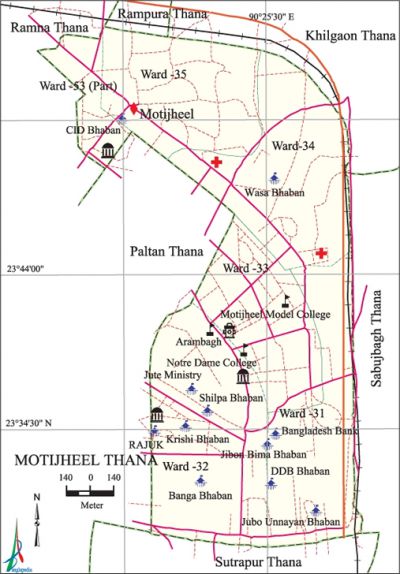 Archaeological heritage and relics Pir Jangi Mazar, Mazar of Shah Amir Ali Bagdadi (R) at North Shahjahanpur.
History of the War of Liberation During the war of liberation in 1971 the Pak army conducted extensive mass killing and plunder in the area. The freedom fighters destroyed the power-house of the AGB Colony near Kamalapur Railway Station in middle of July 1971.
Marks of the War of Liberation Mass grave 1 (South Kamlapur); sculpture: Balaka (Kamlapur Railway Station), Shapla Chattar (in front of Bangladesh Bank).
Religious institutions Muhammadia Jamia Sharif Mosque and Shahjahanpur Amtala Mosque are notable.
Literacy rate and educational institutions Average literacy 76.22%; male 81.34%, female 68.62%. Noted educational institutions: Notre Dame College, Abujar Ghifari College, Motijheel Ideal School and College, Motijheel Model High School and College, Motijheel T&T School and College, Miraj Abbas Degree College and Primary School, Bangladesh Bank High School, Post Office High School, Motijheel Government Girls' High School, Motijheel Government Boys' High School, Shantibagh High School, Shahjahanpur Railway School.
Cultural organisations Club, cinema hall, community centre, playground. Madhumita Cinema Hall is notable.
Important installations The head offices of many banks including Bangladesh Bank, Pubali Bank Limited, Sonali Bank Limited, Agrani Bank Limited, Janata Bank Limited, Rupali Bank Limited, Islami Bank Limited,' Eastern Bank Limited, Mercantile Bank Limited are located in this thana. Many government and private establishments including Banga Bhaban, American Life Insurance Company, Dhaka Stock Exchange, Jiban Bima Corporation, Biman Bangladesh Air Lines, Bangladesh Chemical Industries, Sadharan Bima Corporation, Bangladesh Jute Industries Corporation, Water and Power Development Board, etc are also located in this thana. Besides, the RAJUK Bhaban in this thana carries the modern architectural tradition of the region.
Main sources of income Agriculture 0.82%, non-agricultural labourer 0.52%, industry 1.57%, commerce 25.42%, transport and communication 3.51%, service 53.09%, construction 1.18%, religious service 0.12%, rent and remittance 3.85% and others 9.92%.
Ownership of agricultural land Landowner 69.81%, landless 30.19%.
Communication facilities Total roads: 501 km.
Extinct or nearly extinct traditional transport Palanquin, bullock cart, horse carriage.
Bazar Shahjahanpur Bazar.
Main exports Ready made garments.
Access to electricity All the mahallas of the thana are under electrification net-work. However 97.03% of the dwelling households have access to electricity.
Sources of drinking water Tube-well 5.34%, pond 0.04%, tap 93.43% and others 1.19%.
Sanitation 95.35% of dwelling households of the thana use sanitary latrines and 3.91% of dwelling households use non-sanitary latrines; 0.74% of households do not have latrine facilities.
Health centres Islami Bank and Pan Pacific Hospital, Baraka General Hospital, AGB Colony Hospital.
NGO activities Operationally important NGOs are brac, caritas. [Md. Abu Hasan Farooque]
References Bangladesh Population Census 2001, Bangladesh Bureau of Statistics.