Sabujbagh Thana (Dhaka metropolitan) area 6.62 sq km, located in between 23'43' and 23'44' north latitudes and in between 90'25' and 90'27' east longitudes. It is bounded by khilgaon thana on the north, jatrabari thana on the south, demra and Jatrabari thanas on the east, motijheel and sutrapur thanas on the west.
Population Total 236813; male 130007, female 106805; Muslim 223000, Hindu 12063, Buddhist 98, Christian 1621 and others 31.
Water bodies Manda Canal.
Administration Sabujbagh Thana was formed in 1988.
Thana
Ward and Union
Mahalla and Mouza
Population
Density (per sq km)
Literacy rate (%)
Urban
Rural
Urban
Rural
4+2 (part)
19
206689
30123
35773
68.34
50.43
Ward and Union
Ward and Union
Area (sq km)
Population
Literacy rate (%)
Male
Female
Ward no. 27
0.95
39086
33591
71.10
Ward no. 28
1.73
24609
20341
72.21
Ward no. 29
0.54
30210
23923
73.80
Ward no. 30
0.52
19734
15195
56.26
Dakshingaon (part)
1.74
9771
8468
53.73
Manda
1.14
6597
5288
47.14
Source Bangladesh Population Census 2001, Bangladesh Bureau of Statistics.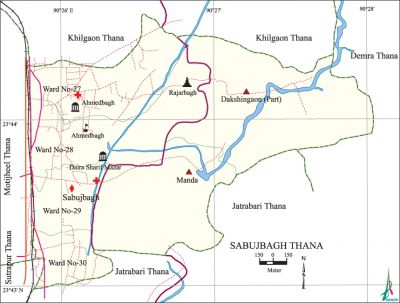 Archaeological heritage and relics Rajarbagh Kali Mandir, Dharmarajic Buddha Mandir, tomb of Hazrat Darbar-e Chisti-us-Saberi (R.).
History of the War of Liberation In 1971, during the war of liberation, a direct encounter between the freedom fighters and the Pak army was held at Mothertek of this thana in which 11 Pak soldiers were killed.
Marks of the War of Liberation It is said that Kadamtali police outpost was a mass killing site during the War of Liberation.
Religious institutions Mosque 202, temple 5, church 2, buddhist vihara 1, tomb 1. Noted religious institution: Ahmedbagh Mosque.
Literacy rate and educational institutions Average literacy 62.38%; male 66.70%, female 56.99%. Educational institutions: college 3, secondary school 13, primary school 95, madrasa 9.
Cultural organisations Club 27, theatre stage 1, women organisation 1, cinema hall 2.
Important installations Birsrestha Shaheed mohammad mostafa kamal Stadium.
Main sources of income Agriculture 1.34%, non-agricultural labourer 1.24%, industry 2.30%, commerce 25.17%, transport and communication 12.82%, service 37.53%, construction 3.56%, religious service 0.13%, rent and remittance 4.07% and others 11.84%.
Ownership of agricultural land Landowner 61.35%, landless 38.65%.
Main crops Paddy, vegetables.
Extinct or nearly extinct crops Pulse.
Main fruits Mango, jackfruit, guava.
Fisheries, dairies and poultries This thana has a number of dairies and poultries.
Communication facilities Total roads: 40.01 km.
Extinct or nearly extinct traditional transport Bullock cart and horse carriage.
Noted manufactories Textile mill 1, garments 20.
Cottage industries Weaving.
Hats, bazars and fairs Hats and bazars are 20. Paush Mela at Meradia (defunct) is notable.
Main exports Ready made garments, vegetables.
Access to electricity All the wards and unions of the thana are under electrification net-work. However 97.95% of the dwelling households have access to electricity.
Sources of drinking water Tube-well 13.70%, tap 83.12%, pond 0.16% and others 3.02%.
Sanitation 89.60% of dwelling households of the thana use sanitary latrines and 9.80% of dwelling households use non-sanitary latrines; 0.60% of households do not have latrine facilities.
Health centres Health complex 2, family welfare centre 5, clinic 5.
NGO activities Operationally important NGOs are brac, World Vision. [Md. Abu Hasan Farooque]
References Bangladesh Population Census 2001, Bangladesh Bureau of Statistics.