Mujibnagar Upazila (meherpur district) area 112.68 sq km, located in between 23°36' and 23°45' north latitudes and in between 88°34' and 88°43' east longitudes. It is bounded by meherpur sadar upazila on the north, damurhuda and Meherpur Sadar upazilas on the east, West Bengal of India on the south and on the west.
Population Total 89886; male 46088, female 43798; Muslim 83468, Hindu 840, Buddhist 5563 and others 15.
Water bodies Bhairab River, Sarashati Canal and Datpur Beel are notable.
Administration Mujibnagar upazila was formed on 24 February 2000.
Upazila
Municipality
Union
Mouza
Village
Population
Density (per sq km)
Literacy rate (%)
Urban
Rural
Urban
Rural

4

27

30

9684

80202

798

49.7

39.1
Upazila Town

Area (sq km)

Mouza

Population

Density (per sq km)

Literacy rate (%)

8.77

3

9684

1104

49.7
Union
Name of union and GO code
Area (acre)
Population
Literacy rate (%)
Male
Female

Dariapur 47

5816

8118

7887

40.09

Bagoan 28

11204

19797

18877

42.54

Mahajanpur 76

6400

9490

8773

38.47

Monakhali 85

4624

8683

8261

37.15
Source  Bangladesh Population Census 2001, Bangladesh Bureau of Statistics.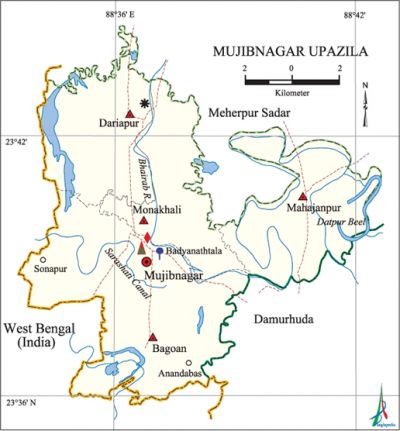 Archaeological heritage and relics Dargah of Shaikh Farid, Christian Mission and Church at Ballavpur.
History of the War of Liberation The provisional government of Bangladesh took oath at Badyanathtala on 17 April 1971. Professor mohammad yusuf ali, MNA read out the proclamation of independence. 'Badyanathtala was renamed as Mujibnagar.
Marks of the War of Liberation Memorial Monument 1 (mujibnagar smriti saudha).
Religious institutions Mosque 101, temple 4, tomb 1.
Literacy rate and educational institutions Average literacy 40.2%; male 41.2%, female 39.3%. Educational institutions: college 2, secondary school 24, primary school 37, kindergarten 4, community and NGO school 4, madrasa 6. Noted educational institutions: Mujibnagar Secondary School (1937), Mujibnagar Degree College (1983), Dariapur Secondary School (1946).
Newspapers and periodicals Monthly: Sadhak (defunct).
Cultural organisations Library 4.Noted installations' Mujibnagar Memorial Monument and Complex.
Main sources of income Agriculture 73.77%, non-agricultural labourer 2.38%, industry 0.90%, commerce 13.26%, transport and communication 1.45%, service 2.70%, construction 0.73%, religious service 0.09%, rent and remittance 0.40% and others 4.32%.
Ownership of agricultural land Landowner 65.89%, landless 34; agricultural landowner: urban 67.70% and rural 65.67%.
Main crops Paddy, jute, wheat, tobacco, sugarcane, corn, potato, vegetables.
Extinct or nearly extinct crops Arahar, aus paddy, mustard seeds.
Main fruits Mango, jackfruit, banana, coconut, palm, guava, litchi.
Fisheries, dairies and poultries Fishery 15, dairy 195, poultry 40.
Communication facilities Pucca road 44.72 km, mud road 93.00 km.
Extinct or nearly extinct traditional transport Palanquin, horse carriage, bullock cart.
Cottage industries Weaving, jute work, nakshi kantha, bamboo and cane work.
Hats, bazars and fairs Hats and bazars are 11, most noted of which are Dariapur Hat, Anandabas Hat, Kedarganj Hat, Gourinagar Hat and Ratanpur Hat.
Main exports Jute, banana, potato, sugarcane molasses.
Access to electricity All the unions of the upazila are under rural electrification net-work. However 27.06% of the dwelling households have access to electricity.
Sources of drinking water Tube-well 92.98%, tap 0.89%, pond 0.08% and others 6.05%.
Sanitation 18.28% (urban 13.95% and rural 18.80%) of dwelling households of the upazila use sanitary latrines and 70.45% (urban 65.05% and rural 47.43%) of dwelling households use non-sanitary latrines; 32.40%' of households do not have latrine facilities.
Health centres Hospital 1, satellite clinic and family welfare centre 3.
NGO activities Operationally important NGOs are brac, asa, proshika, Daridra Bimachan Sangstha. [Md. Murad Hossain]
References Bangladesh Population Census 2001, Bangladesh Bureau of Statistics; Cultural survey report of Mujibnagar Upazila 2007.