Damurhuda Upazila (chuadanga district) area 308.11 sq km, located in between 23°29' and 23°42' north latitudes and in between 88°39' and 88°51' east longitudes. It is bounded by alamdanga and meherpur sadar upazilas on the north, west bengal of India on the south, chuadanga sadar upazila on the east, Meherpur Sadar upazila and West Bengal of India on the west.
Population Total 255279; male 132042, female 123237; Muslim 248994, Hindu 4677, Buddhist 1538, Christian 23 and others 47.
Water bodies Main rivers: chitra, bhairab, Mathabhanga; Kanaidanga canal, Hatidanga canal, Kapasadanga canal, Mirgangi Beel, Raisa Beel and Dalka Beel are notable.
Administration Damurhuda Thana was turned into an upazila in 1983.
Upazila
Municipality
Union
Mouza
Village
Population
Density (per sq km)
Literacy rate (%)
Urban
Rural
Urban
Rural

-

6

49

53

16781

100256

333

49.7

40.5
Upazila Town

Area
(sq km)

Mouza

Population

Density
(per sq km)

Literacy rate
(%)

19.99

2

16781

839

41.83
Union
Name of union and GO code
Area (acre)
Population
Literacy rate (%)
Male
Female

Alipur 10

8044

10180

9644

42.74

Dashmina 52

14414




12230




12336




41.65




Bahrampur 21




5991




7892




8257




35.78




Banshbaria 31




8028




8395




8588




46.16




Betagi Sankipura 42




7940




8786




9154




46.01




Rangopaldi 84




22156




10797




10778

38.81
Source Bangladesh Population Census 2001, Bangladesh Bureau of Statistics.
Archaeological heritage and relics Mazar of Malek-ul Gaus (Charulia), Mazar of Reza Shah Chisti (Kosaghata), Mazar of Kutub-ul Alam Shah (Munshipur), mazar and mosque of an unidentified Pir (Shibnagar), Jagannathpur Mandir.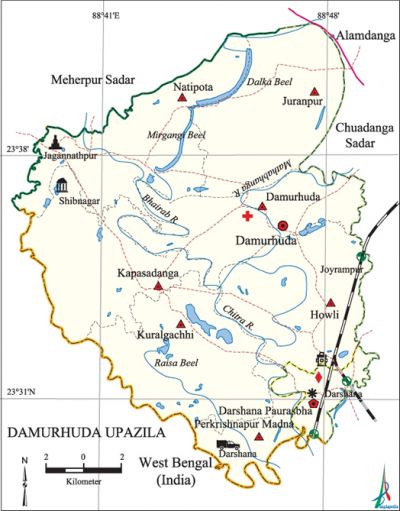 Historical events The INDIGO RESISTANCE MOVEMENTand the peasant movement extensively spread over Damurhuda upazila. The peasants of this region played an important role in the no rent movement in 1869 and 1873. The first peasant conference in Bengal was held in April 1920 in this upazila. During the war of liberation in 1971 the Pak army burned a lot of houses at village Madna of the upazila and killed many innocent people. Eight freedom fighters were killed in an encounter with the Pak army at Natudaha.
Marks of the War of Liberation Memorial monument built in memory of the martyrs on the Darshana-Mujibnagar highway.
Religious institutions Mosque 228, temple 4, church 4, Eidgah 30.
Literacy rate and educational institutions Average literacy 44%; male 43.78%, female 40.11%. Educational institutions: college 3, secondary school 25, primary school 109, kindergarten 4, madrasa 24. Noted educational institutions: Natudaha High School (1906), Damurhuda Pilot High School (1913), Memnagar B.D Secondary School (1916), Kuralgachhi Secondary School (1923), Kalabari-Ramnagar Secondary School (1926), Darshana Secondary Girls' School, Madna Secondary School, Bishnupur Secondary School, Kapasadanga Secondary School.'
Cultural organisations Library 3, club 70, social welfare centre 3, cinema hall 2.
Main sources of income Agriculture 64.53%, non-agricultural labourer 3.08%, industry 0.53%, commerce 14.11%, transport and communication 2.34%, service 6.56%, construction 0.10%, religious service 0.13%, rent and remittance 0.36% and others 5.85%.
Ownership of agricultural land Landowner 59.81%, landless 40.19%; agricultural landowner: urban 48.02% and rural 63.15%.
Main crops Sugarcane, paddy, wheat, pulse, potato, barley, corn, jute, gram, betel leaf, onion.
Extinct or nearly extinct crops Sesame, linseed, mustard, tobacco, indigo.
Main fruits Mango, jackfruit, pineapple, papaya, banana.
Fisheries, dairies and poultries Dairy 34, poultry 424, breeding centre 3.'
Communication facilities Roads: pucca 124.60 km, semi-pucca 31 km, mud road 434 km.
Extinct or nearly extinct traditional transport Palanquin, horse carriage.
Noted manufactories Rice mill, sugar mill, flour mill, saw mill, ice factory.
Cottage industries Blacksmith, weaving, potteries, brass and bell-metal work, embroidery, wood work, cane work.
Hats, bazars and fairs Hats and bazars are 20, fair 1, most noted of which are Damurhuda Hat and Dugdugir Hat.
Main exports Betel leaf, banana, mango, sugar, onion, muk pulse.
Access to electricity All the wards and unions of the upazila are under rural electrification net-work. However 27.37% dwellings have access to electricity.'
Sources of drinking water Tube-well 94.53%, tap 1.02%, pond 0.12% and others 4.33%. The presence of arsenic has been detected in the shallow tube-well water of the upazila.
Sanitation 18.77% (urban 34.63% and rural 14.27%) of dwelling households of the upazila use sanitary latrines and 50.65% (urban 43.39% and rural 52.71%) of dwelling households use non-sanitary latrines; 30.58% of households do not have latrine facilities.
Health centres Upazila health complex 1, family planning centre 8.
NGO activities brac, asa, CARE, WAVE Foundation. [Iman Siddiqi]
References Bangladesh Population Census 2001, Bangladesh Bureau of Statistics; Cultural survey report of Damurhuda Upazila 2007.